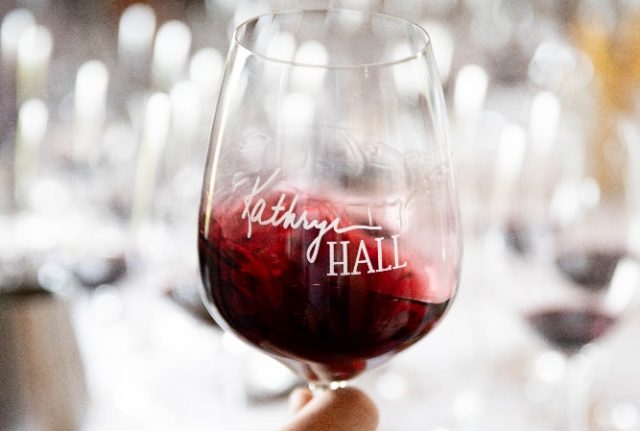 Napa Valley based HALL Wines, a luxury Cabernet Sauvignon producer, has announced details for its annual Kathryn Hall Harvest Celebration taking place at HALL St. Helena on Saturday, August 28, 2021. The annual event, offering both a VIP Vertical Tasting and a Main Event, coincides with the release of the new vintage of HALL's flagship wine, Kathryn Hall Cabernet Sauvignon. The theme of the event will be "Celebrate the Year You Missed".
"We are so excited to be able to hold this event in person this year," says Vintner Kathryn Hall. "Guests travel from all over to taste the new vintage, and what better way to do that than through a celebration of milestones that people missed last year such as birthdays, anniversaries, graduations, and weddings. Wine helps us celebrate those special moments and we look forward to honoring those with the 2018 vintage of Kathryn Hall Cabernet."
The Kathryn Hall Harvest Celebration marks the public release of the 2018 vintage and will include various celebratory 'milestone' stations on The Great Lawn in St. Helena. Food will be included with the ticket price with catering by Tre Posti. Guests will also be able to enjoy live music throughout the event from San Francisco-based band Pop Fiction. Additionally, a VIP Ticket is available for those wanting a deeper dive into the pedigree of the Kathryn Hall Cabernet Sauvignon. The VIP Ticket includes a vertical tasting of the 2006, 2009, 2012, 2014, 2017 and 2018 vintages of Kathryn Hall takes place prior to the Main Event.
HALL's flagship wine, the Kathryn Hall Cabernet Sauvignon, is defined by its core of dark, succulent Sacrashe Vineyard fruit located just above the Rutherford Appellation at the top eastern ridge of the Vaca Mountain range in Napa Valley. The wine is characterized by an
interplay of elegance and concentration and displays voluptuous, dark berry fruit with notes of crushed lavender.
Since the first vintage was produced in 1996, this wine has been one of the highest rated in HALL's portfolio, earning 95 scores rated 90 points and above from the industry's top critics including The Wine Advocate, Wine Spectator, Wine Enthusiast, and Vinous. Most notably, the 2008. Additionally, the Kathryn Hall Cabernet Sauvignon earned the #2 spot in Wine Spectator's "Top 100" list in 2011. The wine is named after Kathryn Hall who is most known globally as the former United States Ambassador to Austria. Ambassador Hall is also a New York Times Bestselling author of "A Perfect Score: The Art, Soul & Business of a 21st Century Winery".
WHAT: Kathryn Hall Harvest Celebration
WHEN: Saturday, August 28, 2021
VIP Vertical Tasting – Peterson's Loft
11:00 a.m. – 12:00 p.m. $225 per person + includes admission to Main Event
Main Event – The Great Lawn
12:00 p.m. – 3:00 p.m. $100 per person
WHERE: HALL St. Helena
401 St. Helena Hwy S. St. Helena, CA 94574 707-967-2626
TICKETS: Eventbrite
For more information, please visit www.hallwines.com,