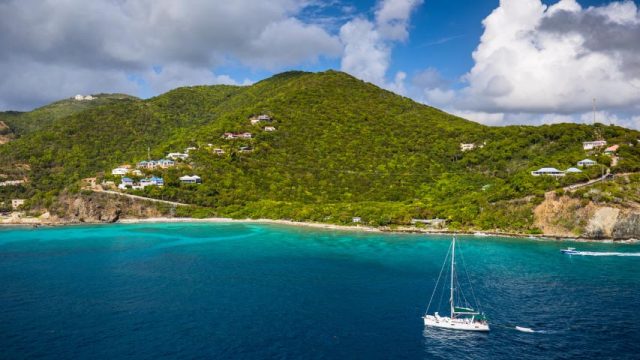 'Nature's Little Secrets' – the British Virgin Islands are a collection of 60 islands and cays awaiting exploration in the Northern Caribbean Sea. Once the playground of pirates, and long enjoyed as a retreat for the rich and famous – now anyone can visit paradise.
But what is it that sets the BVI apart from other sailing areas? How does it differ from the rest of the Caribbean?
If you're curious as to whether the hype is justified – read on for the real reasons why BVI is the ultimate sailing destination or go directly to Boatjump.com to find your perfect charter.
The Sailing Really Is Perfect
Consistent wind at around 15-20 knots makes idyllic conditions for sailors. Not only for sailing, but also for cool breezes to counter the Caribbean heat. Plus, the mosquitos aren't a fan.
There is sailing here for everyone – from novices to veteran skippers. You will always be in sight of shore, so less confident charterers can navigate easily, even motoring between islands if necessary.
Avid sailors can breeze down Sir Francis Drake Channel, a sheltered body of water surrounded by the islands. For a longer stretch, raise the sails and take the 2-3-hour sail over to Anegada.
Astounding Scenery
When you picture paradise, what do you see? Soft white sandy beaches, clear waters, palm trees and lush vegetation. All of this awaits you in the BVI.
There's a reason that this has been the playground of the rich and famous for decades. The water is incredible. Whilst Irma inevitably changed some of the landscape, it's just as glorious as when Columbus first set eyes on the islands in 1493.
The stunning coastlines are best enjoyed from the water. But if you haven't yet got your sea legs there is plenty to do on dry land. Walk the paths through the J. R. O'Neal Botanic Gardens, visit the Callwood Distillery, or simply swing from a hammock on the beach.
Bountiful Island-Hopping
The islands are very close to each other, with easy runs between. It's the ultimate island-hopping experience. You can sail as little or as much as you like, and find yourself in a different location to explore.
The overnight moorings are very well protected. Once you've found your spot for the night, you can take your dinghy ashore to one of the many restaurants and bars. There are plenty of beach bars if you just fancy stopping off somewhere for a quick sundowner before dinner aboard your yacht.
Uniquely Different Islands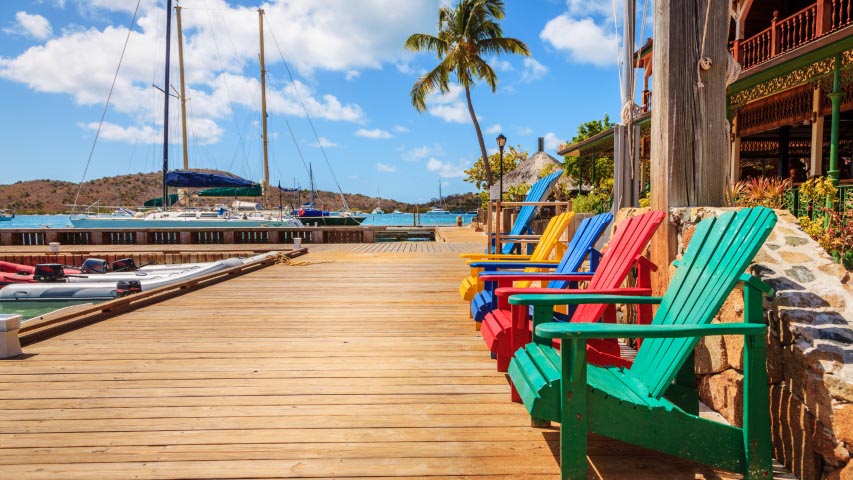 All of the BVI has that easy-going, chilled Caribbean vibe. But the inhabited islands also have their varied, unique quirks that set them apart.
Besides the main hub of Tortola, you'll probably make a stop at Virgin Gorda. Rediscover your inner child at The Baths as you clamber around giant granite boulders and through hidden grottos.
Venturing over to Jost Van Dyke will reward you with the infamous 'Painkiller' cocktail – delighting visitors to the island since the 1970s. The main street here is a beach – this island is all about leisure and pleasure.
If you make the jaunt north to Anegada you may find yourself stepping into a bygone era. This protected area features salt ponds surrounded by pink flamingos.
Incredible Diving and Snorkelling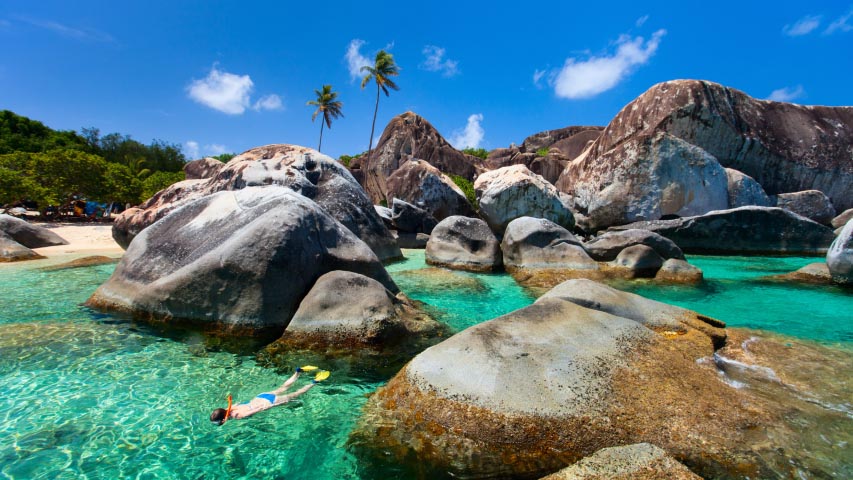 The clear, warm waters here are perfect for swimming all year round. The temperatures range from 79-84F, so floating beside your charter vessel with a beer in hand is always in the cards.
If you prefer your sea exploration to be a little more active, there's plenty to see beneath the surface. Casual snorkellers and dive masters alike will be welcomed by a variety of colourful creatures. Octopus, lobster, puffer fish, turtles, angel fish and even sting rays drift around en masse amidst the reefs.
For something a little different, dive down into the RMS Rhone wreck. The remains of the ship have rested here since 1867 and are well worth exploring.
Accessible Exclusivity
Compared with some other Caribbean destinations, you're unlikely to find crowded poolside resorts in the BVI. There's a refined, exotic air to a vacation here. A sense of escape and respite.
With no direct flights from North America or the UK, these islands feel a little more exclusive. Despite this, getting there is straightforward, with flights into St Thomas or Puerto Rico being the usual route, and regular transfers in between.
What's more, the islands use US Dollars, despite being British territory. So, there's no need for currency exchange before you go.
Happy Sailing
There you have it – the British Virgin Islands really are the ultimate sailing destination. With Boatjump, simply answer a few questions and you'll receive a tailor-made selection of the best charter yacht offers that fit your needs and budget. Request quote here: https://www.boatjump.com