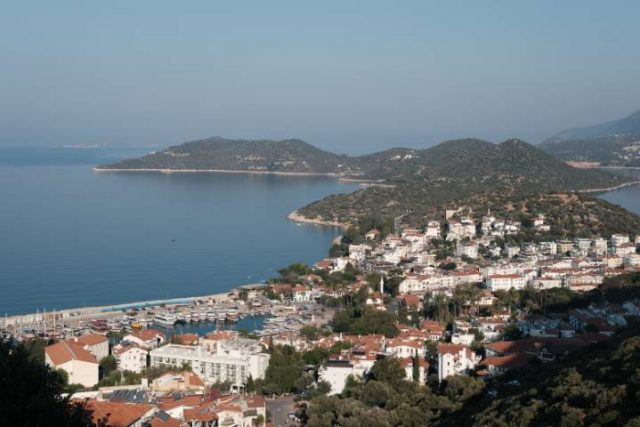 Holidaymakers and expats purchasing second homes, love the idyllic holiday resort of Kas in Turkey. Reasons for this are bountiful, but the initial lure and appeal come from a Turkish town ambience that has embraced the modern world yet stayed true to traditions while outgrowing the status as a small village. Unlike so many other touristic places in Turkey, it has not sold-out culture and traditions to bring in tourism.
Foreigners have a wide choice of B&B accommodation, all-inclusive hotels, or self-catering apartments to choose from. They arrive via one of two airports: Antalya, a four-hour transfer or Dalaman, just 2 hours away. Mostly visiting during summer months, Kas's hot weather is only broken by a few months of rainfall at the beginning of the year. Turks and foreigners alike love picturesque Kas, that offers all amenities and facilities for a perfect breakaway. Indeed, visit for one day, and you won't be disappointed, the experts at Property Turkey have explained why.
1) Adventure sports in Turkey
The Kas peninsula specialises in four activities: canyoning, paragliding, scuba diving and sea kayaking. Professional instructors teach eager beginners or accompany advanced experts on the best areas and spots for canyoning. During favourable wind conditions, tandem paragliders often sail down from nearby mountains, while others sign up for sea kayaking lessons to Kekova sunken ruins and Simena castle. Lastly, Mediterranean waters surrounding Kas have an impressive collection of sea life and plane and shipwrecks.
2) Attractions in Kas
Thanks to a strategic D400 highway position, Kas is an ideal base position to explore surrounding coastline attractions. The neighbouring resort of upmarket Kalkan is as impressive or, just 18 kilometres away, is Kapatus, one of Turkey's most famous beaches. Known for sparkling, clear waters, many visit the small beach tucked into a small mountain cove despite winding, long stairs to reach it.
3) From Turkey to Meis, Greek Island
Kas is also the centre port of call for the daily ferry across to the colourful Greek island of Meis. Reached within 20 minutes, this small island, stuck in time, boasts of traditional restaurants, small boats, and architecture style that amazes everyone because of a dollhouse-like appearance. From the hilltop, visitors marvel at a fantastic panoramic view, but the favourite part is to catch a small speed boat sailing around the island to the Blue Cave, of which the boat can only go through the entrance if everyone lies down! Once inside, the sparkling blue waters reflect off the cave walls leading you to believe you have landed in a magical fairy-tale place.
4) Turquoise coast
Kas belongs to the Turkish Rivera stretching from the Aegean coast to the Mediterranean region of Antalya. Typically, on four-day cruises, traditional Turkish gulet boats dock daily at Kas for passengers to spend a couple of hours exploring coves and places of natural beauty. Otherwise, daytrips leave the harbour every morning to trip to small scenic bays for swimming breaks and BBQ lunches. The sunken ancient Kekova city ruins are one highlight, as is exploring the rustic village of Simena while sampling their world-famous homemade ice cream.
5) Dining out
Kas is a typical tourist destination in that when the sunshine goes down; the resort town swaps its focus to al fresco dining. Taking advantage of the Mediterranean climate, roof-top dining is a popular trend since Kas is built in a bay with a magnificent coastline and the Mediterranean Sea view. So, with pride, this peaceful town boasts extensive facilities in terms of bars, cafes, restaurants and hotels, but the lure goes even further. Seaside restaurants serve up a delightful range of fish and seafood, while traditional lokantas serve diners hampering conventional Turkish food. Other places accommodate international tourists by offering a stunning range of worldly cuisines and wines sourced from wineries all over Turkey. Indeed, any foodie will feel right at home in Kas.
6) Modern houses of Kas
Whether you want to rent a private villa for a getaway or invest in the Turkish housing market, Kas delivers in abundance. New modern villas feature everything a Mediterranean home should, including a terrace with a sea-view, balcony for early morning breakfast, ample bedrooms for the whole family, and in many cases, an outdoor pool, or even an infinity pool to watch sunsets full on. Covering various neighbourhoods, some sit in privacy while most are within walking distance of bars and restaurants. Alternatively, opt for a rustic, traditional stone house to indulge in a bit of Turkish culture.
7) The spotless old town
Whitewashed houses with wooden shutters, covered with trails of pink Bougainvillea, are reminiscent of Greek history, while the old Roman theatre portrays an era even further back in history. Along the harbour front, small fishing boats distribute their fresh catch of the day while strolling uphill on old, cobbled streets, takes you past family-owned boutique shops, eventually ending at the ancient Lycian sarcophagus, the prominent landmark of Kas. Indeed, for a coastal destination, the heart of Kas is a pleasant reflection of days gone by.