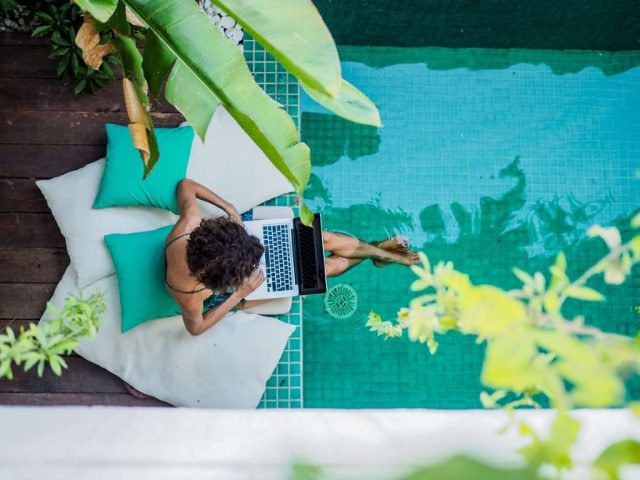 There is no doubt that the pandemic has had a tremendous impact on how we live and work today. The past two and half years have seen an overhaul of a system we once imagined untouchable. Terms like hybrid work and remote work sprung forth in a bid to initially fight off the COVID-19 virus but are now household as companies struggle to keep their employees happy.
The new dynamics of work have created a new eco-system that was unimaginable pre-pandemic. As employees try to find a work-life balance, working vacations are becoming a popular corporate travel trend. Imagine handling a couple of emails by the pool in a swimsuit? And as a result, the travel and tourism industry has created a new stream of income from a trend that should be mainstream for decades to come.
Working Vacations/ Workation
As a result of the pandemic, many people were forced to change their routines thus working and studying from home. Many people found working from home inherently difficult and started lamenting feelings of demotivation and laziness. Others simply preferred to work in teams to do their best work. As a consequence, working vacations became trendy during the post-pandemic summer.
During workations, one can combine working from home and being on vacation to increase productivity while improving their overall lifestyle. For example, you can book and live in a mountain cabin for a week while working your full-time job remotely.
According to BBC, workations are a step up from the pre-lockdown "bleisure" travel where you could combine business trips with leisure trips. Hanging back for a weekend or an extra week after a business trip in a new place was so easy. However, with the reduction of business trips as companies try to protect their employees' health, working vacations have taken precedence.
Four-Day Workweek
In the aftermath of the pandemic, the term four-day work week has been gaining some traction. What does a four-day week mean? It means that instead of the normal five-day work week that starts Monday-Friday gets reduced instead to a four-day work week.
Regular length workdays, same salary, fewer days. Several studies have shown that the four-day work week is excellent on many fronts including; an increase in productivity, being environmentally friendly, cost-effective, and ensuring a better work-life balance.
With the tipping of regular work balance over the past few years and the rise of working vacations, the corporate world is more open to change.
Studies show that up to 78% of employees of the 4-day work week tend to be happier and less stressed than before. In Iceland 2015-2018, a trial based on the four work weeks showed that the productivity levels for a four workweek remained either the same or increased. As a result of successful trials, over 86% of Ireland's workforce has the option to transition into working shorter hours for the same pay. Likewise, Spain is putting the 4-day workweek to test for 3 years after the effects of the pandemic. Would you prefer working vacations to four-day workweeks?
Top 10 Countries to Go to for A Workation
According to Holidu Workation Index 2021, over 150 cities from countries around the world are ranked as working vacation destinations. The index was based on the monthly rates for one-bedroom apartments, WiFi speed, cost of drinks, and the number of things to do. Some of the data sources used to acquire this data included; Tripadvisor.co.uk., and BestCities.org.
Thailand, India, Portugal, Argentina, Spain, Hungary, Turkey, Romania, South Africa, and Brazil are the top 10 countries to go to for your working vacation. Thailand is the top county for a workation this year because of the affordable housing, high degree of English language proficiency, multinational corporate offices, attractions, and world-class facilities, according to Holidu. All these countries have an all-around affordable cost of living.
Countries Embracing Workation
Some of the world's largest companies have since the pandemic favored working from home and taken it up as the new normal. These companies include; Twitter, Facebook, Amazon, and Google. Likewise, some countries are embracing workations better than the rest.
Germany
80% of the businesses in the country are embracing flexible work policy-making Germany is one of the best counties in the world for remote work. Surprisingly, only 68% of the employees have taken up the concept of remote work.
Netherlands
Netherland comes next as one of the leading countries embracing flexible work. 75% of the country's businesses have adapted to the concept of remote work while 73% of the employees believe it to be the future.
Australia
While it only comes third amongst countries embracing flexible work with about 71% of the companies allowing employees to work remotely, Australia has 74% of workers who believe remote work is the new normal.
The US
Although the US is one of the countries that were hit hardest by COVID19, only 69% of the country's businesses are equipped with flexible work policies. However, over 74% of workers believe in remote working.
Canada
With 68% of businesses with remote work policies, Canada is a close follower of the US. Over 77% of Canadian workers believe that remote work/ workation is the future.
Top 6 Workation Essentials for an Enjoyable & Productive Time
Workations are gaining a great deal of popularity since working from home became a new normal. Travel enthusiasts are now hurrying to book picturesque getaways where they can work as they explore the neighboring attractions. Here are some must-have essentials.
External Hard Drive
Data storage is an essential part of any working vacation. Bring along an external hard drive to back up your work and store any extra work in case your laptop runs out of space while you are in the mountains. Having to delete some of your data because you simply don't have enough space can be frustrating.
Headphone
Bring some good-quality headphones, preferably the ones that have a noise cancellation feature. Residing at a resort or hotel means there are going to be other people trying to have a good time. You do not want that to affect your business meetings.
Foldable Laptop Table
Having your laptop at an elevated table will save you some serious health concerns like back pains, and eye problems. Always ensure you have a small foldable table for work or call ahead to make sure your resort or homestay provides a table.
Power Bank
When it comes to power cuts in new places, never say never. There may be some intermittent power cuts at your place of residency from time to time. You want to keep a power bank handy for your laptop and phone for these emergencies.
Documents
You can never be too prepared when it comes to documentation. Scan and file all your important personal and official information for future use. These documents can always come in handy when you are away and need to share any required information.
First Aid Kit
Keep a medical kit with essential medicines, band-aids, thermometers, sprain relief gels, crepe bandages, allergens, etc. Add some scissors, tweezers, safety pins, sting relief solutions, and some insect repellents. Being out in the wild requires a great deal of self-care since you still have to work to make a living. Remember, prevention is always better than cure.
This article was initially published by Trip Dhow.
About Author
Pearce Kibaale is a freelance writer, content creator, and CEO of Trip Dhow.