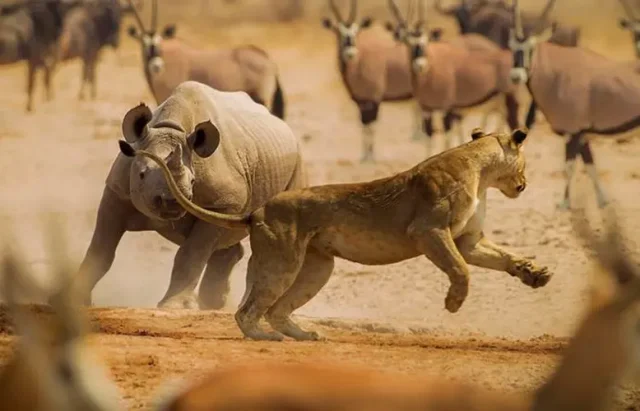 Namibia is one of the best destinations in the world to see wildlife and contribute to meaningful conservation efforts that protect some of Africa's most at-risk endangered species, and Wilderness Travel is focused on doing just that with two exclusive programs that it operates in the region.
A leader in responsible adventure travel, Wilderness Travel has been operating for over 45 years, curating trips to Namibia for more than 30 of these. "There are precious few places left on Earth quite like Namibia – a country that supports just three people per square kilometer but a multitude of life," says Scott Abbott, Director of Marketing for Wilderness Travel. "Supporting conservation has always been core to our mission at Wilderness Travel. We're so proud of our unique Namibia programs – they celebrate the great work of our partners and allow our guests to be a part of these important initiatives."
Black Rhino, Desert Lion, and Giraffe. Namibia is home to some of the most specialized animal species and dramatic landscapes in all of Africa. Since achieving independence from South Africa in 1990, they have taken bold action for conservation through the establishment of a system of communal conservancies and groundbreaking legal protection, being one of the first countries in the world to incorporate environmental protection into its constitutional fabric. Today, about 45% of Namibia's land, or approximately 371,000 square kilometers, is under conservation management. Consistently ranking among the top countries in the world for their conservation practices, Namibia continues to have one of the only stable or growing animal populations in Africa.
"As a Tour Leader on these Conservation Themed Safaris, you are afforded the opportunity to take your guests on a journey beyond the bounds of a traditional safari," says Jason Nott, a renowned conservationist and leader of all Namibia expeditions. "Spending time with the researchers that protect and study these elusive animals such as desert lion, desert giraffe and leopard, gives myself and my guests the opportunity to experience 'behind the scenes' operations and become an integral part of the conservation team."
See below for two world-exclusive journeys that put guests up and close to the important efforts to conserve and protect these animals. Both part of Wilderness Travel's roster of limited edition journeys, now is the time to book these exclusive trips – they don't come around often.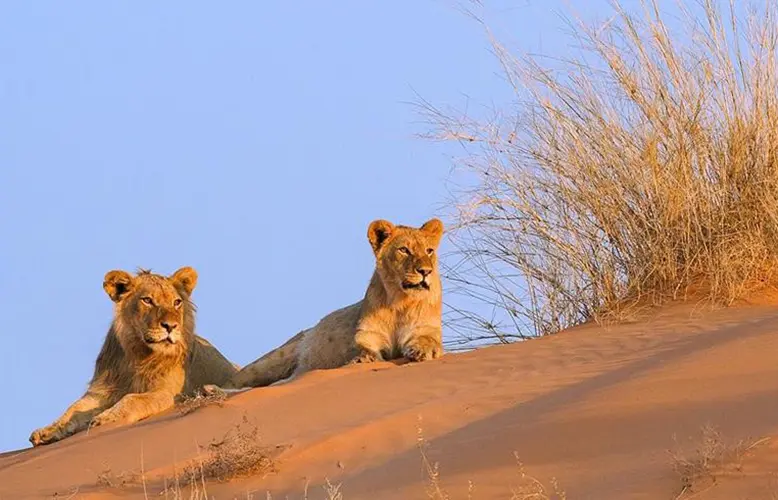 The Namib Desert is the only place on Earth that Desert Lions, sometimes known as desert-adapted lions, exist. These creatures are not a separate species, as their name might suggest, but a particularly adapted type of lion that is woollier and heartier than their cousins.
Among many amazing opportunities to view wildlife and learn about important conservation projects being conducted to protect the animals of Namibia, guests will visit the wilds of Kaokoland, in the magnificent Kunene region of Namibia, where they will have the opportunity to see the work of Dr. Flip Stander, the world's leading authority on the elusive desert lion. "Dr. Flip" has tracked desert lion throughout this landscape—often walking barefoot alongside the tracks of the lions—to chart their territory and habits, working with the surrounding communities to understand and co-exist with this extraordinary creature. These efforts support the creation of strategies to ensure their survival.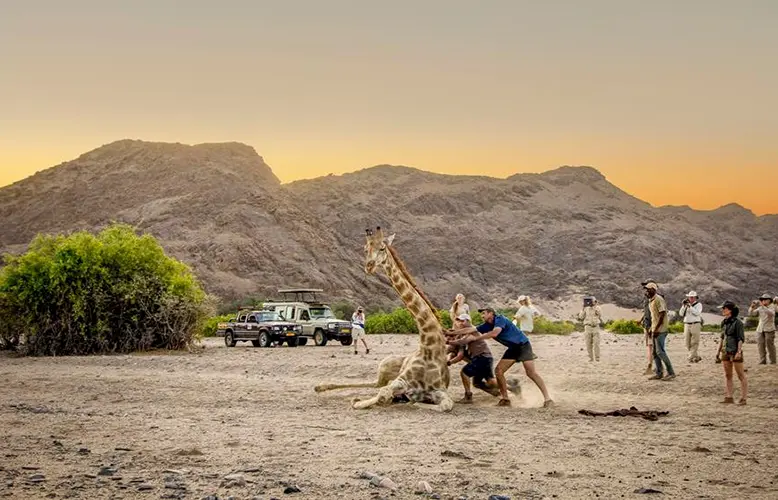 Namibia: Giraffe Conservation Safari
Giraffe have roamed in what is modern day Namibia for thousands of years and are a species of significant ecological and cultural value. Of nine (9) species of giraffe in Africa, two (2) inhabit Namibia. Reaching its lowest recorded population in the 1990s, today Namibia is home to a population of giraffe increasing in both number and range.
On this exclusive experience, join field conservationists and vets from the Giraffe Conservation Foundation (GCF), working to track and attach GPS tags to wild giraffes. Guests will take part in two (2) tagging days with the GCF staff and pioneering conservation scientist, Dr. Julian Fennessy. Encounters with the giraffe will be unforgettable, but this journey also provides opportunities to radio-track leopard with the famed AfriCat foundation and track desert-dwelling black rhino with rangers at the Save the Rhino Trust.