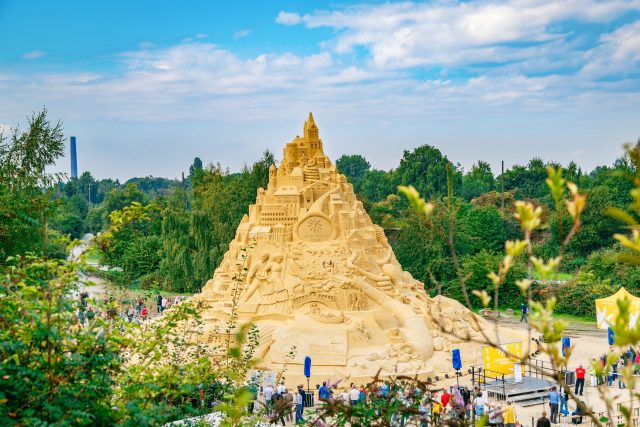 The world's tallest sandcastle was built in Duisburg in just 25 days. Made from 3,500 tonnes of sand, this sculpture is exactly 16.68 metres tall and therefore 184 centimetres higher than the previous world record, which was set in India. Jack Brockbank, Official Adjudicator at GUINNESS WORLD RECORDS®, measured the sandcastle himself using laser technology, declared the record attempt to be valid and presented Mr Kassner, Managing Director of schauinsland-reisen and the man behind the sandcastle, with the much-coveted GUINNESS WORLD RECORDS® certificate at 12.31 p.m.
19 sand artists from around the world travelled to Duisburg for the schauinsland-reisen world record. Their sole aim was to break the world record – and they did just that. "We wanted to organise another exciting event that brings together summer, sun, sand and our slogan – 'Holidays in great hands '– in perfect harmony. The sandcastle world record had all of the above. Having won people's hearts with our previous attempt, we are delighted that we have now been able to bring the official GUINNESS WORLD RECORDS® title back to Duisburg and that the giant sandcastle has been so well received and embraced so enthusiastically by visitors," explains Andreas Rüttgers, Head of Tourism at schauinsland-reisen.
So it looks like schauinsland-reisen will be able to celebrate its 100th anniversary next year as a world record holder.