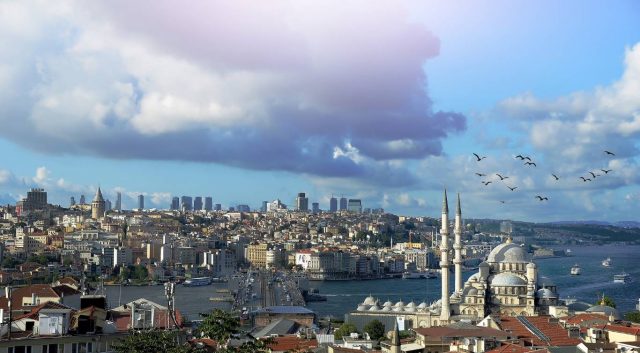 Visiting Istanbul in June will be one of your best travel experiences. This vast city, spread across Turkey's Asian and European continents, was a pivotal point on the map throughout history. Decisions made here by the Byzantine and Ottoman empires shaped the course of history and led the city to the great metropolis that it is today. Istanbul far outshines the capital Ankara for tourism, education, health, business, leisure, arts, and culture. There are two airports in Istanbul. To visit the Asian side, book a flight to Sabiha Gokcen. Book a flight to the new Istanbul airport to visit the European side. The experts at Property Turkey have shared their expertise so you can have the perfect trip to Istanbul this June. Currently, travelers have the option for a Turkey eVisa or VOA. However the option will depend on their nationality.
1) Weather and climate
During June, temperatures are not cold, but neither are they too hot to get active in the daytime. Average daytime temperatures are about 30 degrees, so pack those shorts and t-shirts. Night times are also cool enough to enjoy al fresco style dining. Perhaps try Bosphorus shore front restaurants to enjoy the city skyline at night.

2) Major events in June
The hot event on everybody's lips during June is the Istanbul Music Festival. Hosted by the Istanbul Foundation for Culture and Arts, this prestigious classical music event is Turkey's biggest and best. Having run annually for over 40 years, many artists have highlighted their skills and dedication to music. Featuring renowned orchestras like the New York Philharmonic, solo artists, and dance groups, book your ticket well in advance.

3) Shopping in Istanbul
As to expect from major cities, there are loads of places to spend your cash. For Istanbul's equivalent of Rodeo drive, head to Bagdat A venue on the Asian side. This long street is Turkey's most expensive shopping district. Streetside cafes and high-end bistros surround the high-end brand name shops, and while sitting there, the odd Lamborghini will probably drive by since Bagdat Avenue also runs through the luxury Nisantasi district. Otherwise, in the new part of Istanbul, Istiklal Avenue is Turkey's longest street. Here you will find brand name shops and individual vendors. Break up the shopping by exploring the various landmarks of interest, including Flower Passage and the Saint Anthony of Padua church. Put the Grand bazaar on your list of places to buy souvenirs.

4) Food and drink
Now is your chance to let your palette run wild by tasting your way around Istanbul. First, take this time to sample Turkish food in traditional restaurants known as lokantas. Street food is also sold during June including corn on the cob, midye, jacket potatoes, and the honoured doner kebab. Finally, try Ayran, a traditional Turkish drink made from water, yoghurt, and salt.
5) Culture, history and traditions
Istanbul is the perfect place for an introduction to Turkish culture, history, and traditions. The perfect start is a Turkish bath, that as well as prepping the skin up for a golden tan, will relieve stress and anxiety. Then, head to Pera museum on Istiklal avenue for art galleries, where the Tortoise trainer, Turkey's most expensive painting ever sold, hangs. Next, the Jewish Museum in the Galata district talks about the history of Jews in Istanbul and how they contributed to society. While the military museum gives an insight into Ottomans and how they fought wars. Also, tour the Fener and Balat districts to see the old-fashioned houses.
6) Experiencing Istanbul on a budget
When it comes to city breaks in Istanbul, they can be expensive or as cheap as you like. Istanbul has this marvelous knack of accommodating everyone from five-star hotels to budget B&Bs. There are plenty of free things to do in Istanbul. The city's ancient mosques are an excellent place to start because they are free to enter and give great insight into how Turk's practice Islam. Also, tour city parks, and visit the Spice Bazaar and grand bazaar for free.

7) Sultanahmet District
The Sultanahmet district is the touristic hub of Istanbul. This is from where the Byzantine and Ottoman empires ruled their lands. It is possible to see all the significant landmarks within one day, or to take sightseeing slowly, take two days. Places to visit include the Blue Mosque and Hagia Sophia, once the world's largest domed building. Around the corner, the Topkapi Palace was the Ottoman's first ruling center and includes exciting displays like the kitchens, circumcision rooms and relics room that contain the prophet Muhammad's sword and staff. Also, see the Archaeology Museum, Basilica Cistern, Hippodrome, and Turkish Islamic Art Museum.