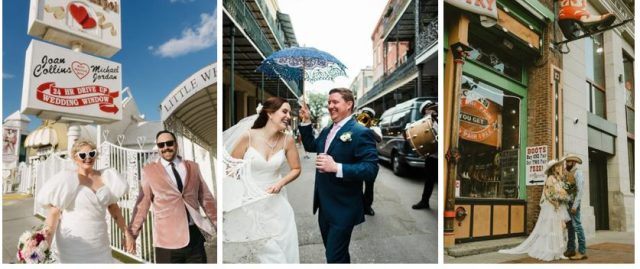 With a staggering 2.94 million searches in the past year for an elopement, the trend of swapping a traditional, big wedding for a smaller, more intimate ceremony is one to watch. Whether it's escaping to a favoured destination that's full of fond memories for a couple or saying I do whilst exploring a new city, there's an elopement destination perfect for everyone.
With wedding season in full swing, Pour Moi has analysed Google searches from the past year to unearth where in the world nearly weds are searching to elope the most, crowning them the most popular elopement destinations. From the famous city of Las Vegas, where celebrities such as Kourtney Kardashian and Travis Barker have been known to tie the knot to remote beach resorts where couples can say I do as the sun goes down.
When it comes to the most popular elopement countries, seven of the top 10 are found in Europe. Topping the list is Italy, with its various gorgeous landscapes, from the tranquil Tuscan countryside to the striking Amalfi coastline, there are so many options for couples to choose from.
In second place is Ireland, with incredible scenery, including lush green terrain, gorgeous coastlines and ancient castles, the country offers a sense of peacefulness as couples exchange vows. Ireland is notorious for celebrations and parties, making it an ideal spot for one of life's biggest milestones.
Ranking in third place is Spain, with a sunny climate, breathtaking beaches and a vibrant culture, there are plenty of reasons why this is a great destination for couples to tie the knot. Rounding off the top five are Iceland in fourth place and the United Kingdom in fifth. Iceland, known for its dramatic landscapes and beautiful natural surroundings offers couples an unforgettable backdrop as they say I do. The UK offers plenty of spots to get married in, whether it's getting married in London to capture the iconic city sights or eloping to the historic Gretna Green on the Scottish border or even opting for one of the many stunning coastal spots the country has to offer.
The World's Most Searched Elopement Countries
| | | |
| --- | --- | --- |
| Rank | Country | Annual searches |
| 1 | Italy | 35,000 |
| 2 | Ireland | 21,400 |
| 3 | Spain | 17,100 |
| 4 | Iceland | 15,000 |
| 5 | United Kingdom | 14,700 |
| 6 | Greece | 12,260 |
| 7 | New Zealand | 10,000 |
| 8 | Australia | 7,610 |
| 9 | Mexico | 7,410 |
| 10 | France | 7,230 |
| 11 | Costa Rica | 5,460 |
| 12 | Canada | 5,340 |
| 13 | Portugal | 5,170 |
| 14 | Thailand | 4,530 |
| 15 | Fiji | 4,420 |
| 16 | Bahamas | 4,210 |
| 17 | Jamaica | 4,110 |
| 18 | United States of America | 2,780 |
| 19 | St Lucia | 2,650 |
| 20 | Maldives | 2,590 |
Taking a closer look at some of the most popular destinations worldwide, it might come as no surprise to see Las Vegas topping the list. With an impressive 51,000 searches for 'elope Vegas' over the past 12 months alone, Sin City has been hailed as the elopement capital for years. Known for its little white chapels and Elvis weddings, it's a firm favourite with so many couples, including famous pairings such as Lily Allen and David Harbour and Sophie Turner and Joe Jonas, who all wanted to ditch the traditional wedding fare for something a little simpler. The USA dominated the top global destinations, with seven of the top 10 found in the United States. 
New Orleans and Nashville both rank in second place, with both destinations featuring quirky and stand-out qualities, they make for unforgettable wedding destinations. Both known for vibrant music scenes and fantastic cultures, they're two of the top choices for eloping couples around the world.
Making up the top five are two iconic cities, New York and Paris. NYC, the city that never sleeps is a firm favourite for those looking to elope to a truly iconic destination, whether it's exchanging vows in Central Park or overlooking the city from high above in one of the city's many famous buildings, there's a New York wedding for everyone. Paris, the city of love ranks in fifth place, hosting lovers from all around the world as they spend time enjoying all that the romantic destination has to offer.
The World's Most Searched Elopement Destinations
| | | |
| --- | --- | --- |
| Rank | Destination | Annual searches |
| 1 | Las Vegas, USA | 51,000 |
| 2 | New Orleans, USA | 15,900 |
| 3 | Nashville, USA | 15,900 |
| 4 | New York City, USA | 12,000 |
| 5 | Paris, France | 11,340 |
| 6 | Bali, Indonesia | 10,940 |
| 7 | Gretna Green, Scotland | 10,200 |
| 8 | Maui, Hawaii, USA | 10,150 |
| 9 | Big Sur, USA | 9,310 |
| 10 | San Diego, USA | 9,010 |
| 11 | Niagara Falls, USA + Canada | 7,100 |
| 12 | Chicago, USA | 7,010 |
| 13 | Melbourne, Australia | 6,810 |
| 14 | Santorini, Greece | 6,590 |
| 15 | Austin, USA | 6,200 |
| 16 | Brisbane, Australia | 4,850 |
| 17 | San Francisco, USA | 4,670 |
| 18 | Orlando, USA | 4,520 |
| 19 | Houston, USA | 4,420 |
| 20 | Seattle, USA | 4,350 |