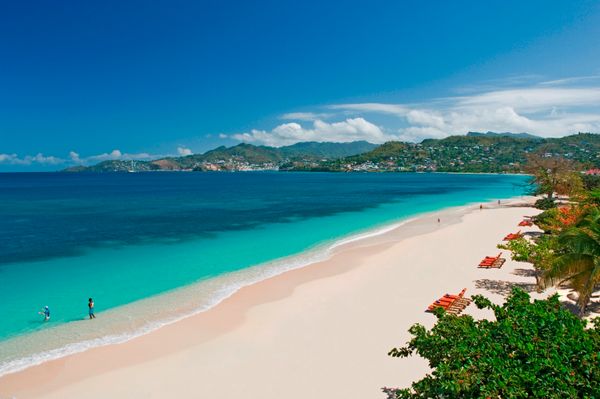 The tri-island destination of Grenada, Carriacou and Petite Martinique provides visitors with boundless opportunities to explore, relax and experience the best of Caribbean living. With its year-round ideal weather, abundant hotel offerings, and ample land and water activities, there is something for everyone to enjoy when visiting. Due to the island's southern location, it is just outside the hurricane belt and rarely endures storms, making it the ideal destination for sailing, yachting and just about anything that requires a clear blue sky.
1. Your Vacation is not complete without a visit to the Sister isles of Grenada.
Not only are Carriacou and Petite Martinique easily accessible from Grenada, but they both offer visitors a unique, off-the-radar experience since there are no large resorts or crowded beaches. Visitors will find rows of locally built boats on its shores with boat-building techniques dating back to the 19th century.
2. There is nothing quite like the annual SpiceMas Carnival "Pure Mas"
The most anticipated event of the year, SpiceMas transforms the island of Grenada into a spectacle of all things culture, splendor and surprise. Belonging only to Grenadian culture, Jab Jabs are people who walk and dance through the streets wearing a horned headpiece covered in black oil. This masquerade takes place early Monday morning and goes through to Monday Night Mas where party goers in bright t-shirts wave light sticks and dance through the streets well into the night. The week climaxes with parades of the explosively colorful mas bands, calypso and soca competitions along with a frenzy of steel pan music. Spectators and participants alike feel the energy on the streets and through the veins of the island.
3. The diving opportunities are endless
There are more than 50 dive sites to explore with a selection of wrecks and reefs that house an abundance of marine life. The must-see and most famous wreck is the 600-foot-long 'Bianca C', which sank in the St. Georges harbor in 1961. Only advanced divers can experience the Bianca C, but beginners wishing for a unique underwater experience must visit the World's First Underwater Sculpture Park. It is a selection of more than 100 sculptures that act as artificial reefs as well as an attraction for visitors.
4. It has more than 50 beaches
With so many beaches available on the islands, it is easy to find one that suits the needs of the discerning traveler. The most famous, Grand Anse Beach, is home to a number of hotels and restaurants and extends two miles long. Little unknown beaches such as Menere Point, Gaby's Beach, and Pink Gin are ideal for relaxing and unwinding without the crowds.
5. The abundance of accommodations cater to any traveler
From five star hotels & resorts to cozy guesthouses, the island's accommodations are able to satisfy the pickiest travelers. Spice Island Beach Resort's AAA Six Star Diamond Award-winning service attracts the luxury traveler with a taste for a truly personalized and indulgent experience, while Laluna's casual-chic ambiance and secluded cottages and villas beckons those travelers wishing to rejuvenate and find a quaint paradise. All-inclusive accommodations such as Sandals LaSource Grenada Resort & Spa and Coyaba Beach Resort allow guests to leave their worries behind to focus only on relaxation with food and activities taken care of beforehand. Blue Horizons Garden Resort's 32 self-contained guesthouses allow its guests to live like locals while also providing the amenities of a resort such as a swimming pool, restaurant/bar and access to beach chaise lounges.
6. There are 15 breathtaking waterfalls to enjoy
Waterfalls in Grenada can be extremely accessible such as the Concord Falls just feet away from the road, or a bit more difficult to reach such as Mt. Carmel Waterfall's 30-minute hike through plantation fields. Each has its own unique beauty with pools to swim in and exquisite flora and fauna surrounding it.
7. Its spice production is infused in the cuisine
Producing some of the best herbs, vegetables and spices in the Caribbean, Grenada's cuisine is uniquely its own and ranges from wholesome savory dishes to sweet treats infused with the island's nutmeg and cocoa. The national dish, oil down, consists of stew made with salted meat, breadfruit, dumplings, turmeric, and callaloo all steamed in coconut milk. To top off any meal, nutmeg ice cream is a popular dessert option.
8. Its rich history is apparent throughout the island's street names and landmarks
Although Christopher Columbus set his eyes on Grenada in 1498 during his third voyage, the island was formed about 2 million years ago and was inhabited by the Arawaks. To this day, visitors to the island can see the Arawak influence when visiting the Grenada National Museum, which houses historical artifacts and as well as collections from the first inhabitants and plantation economy. Presently, the names of the villages, the architecture and dialect spoken bear reference to Grenada's history of European settlements.
9. It's a chocolate lover's paradise
Cocoa production in Grenada is done carefully with an organic, "tree to bar" process. The Grenada Chocolate Company started this business model in 1999 where the cocoa grew in the same place it was processed, allowing for the co-operative to do its own fermenting with fresh beans. Since then, many more producers of chocolate opened up sustainable and ethical businesses which are available for visitors to tour and taste the variety of the dark chocolate produced.
10. The best shopping and souvenirs can be found around the island
From natural products to handmade crafts, every type of souvenir can be found when visiting Grenada. The Grand Anse Craft and Spice Market features local talented vendors that sell art, spices, custom-made jewelry and offer hair braiding.