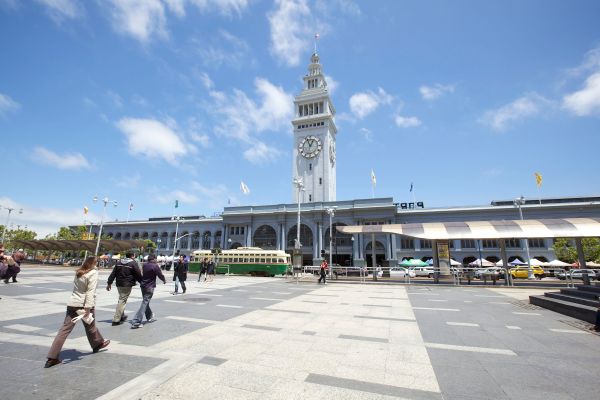 San Francisco and food go together like fog and summertime, and dining out is a sport as beloved as Giants baseball. With thousands of restaurants across the city, choosing where to book a table can be daunting. Here are 12 places to try in 2018 (one for each month), some already pleasing crowds and a few to look out for.
True Laurel (753 Alabama St.)
The award-winning team behind the ticketed dinner-party restaurant known as Lazy Bear are branching out with this cocktail bar and restaurant. No reservations or advanced purchase required, which can be tough in the 36-chair space. Helmed by Lazy Bear's David Barzelay and Bar Director Nicolas Torres, True Laurel focuses on innovative sharable dishes that pair well with the creative and creatively-named cocktails. The must-grab seat will be the cocktail tasting bar (reservation needed), slated to open early 2018, where guests will enjoy a menu of five cocktails with food pairings to match.  Being a barfly at True Laurel has its perks!
Brown Sugar Kitchen (The Ferry Building, Embarcadero)
Bravo Media's Top Chef and cookbook author Tanya Holland is bringing a taste of her new-style soul food to San Francisco's Ferry Building. It'll be a counter-version of her flagship restaurant of the same name in Oakland, and will take over the spot previously occupied by Il Cane Rosso. Fingers crossed her buttermilk-fried chicken and cornmeal waffles, chicken and shrimp gumbo, oyster po-boys, and cast iron skillet cornbread make the trek across the bay with her. Stay tuned for the 2018 opening date.
BarVale (661 Divisadero St.)
Adriano Paganini's Back of the House restaurant group might have 22 restaurants in its folio (including Super Duper, Belga, and Starbelly), but this is their first Spanish tapas concept. The airy dining spot transports diners to Spain, where the preferred dining style is grazing. Simple yet expansive, the authentic Spanish tapas menu is divided into hot and cold items that are substantial enough to make a mix-and-match meal, or be a nibble before the show, and are always just right for a meet up with friends. Wash them down with a selection of cocktails and Spanish wines.
The Meatball Bar (602 Hayes St.)
Co-owners Angelo Sannino and Gianni Chiloiro rolled out their first Meatball Bar in the Financial District in May 2017 and are opening their second outpost in February 2018. Unlike the frenzy found at the order-at-the-counter, grab-your-meatballs-and-go downtown restaurant, The Meatball Bar's new digs in Hayes Valley will boast table service and an outdoor patio for more relaxed meatballin'. The menu is still all about the handmade spherical specialties—from classic Italian to chicken, lamb, pork and vegetarian, all served with a choice of sauce such as spicy meat, Korean Gochujang, tomato and truffle fondue. Order them with a side of mashed potatoes and braised greens to fulfill the ultimate comfort food fantasy.
Manufactory Food Hall (San Francisco International Airport, Boarding Area A)
The International Terminal at SFO offers foodies a big inducement to check in early this summer when four beloved local chefs—Pim Techamuanvivit of Kin Khao, Elisabeth Prueitt and Chad Robertson of Tartine, and Gabriela Cámara of Cala—join forces to open the 3,000-square-foot Manufactory Food Hall in Boarding Area A. The fast-casual collaboration will feature grab-and-go bites such Tartine's fresh sandwiches and salads, and their morning buns and seasonal tarts. Camara will bring a taste of her native Mexico City via breakfast tortas and her famous street Tacos Cala, while Techamuanvivit delivers tasty Thai specialties such as rice bowls and noodles to travelers. Bon voyage, indeed!
Eight Tables by George Chen (8 Kenneth Rexroth Place adjacent to 644 Broadway)
Perched like an Empress of Heavenly Food above China Live, the Eately-style marketplace that opened in Chinatown in 2017, George Chen's serene and elegant new dining oasis has laid out a gold-threaded welcome mat, from the back alley private entrance to the elevator that opens on an elegant and intimate room reminiscent of a private club. The highbrow experience is based on si fang cai, or private chateau cuisine of the Chinese elite. For diners, that translates to an expensive but outstanding 10-course tasting menu, a stunning work of art that dazzles deep pocket visitors and locals alike.
The Board (1077 Mission St.)
Once a deli sandwich lover, always a deli sandwich lover. That's been the case for Adam Mesnick, owner of the popular Deli Board, whose meaty and monstrous creations draw a devoted following, as do his daily specials listed online. Mesnick's new Central Market restaurant pays homage to those specialties that never found a permanent menu home. The new space will open for breakfast and lunch, and will have more room for diners who can order homemade soups, salads, and sandwiches that are simpler and less gargantuan (and therefore less pricey) versions of Mesnick's signature sandos.
International Smoke (301 Mission St.)
Golden State Warrior Steph Curry isn't the only all-star in the family. His wife, Food Network celebrity Ayesha Curry, teamed up with Chef Michael Mina to open International Smoke, a barbecue concept launched in November 2017. From American St. Louis-style ribs and braised beef short ribs to further afield specialties such as a Vietnamese pork chop, Thai shrimp chili, and Tokyo-style chicken karaage, the dishes are a passport to some of the word's best interpretations of barbecue.
Ardiana (1781 Church St.)
If you need proof that the third time's the charm, head to Noe Valley where Chef Sharon Ardiana opened her eponymous (and third) restaurant in August 2017. With its massive oven and a solid know-how gleaned from her other restaurants (Regazza and Gialina), it's no surprise that the pies here set the bar for pizza lovers. Making a good case for returning again and again are the menu's Mediterranean and Italian small and large plates, such as the Di Stefano Burrata, Fuyu persimmons, and pistachio butter; roasted pepper-walnut dip with lemon oil and Greek yogurt; and lamb shoulder with couscous, oranges, dates and feta.
Dumpling Time (11 Division St.)
An instant hit when it opened, in no small part because of the xiao long bao (soup dumplings), Dumpling Time specializes in the pleated pillows popular with locals. Watch cooks hand make a variety of dumplings, including the Instagram-ready King-Dum, a grapefruit-sized soup dumpling served with a straw. The thin-skinned (in a good way) gyoza are delicious, too. Choose from a variety of fillings, from traditional pork and scallions to a surprising char-siu roasted pork belly with a touch of peanut butter found in the bao (steamed buns). A couple of noodle dishes round out the simple but satisfying menu.
Glena's (632 20th St.)
Mexican food is practically a signature cuisine of San Francisco. Some might argue we have guacamole running through our veins. This Dogpatch neighborhood taqueria has the magic touch. Run by chef Michael Gaines, who worked at the lauded Manresa in Los Gatos, the compact restaurant packs in the flavor on its small menu specializing in tacos and margaritas. Other not-to-miss standouts are the fried chicken torta and the pozole, the likes of which are hard to find elsewhere. Add in the cool neighborhood and the fine-dining skill heading up the kitchen, and Glena's is as good as it gets for affordable and casual Mexican.
Angler (132 The Embarcadero)
One dining rite of passage in San Francisco is a meal at the three-Michelin-star Saison (if your pocketbook can take the heat). However, with a new year comes a new restaurant, and an opportunity to taste the magic of Chef Joshua Skenes and his team.  With a fantastic view of the Bay Bridge on the Embarcadero, Angler is scheduled to open in summer 2018 in the former Chaya Brasserie space and will lean on local seafood, with a raw bar and a grill. Guests can order a la carte as opposed to Saison's more formal multi-course tasting menu.
For more great dining options in San Francisco, click here.
The San Francisco Travel Association is the official destination marketing organization for the City and County of San Francisco. For information on reservations, activities and more, visit www.sftravel.com, read The San Francisco Traveler or call 415-391-2000.
San Francisco Travel operates Visitor Information Centers at Hallidie Plaza, 900 Market St. at the corner of Powell and Market streets, and on the lower level of Macy's Union Square.  San Francisco Travel is also a partner at the California Welcome Center at PIER 39.
For more about San Francisco, follow www.facebook.com/onlyinSF, www.instagram.com/onlyinsf and https://twitter.com/onlyinsf.