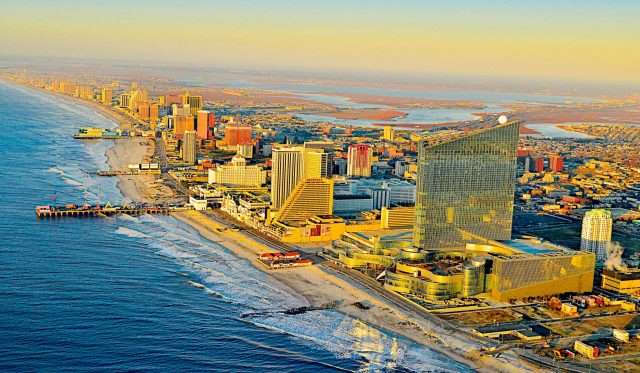 Atlantic City is an excellent location to spend a few days or a few weeks, there is so much to do (aside from gambling). It is the oldest seaside resort in the United States. Located on Abescon Island, in New Jersey, Atlantic City has changed drastically since the 1900's. In present day, it is a world class gambling and resort location with all the big casinos including Caesars, Bally's, and Trump Taj Mahal Casino. There are also a number of spectacular beaches, and the world's first very first boardwalk, which was built in 1870. Strolling along the boardwalk is an experience all in itself – lined with amusement piers, museums, shops and restaurants; not to mention the famous rolling chairs.
You can experience Atlantic City on any budget! There are many, many reasonably priced hotels and restaurants and many are located in the city center. Everyone should make a trip to Atlantic City, at least once! It is a paradox of glitz, glamour and nostalgic history all rolled into one. If you love to gamble, this is the place you need to be. If you are bringing your family along, unlike Las Vegas, there is so much here for children to do that they will never get bored!
Atlantic City Area Activities
Atlantic City Aquarium / Ocean Life Center – This exciting complex of the deep is located in the restored waterfront district of town at Gardner's Basin and features fun for the entire family, with its eight aquariums and 10 themed, interactive exhibits. Attractions at the Atlantic City Aquarium / Ocean Life Center include a variety of tanks and the numerous underwater oddities that inhabit them, and various interesting hands-on exhibits, based on maritime themes and educational displays.
Caesar's Atlantic City Hotel Casino – Like the Caesar's in Las Vegas, Caesar's Atlantic City Hotel Casino features a Roman theme, taking patrons back to the days of Julius Caesar, and has a prime location in the center of the Boardwalk. The multi-level casino is well decked out with furnishings, attractive lighting and artwork, with attractions including numerous slot machines and tables on the first floor, and poker tables and keno upstairs. Caesar's Atlantic City Hotel Casino is one of the most popular casinos in Atlantic City.
Rolling Chairs – What a fun way to see the Boardwalk in Atlantic City! Stroll the boardwalk in a rolling chair and learn about the city's history. Atlantic City's Rolling Chairs have been operating for over 100 years and are a 'must do' Boardwalk experience. You can roll for a few blocks or do the whole boardwalk. Knowledgeable guides are on hand to narrate your trip.
Steel Pier – Smack dab in the center of the Boardwalk and directly across from the Trump Taj Mahal Casino is the Steel Pier. Originally opened in the late 19th Century, Steel Pier offers family entertainment including carnival rides, games and of course the famous carousel!
Trump Taj Mahal Casino Resort – Owned by famous business mogul and star of the hit TV show 'The Apprentice', Donald Trump shows it all off in the Trump Taj Mahal Casino Resort. This glitzy village-sized complex is decked out with chandeliers, mirrors and features a huge gaming area, live shows and attractions. It is the city's first multi-billion dollar casino.
Absecon Lighthouse – The Absecon Lighthouse dates back to the mid-19th-century and stands an impressive 171 feet / 52 meters above the Atlantic Ocean. It offers fantastic views over Atlantic City and the entire New Jersey shoreline.
Boardwalk Hall – Atlantic City's Boardwalk Hall was opened in 1929 and has long been one of the city's most famous landmarks, boasting some impressive statistics. Not only was it once the largest building in the world, measuring 456 feet long, 310 feet wide and 137 feet tall, and it houses the largest pipe organ in the world. Concerts and events are held in the Boardwalk Hall all year round and this site holds the Miss America Pageant each year.
Cape May Lighthouse – The Cape May Lighthouse is one of the oldest operating lighthouses in the US. It has 199 steps to the top, from where views over the Atlantic are awe inspiring. Also visit the little shop and the lighthouse museum while you are there.
Lucy The Elephant – Lucy the Elephant is a massive structure that was built in the late 19th century by real estate giant, James Lafferty. She was created in the hope of pulling people in so that they could ultimately view his new beach property, and his plan certainly worked. The 90-ton monument even attracted the likes of Henry Ford and Woodrow Wilson to Atlantic City. You can walk inside the elephant and this attraction is a hit for kids of all ages.
Ripley's Believe It Or Not – Atlantic City's Ripley's Believe it or Not museum continues with the theme of other museums in this collection around the world. Inside the curious, dilapidated-looking building are hundreds of oddities, thrills around every corner and things to disgust you and make you scream.
Atlantic City Historical Museum – Offering a really fun way to learn about the history of Atlantic City with hundreds of photographs and collectibles. Make sure you check out the 'Boardwalk Ballyhoo: The Magic of Atlantic City' video, showcasing the city's transformation from beach town to casino destination. The museum is located on the Boardwalk on the garden pier.
Marine Mammal Stranding Center and Museum – An excellent and different trip excursion where your family can see animals that have been rescued include whales, dolphins, seals and sea turtles; which have been brought to the Marine Mammal Stranding Center to rehabilitate before being released back to their home in the water. Several interesting exhibits are also on display in the museum. This will be a hit with the kids!
Atlantic City Dining
Chef Vola's – Located in the basement of an historic Atlantic City home, Chef Vola's is truly one of Atlantic City's best-kept secrets. There's not even a sign on the building indicating that you've found the restaurant – you've just got to know. Reservations are essential and are hard to get. The menu changes weekly with daily specials emphasizing chops and the homemade pasta. Credit cards are not accepted.
Dock's Oyster House – Dock's is one of the most highly regarded restaurants in Atlantic City and they specialize in seafood and oysters. It is a city landmark that you should not miss and make sure you try the massive, succulent lobster!
Red Square – Filled with Russian artifacts and history of Czars and more! The Red Square offers more than 100 varieties of premium vodkas, which can be served to you at 30 degrees below zero in a large, walk-in freezer. They even let you borrow a genuine sable fur coat to wear! This amazing 150-seat bar, lounge and restaurant is brimming with sculptures, blown glass, deep red leather seating and private nooks. Take your camera – the ice pillars at the entrance are spectacular!
Peregrines – Named for the peregrine falcons that make the Hilton's penthouse ledge their annual summer home, this Five-Star gourmet restaurant features an ever-changing menu and a la carte menus. Selections include Belon oysters from France, truffles from Belgium, quinoa grain from the Indies, and spices from around the world.
Atlantic City Shopping
Shopping is all around you in Atlantic City. Every hotel has a boutique; every casino has items for sale. Brand names and expensive shops abound. We could not list them all but here are a few of our favorites:
The Atlantic City Art Center – Located on Garden Pier along with the Atlantic City Historical Museum, the Atlantic City Art Center has a lovely setting and boasts three galleries that cover a huge space. The art center displays works by professional artists with varying media that change every month. The art center is also the venue for concerts and readings and has a gift shop.
Atlantic City Outlets, The Walk – The Walk is Atlantic City's premiere retail complex featuring 52 national brand outlet stores, connecting the Atlantic City Convention Center to the Boardwalk Casinos along Michigan Avenue. Whatever brand you are looking for, you can find it on The Walk and everything is priced at outlet pricing.
Pier at Caesars – Formerly known as the Million Dollar Pier and then the Ocean One Mall – it is now the Pier at Caesars and it a popular shopping destination for visitors to Atlantic City. If you are looking for Gucci or Louis Vuitton, this is where you will find it!
The Borgata – Made up of several small boutiques in a row – they offer art glass, little black dresses, watches and jewelry are just a few of the treasures for sale at The Borgata. The store also offers gifts, trinkets and what-not's to take home as souvenirs of your trip to Atlantic City.
Atlantic City Travel Tips
Hospital/medical center in Atlantic City:
Atlantic City Medical Center (1925 Pacific Avenue) Airports certified for carrier operations nearest to Atlantic City:
Atlantic City International (about 11 miles from city center)
Lakehurst/Maxfield (about 47 miles in Lakehurst, NJ) Climate – Average HIGH Temperatures:
January through March – 44
April through June – 72
July through September– 81
October through December– 51