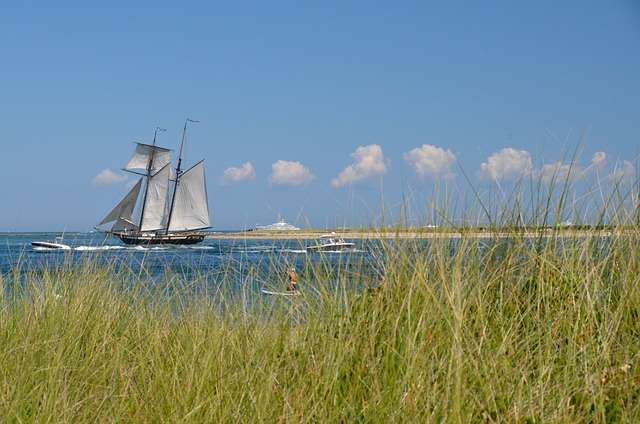 Nantucket, MA, has become a top-preferred serene island paradise in the latest years for multiple reasons.
This small island has the largest concentration of meticulously preserved pre-civil war mansions, houses, lighthouses, and other buildings compared to any other town in the USA.
It also has more than 80 miles of pristine beaches and coastline, each of which is entirely free to access to the public.
From its fascinating whaling history to the delicious lobster rolls and the beautiful rose-covered cottages with weathered gray shakes and sidings, this island is definitely one of the vacation spots to add to your bucket list.
Here are four things that are good to know if you are contemplating visiting his New England coastal paradise.
The best time to visit
The high season for tourists and vacationers in Nantucket is during the summer. This is when the weather and water are warm, the sun is shining, the hydrangeas are blooming, and all restaurants, galleries, shops, and other venues are open.
During the peak of the summer season, the number of people on the island often reaches more than 50,000, which is about five times more than the number of permanent residents.
So, needless to say, it can be a bit crowded, and it is hard to find ferry or plane tickets, available lodging, or tables at the top restaurants then.
If you prefer a more peaceful stay, then it is better to plan your trip for the shoulder months, such as June or September.
Christmas is another excellent time to spend in Nantucket and take part in the traditional Christmas stroll and take photos of the Brant Point Lighthouse and its giant Christmas wreath.
How to get there
The traditional ferry by the Steamship Authority is the most affordable way to reach this island, located 30 miles south of Cape Cod. It has regular car and passenger ferries from Hyannis Port and takes two hours and 15 minutes to reach the Nantucket Harbor.
If you want to get there faster, you can hop on one of the high-speed passenger-only ferries from Steamship Authority, Hy-Line Cruises, or Freedom Cruise Lines. It will take you to the island for just about an hour.
Suppose you don't like the idea of traveling across the Nantucket sound via ferry. In that case, you can fly to the Nantucket Memorial Airport (ACK) via a commercial or charter plane from New York City, Boston, and others.
The island is perfect for biking
One of the most significant advantages of Nantucket is its relatively small size and the extensive network of biking and multi-purpose paths, which covers it all.
The size of this remote island is only 14 miles in length and 3.5 miles in width. Plus, there are very few hills, so it is easy to cross from coast to coast by cycling without putting too much effort into it.
You can enjoy the scenic views, feel the unique vibes of this charming island, and be closer to nature and the people if you choose to explore it by bike.
Some of the rental residences come with complimentary bicycles for their guests. There are some bike rentals in town as well.
You can even take your own bicycle with you on the ferry.
All of the shuttle buses in Nantucket have bike racks, so don't worry if you get too tired to cycle.
Amazing variety of activities to join
Nantucket may be small, but it is a very versatile tourist destination.
There are three lighthouses, more than 800 historic buildings, a whaling museum, and many other historical sites to see.
Beach lovers can choose from over 30 stunning beaches, each of which is unique and free to access.
More than half of the land is conserved and protected from development. There are miles of walking trails, several wildlife refuges, and many other places to go to be immersed in the untouched nature and spot some rare trees, plants, birds, and animals.
There are many great restaurants, raw oyster bars, eateries, diners, food trucks, beach bars, and a brewery. There you can choose to eat some of the best seafood and other dishes and drink fabulous craft cocktails.