Glamping is a growing trend with holidaymakers looking to escape to the great outdoors while still having all the luxuries a hotel room offers. This booming industry is becoming increasingly popular, with hundreds of glamping sites popping up all across the U.S. With so many glampsites to choose from, picking the best places to visit can be tricky. Luckily, we've compiled a list of some of the best glamping destinations for your next weekend away.
Under Canvas Yellowstone, WY
One of the best glamping destinations, if you're looking to reconnect with nature, is Yellowstone National Park. Yellowstone is one of the most incredible parks in the U.S., and nearby Big Sky contains several chic, well-equipped glampgrounds in case you're looking to sleep under the stars in style. The Under Canvas Yellowstone is one of the best glamping options in Montana and is situated just ten minutes from the entrance to Yellowstone. Under Canvas Yellowstone contains an array of exquisite yurts and tents, including the deluxe Stargazer tent, which features a private bathroom and a king-sized bed.
One of the oldest parks in the U.S., Yellowstone, features some iconic natural wonders, including the Old Faithful Geyser. Glampers looking to trek through this breathtaking landscape are in luck, as Yellowstone has over 900 miles of hiking trails to explore.
Ventana Big Sur, CA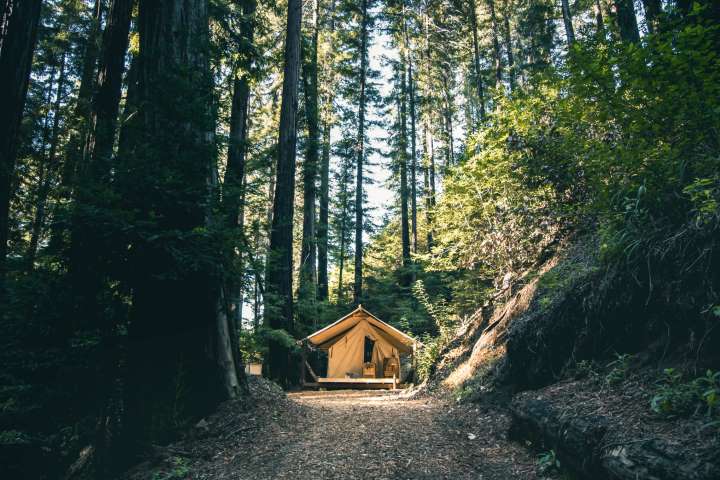 You'll find some excellent glamping sites scattered across California, with some of the best options located in Big Sur. Ventana Big Sur is a popular choice, with secluded tents sat in between towering redwood trees. Ventana also boasts glampsites only accessible by foot, which sit overlooking a sublime 20-acre canyon. These classy glampsites come with lots of useful amenities, including power outlets, sinks, heated blankets, and much more.
While staying in Big Sur, you'll have the verdant Pfeiffer Big Sur State Park on one side and California's rugged coastline on the other, making this the perfect place for a classic Golden State adventure. Before heading down to Big Sur, drop your extra stuff off at a San Francisco luggage storage spot, so you won't have to lug around your heavy bags.
Little Racoon Key, GA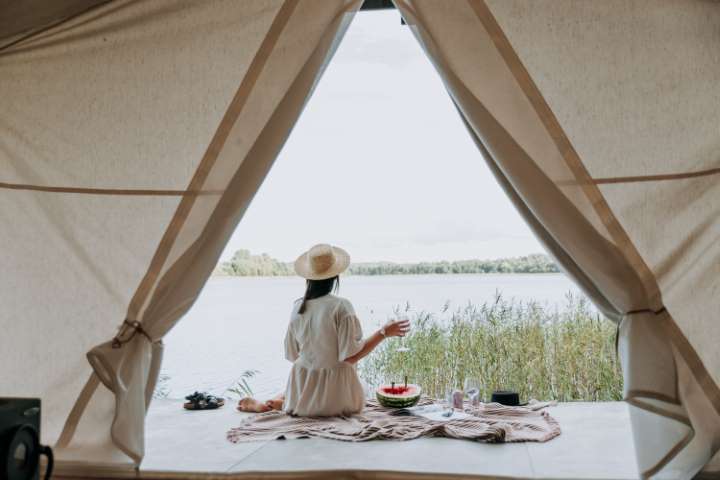 If you're searching for an idyllic camping experience on Georgia's coastline, consider a trip to Little Raccoon Key. This glampground is hidden away on a series of reef islands, making it perfect for nature watching, with pods of playful dolphins swimming just off the coast, and vast coral reefs teeming with an array of aquatic critters. Little Raccoon Key is only accessible by boat, and you'll be treated to a wildlife boat tour on your way to the island.
You'll have plenty of exciting glampsites to choose from, with yurts, igloos, teepees, and more available to rent. Each pitch is located on its own private island, making this ideal for couples looking for a secluded, romantic getaway.
Sinya on Lone Man Creek, TX
Glampers searching for a classy weekend away in the Lonestar State will love staying at Sinya on Lone Man Creek. This luxurious glampground is situated in Wimberley and boasts capacious safari-style tents inspired by the owner's experiences in Tanzania. Your open-air accommodation provides everything you need for a relaxing holiday, with king-sized beds, a bathtub, a kitchenette, and much more.
Sinya on Lone Man Creek is located just 40 minutes south of Austin, making it a breeze to explore the Texan capital if you fancy a day away from camp.
Moose Meadow Lodge and Treehouse, VT
Moose Meadow Lodge and Treehouse affords glampers a slightly different experience from other sites on this list, with a two-story treehouse and stately lodge located high up in the Green Mountains. This isolated resort sits within 86 acres of lush woodlands, meaning you'll be encircled by nothing but nature during your stay.
The lodge sleeps up to twelve people, making it great for family vacations. One unique feature of the lodge is a glass gazebo. This gazebo is located on top of the lodge, providing breathtaking panoramic views of the surrounding mountains and forests.
Despite being deep in Vermont's wilderness, there's lots to do near the lodge, with an onsite fishing pond, dozens of hiking trails, and scope for hunting. You can also make the most of nearby ski slopes and snowmobile trails if you visit during the winter.