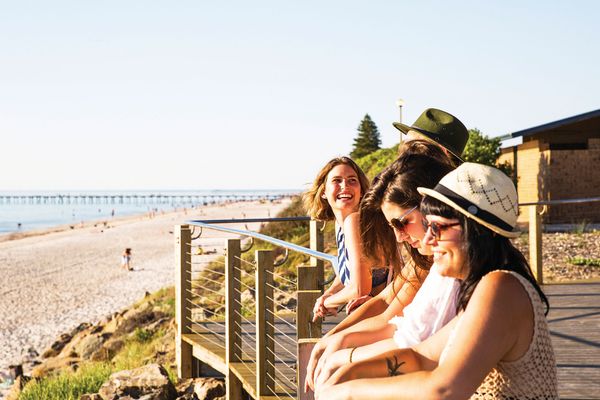 One of our favourite things about Adelaide's metropolitan beaches is the fact that they're so accessible. Feeling drained after a day at work? Jump in the car, chuck on your swimmers and within the hour you can be sprawled on a towel in the sun at Semaphore or perfecting your freestyle at Moana. With so many options so close to the city, it's easy to be overwhelmed. But fear not. Here are our top 5 beaches in Adelaide.
GLENELG
Tell me more: Family-friendly Glenelg is our most popular metropolitan beach. It's also the easiest to access. Just hop on the tram from the city and get off at Moseley Square, just metres away from the water at Glenelg. Once you've gone for a dip and strolled down the jetty, grab a bite to eat. After lunch, take a stroll around the picturesque Holdfast Shores or give your credit card a workout at one (or more) of Glenelg's trendy boutiques. Jetty Road is a bustling mix of quality cafés, clothing boutiques and restaurants. No trip to the beach is complete without an ice-cream or gelati – or two – and you'll find plenty of opportunities to treat yourself at Glenelg.
BRIGHTON
Tell me more: Jump back into the car for ten minutes and you'll be at Brighton. Mirroring Glenelg with its own Jetty Road, Brighton has a similar relaxed vibe with eclectic cafés, restaurants and fish and chip shops aplenty. While still very popular in the summer months, Brighton beach is generally less crowded than Glenelg.
HENLEY
Tell me more: Surrounded by a range of high-end seafood restaurants and centring around a bustling grassed square, Henley is a must-visit whether you're after a quality dinner, a quality swim, or a bit of both. The shoreline stretches as far as the eye can see, with plenty of space for laying out your towel or taking a dip.
SEMAPHORE
Tell me more: A trip to Semaphore is a trip back in time. The beach is long, wide and bordered by sand dunes; however Semaphore's main drawcard is its history. Its expansive foreshore and boulevard are dotted with beautifully preserved Art Deco buildings. Nothing quite compares to the grandeur of the Palais – originally a 1920s bathing pavilion, now a great place to grab a pub-style lunch or enjoy a glass of wine.
Nearby stands Semaphore's iconic Time Ball Tower, as well as a waterslide complex for the kids, ferris wheel and  gorgeous 1920s carousel – the oldest in the southern hemisphere. Semaphore Road, just metres away, is bordered by historic pubs, restaurants, awesome boutiques and a treasure-trove of op shops.
PORT NOARLUNGA, CHRISTIES BEACH AND MOANA
Tell me more: Port Noarlunga, Christies Beach and Moana are a bit further away from the city, but well-worth the trip. Port Noarlunga's huge shore, crystal clear water and towering red sandstone cliffs assure you that you've left the city behind.
The three beaches are surfing and body boarding hotspots, but still perfect families as swells rarely get too rough. With loads of room on the beach, you'll never have to worry about overcrowding. Just rock up and hit the water. Take your snorkelling gear to Port Noarlunga. Its long boardwalk leads to a reef that's popular all year-round.
SNUBA, Port Noarlunga
Explore up to 6 metres under the ocean without bulky scuba diving equipment; just a mask, fins, SNUBA harness and a light belt.
STAYING SAFE
For your safety, surf lifesavers patrol many beaches throughout Adelaide and South Australia. If you go to the beach, only swim between the red and yellow Surf Life Saving flags. Be safe and have fun at the beach by remembering the acronym FLAGS:
Find the red and yellow flags and swim between them.
Look at, understand and obey the safety signs.
Ask a lifeguard or lifesaver for advice before you enter the water.
Get a friend to swim with you.
Stick your hand up, stay calm, and call for help if you get into trouble.
Additionally you should follow these behaviours to remain safe:
Only swim according to your experience and never underestimate the risks of swimming at the beach.
Conserve enegery by floating on your back and staying calm if you're in trouble.
Don't swim under the influence of alcohol or drugs.
Always check the depth of the water.
Never run or dive into the water. Even if you have checked the depth, water conditions can change.
Keep out of dunes and fenced areas.
Only swim at beaches with patrolling lifesavers or lifeguards.