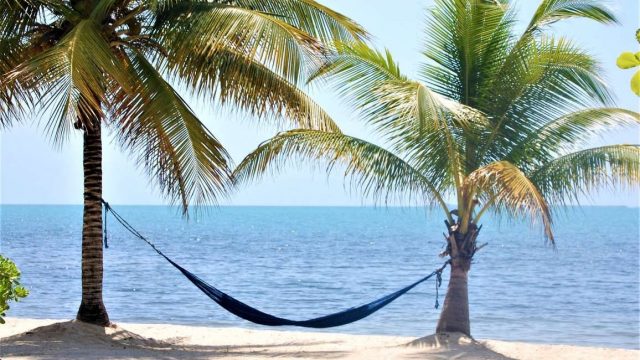 One of the lesser-considered vacation destinations, Belize is a hidden gem nestled between Mexico and Guatemala. Although small in size, it is rich with beauty, culture and history, and is perfect for travellers of all styles. Whether you're looking for a relaxed beach vacation or want to amp up the adventure, Belize really does have it all.
Cradled within the Caribbean's sea embrace, Belize experiences the best of both worlds in the nature department too. With a coastline lined with stunning beaches and an inland lush with dense jungle, a trip to Belize is definitely bucket-list material.
With so much to see and do in Belize, here's a quick run-down of the five best things that you should add to your itinerary.
1. Visit Belize's Most Beautiful Beach Town
If you're looking to find tranquillity and gorgeous white-sand beaches, then Placencia Peninsula is an absolute must-see.
Placencia is fast becoming one of the most popular destinations in Belize, as many tourists fall in love with its charm and easy-going atmosphere. Known as Belize's beach town, Placencia is spread over a 16-mile Peninsula and is bordered by a lagoon one side as well as the Carribean Sea, on the other.
Unsurprisingly, the coast of Placencia is famous for its beaches and with it, the range of activities on offer. Tourists can enjoy fishing, snorkelling, scuba diving, sailing just to name a few. If water-sports aren't for you, Placencia's main street is lined with cute shops, cafes and sidewalks decorated with vibrant murals and artwork.
Perhaps one of Placencia's biggest claims to fame though is its accommodation offering. Although there are options to suit all budgets, the area is renowned for its opulence meaning many people opt to stay in a quintessential Placencia Belize luxury resort.
2. Walk on the Wild Side
There's no better way to appreciate a destination than to get up close and personal with the native wildlife. With a number of places to spot animals in their habitats, Belize really is an animal lover's dream.
But you don't need to go trapsing through the jungle in search of the most exotic species. The Belize Zoo houses a huge array of native faunae. Unlike many zoos, the Belize Zoo has a unique design meaning their animals live in larger enclosures that mimic natural environments. Not only this, the Belize Zoo is renowned throughout the world for their focus on animal conversation and rehabilitation, providing homes to many sick and orphaned animals.
3. See The Sites, Your Way!
Belize really is a wonder to behold. From natural wonders to historical ruins, the country provides a wealth of beauty and site-seeing opportunities not found in many places. Not only that, many popular tourist spots offer a number of ways to enjoy them, from adventurous hikes to low-key tours.
Among the most popular places to visit is, Actun Tunichil Muknal (ATM); an ancient archaeological site located in the deep jungle of Belize. This site holds great cultural and historical significance, being listed as National Geographic's #1 most sacred cave site. Opened to the public in 1998, this site is home to many cultural artefacts including Mayan pots, relics and sacrificial remains.
You'll feel like you've stumbled onto a hidden piece of history when you visit the ATM site, as this trip involves a trek through the jungle and river to reach the cave's entrance. Also, to witness the remarkable cave formations, visitors can swim through the cave's mouth and navigate themselves throughout the site's many passageways. So if you love adventure, then this experience is definitely right for you.
4. Embrace Your Inner Adrenaline Junkie
Belize is an adrenaline junkie's wonderland. Between underwater and treetop activities, there's a blood-pumping option everywhere you look!
Some of the most popular activities include cave tubing, ziplining through the lush jungle and white water kayaking. For the really brave, a plunge into the Actun Lock Tunich sinkhole may be just the thing! This 300-foot abseil into the darkness, known at the Black Hole Drop, is not for the fainthearted.
Located in Cayo District, Mountain Pine Ridge is a nature reserve that covers approximately 100,000 acres. There are countless scenic delights and activities to encounter while adventuring through Mountain Pine Ridge. Those who are daring and adventurous can choose to hike to Thousand Foot Falls, which is also known as Central America's largest waterfall.
5. Discover Belize's History
Between the beaches and the jungle, you may be wondering what more could this incredible country have to offer. A trip into Belize City will reveal the answer; much more!
Steeped in history and culture, Belize City provides an insight to the country's forgotten times. With both Mayan and British influences, this wonderfully unique city allows visitors to glimpse into the past in a completely unique way. The Museum of Belize, St John's Cathedral and Old Belize Cultural and Historical Center are great places to start, but remember to simply 'look around' too. Appreciating the architecture of the city is an activity all in itself!