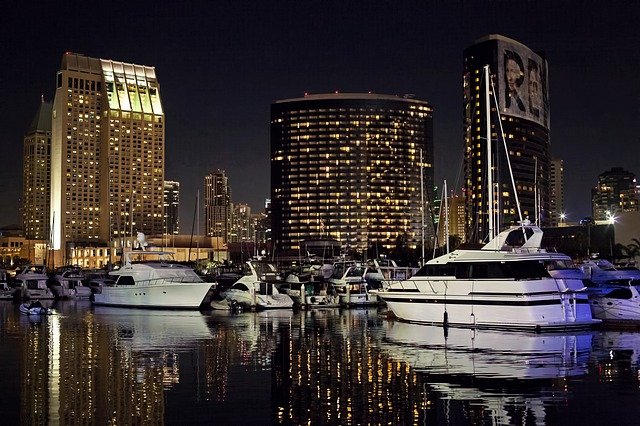 If you find yourself craving a change of pace, the best place to go is a quiet, natural setting. San Diego has so much to offer residents and tourists alike and one of them is its natural beauty. On average, San Diego sees more than 260 days of sunshine per year and features a collection of amazing lakes; it's no wonder that people flock here for vacation or to settle in for a more tranquil lifestyle. If you're hoping to take advantage of that San Diego sun, here are six unbeatable lakes in San Diego you can visit to escape the busyness of city life!
1) Lake Hodges
33 miles from San Diego
1,235 acres
Lake Hodges is a bit of a hidden gem of California! Tucked away from the crowds of tourists and locals alike, this beautiful destination features the ideal spot for a day of picnicking and socializing with an array of BBQs, picnic tables, and restrooms.
The large lake permits a number of water vessels including motorized boats, canoes, rowboats, kayaks, and stand-up paddleboards. Water equipment rentals are available onsite for visitors who are in need.
When it comes to fishing, Lake Hodges is stocked with a wide array of fish including bass, sunfish, catfish, crappie, and carp. The lake store even sells fishing supplies. If fishing isn't your forte, you can take on the seven miles of beautiful trails winding through the scenic landscape around the water and through the trees.
2) Lake Murray
14 miles from San Diego
171 acres
One of the more popular lake options on this list, Lake Murray is a local favorite! Located inside the Mission Trails Regional Park, this vast lake features stunning scenery and plenty of activity.
With over 60 miles of hiking trails, visitors can walk, jog, or bike through the picturesque grounds of Lake Murray. For those too intimidated to take on the trails alone, guided tours can be booked at the visitors center. Along the trails, you'll have ample opportunity to spot wildlife such as birds, butterflies, and small mammals.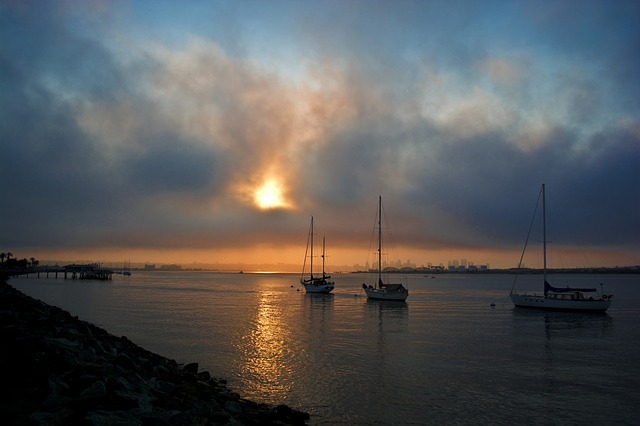 3) Lake Miramar
17 miles from San Diego
162 acres
Lake Miramar is home to some of the largest of large-mouth bass in all of California! Anglers will love taking to the waters to seek these prized catches.
If you're looking for something a little more adventurous, don't fret, Lake Miramar is a recreational hub! Visitors can rent kayaks, paddle boats, and stand-up paddleboards in order to spend the day exploring the lake. There's also a beautiful five-mile trail looping around the lake so you can easily explore both land and water. 
There are several barbecue areas throughout Lake Miramar where anglers can stop for a quick bite to eat after their fishing session or where hikers can sit and rest after a sunny afternoon taking in all that Mother Nature has to offer.
4) Lake Jennings
24 miles from San Diego
85 acres
If you're looking for a spot to spend a night or two in the San Diego wilderness, look no further! Lake Jennings features all types of camping sites from basic sites to pitch a tent to full-hookup campsites where you can park the RV. Visitors staying in the campground have access to picnic areas, boat rentals, and trails ranging from easy, kid-friendly paths to moderate hiking trails.
Lake Jennings also offers shore fishing where you'll be able to catch trout, catfish, bass, sunfish, and bluegill. If you're looking to truly sink your teeth into the Great Outdoors, whether through camping, fishing, or hiking, Lake Jennings is the place to be!
5) Sweetwater Reservoir
14 miles from San Diego
960 acres
Sweetwater Reservoir offers so much to its visitors! Whether your interests are geared towards the aquatics–fishing, boating, or kayaking–or you prefer to stay on dry land, there's plenty to enjoy at this beautiful destination. 
Located nearby is the Sweetwater Summit Regional Park featuring more than 100 campgrounds and a ton of incredible amenities! This includes 15 miles of multi-use trails where visitors can enjoy hiking, biking, and horse-back riding plus a splash pad for seasonal use as well as play areas. 
6) Dixon Lake
38 miles from San Diego
69 acres
If you're looking for crystal-clear waters and gorgeous scenery, Dixon Lake is where it's at! This incredible gem of a lake features excellent fishing conditions where anglers can come to fish from the shore, a dock, or by boat. Dixon Lake is chock full of trout, bass, and catfish.
If you're looking for the full experience, you can set up camp at one of the 45 campsites offered at Dixon Lake. Whether you like to rough it out in a tent or hook up your trailer or RV for more of a glamping experience, you can find it all within the campgrounds. The campsites of Dixon Lake feature flushable toilets, clean drinking water, an amphitheater, and the mile-long Jack Creek Nature Trail.
Boat rentals are available for those who want to get right out onto the water. Everything from motorized vessels to kayaks and canoes can be found at the Dixon Lake rental store so you have several options when it comes to exploring the gorgeous waters.
This article has listed just a few of the amazing lakes in San Diego when you're looking to escape the hustle and bustle of city living; there's so much more to explore out there! When it comes to communing with nature, there's no better place than a quiet spot along a lakeside hiking trail or sitting around a campfire under the stars with friends and family. Wherever you choose to partake in a little R&R, the lakes of San Diego are the ideal place to get away from it all!