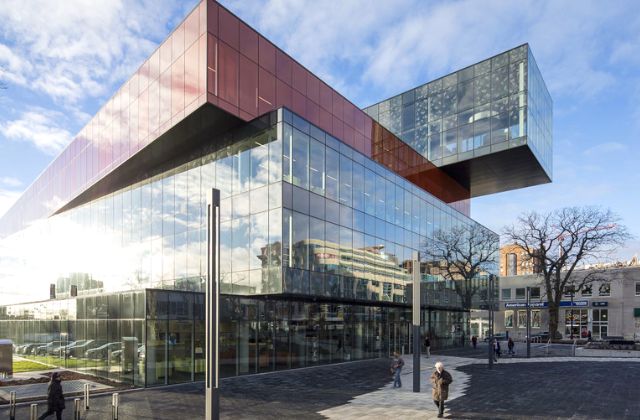 Studying in a library can be a great way to focus on your academic goals, gain access to research materials, and get help from librarians. With a vast range of libraries across the country, Canada offers a wide selection of spots to study.
From traditional libraries to modern spaces with the latest technology, these Canadian libraries offer various study options. Whether looking for a quiet place to read and focus or a space with the latest collaborative technology, these best libraries provide an optimal environment for students' needs.
Libraries are not the only places that can give you a hand with your studying. If you feel overwhelmed by assignments and need assistance, go to Schoolworkhelper and get reliable online homework help.
Vancouver Public Library (Central Branch)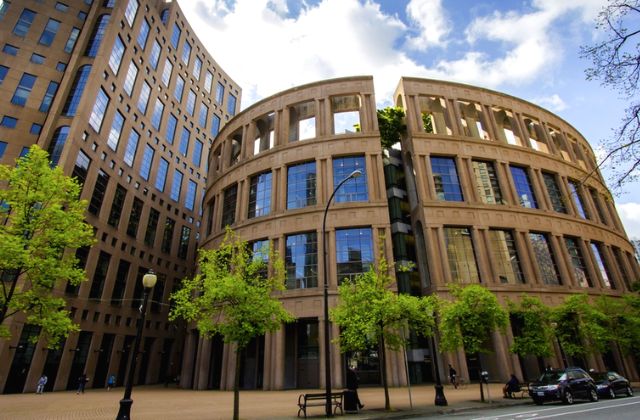 The Vancouver Public Library is a stunning modern library in Vancouver, Canada. It is housed in a colosseum building with a snazzy postmodern structure. The magnificent design by architect Moshe Safdie is welcoming to the eye and satisfactory for the soul. Inside, you will find a quiet reading space with lots of books, digital study materials, and an inspiring study environment. With over a million books and reference materials, you will never miss something here to read.
Plus, it has the RBC Lounge on the 8th floor, where you can buy drinks and snacks at the coffee shops and energize. You can come with your favorite food from outside as well and enjoy it in the lounge.
The library also boasts a rooftop garden on the 9th floor that provides an outdoor reading area with amazing views of Vancouver. This garden is a popular spot for readers looking to relax and enjoy the city's sights.
Halifax Central Library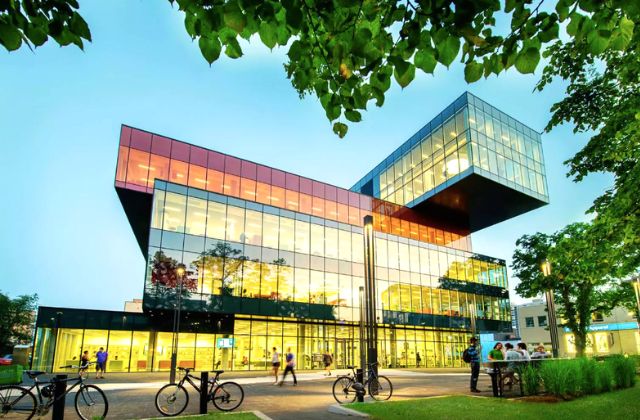 The Halifax Central Library is a truly remarkable building with a fantastic atmosphere. Its dramatic architecture, excellent lighting, and acoustics make it an ideal place for reading, studying, or simply enjoying the view of the city.
It also has a lot to offer:
an impressive selection of books and videos (DVDs);
comfortable seating, indoors and outdoors, to relax and enjoy your reading;
free Wi-Fi and computers for public use;
a "living room" on the 5th floor that offers stunning city views;
a rooftop café with a good selection of drinks and snacks, including gluten-free and vegan options. When done studying, you can grab a snack here and enjoy an incredible view of the Halifax harbor.
Whether you are looking for a quiet spot to read alone or a space to craft your graduation speech, the Halifax Central Library is a perfect option.
Whistler Public Library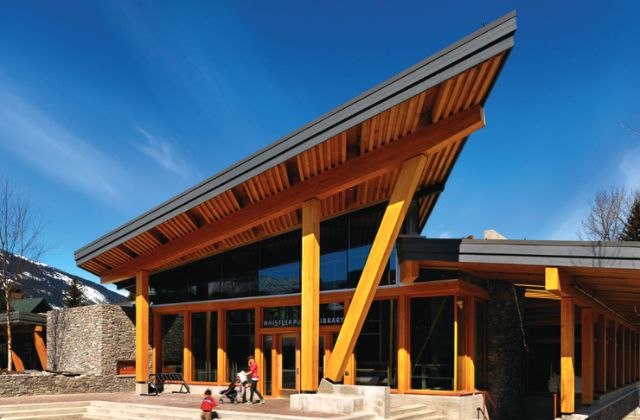 The Whistler Public Library is a hidden gem in the beautiful town of Whistler, BC. It is a place that embraces learning for the 21st century and is affectionately known as "Whistler's Living Room." With over 49,000 items, including best-selling fiction and non-fiction books, a robust movie collection, audiobooks, video games, and magazines, there is something for everyone at the library.
But it's not just a place to borrow physical items – it also offers over 25 online databases for researchers, making it a valuable resource for those looking to delve deeper into a topic.
And if the thought of spending a rainy day cozied up with a good book and a snack sounds appealing, you'll be happy to enjoy that at the Whistler Public Library. The library also has comfortable chairs and friendly staff to make your visit more enjoyable.
But don't just take our word for it – the Whistler Public Library has been ranked among the "Top 10 Most Beautiful Canadian Libraries" by Canadian Geographic Magazine. So next time you're in Whistler, stop by and see why it's such an immersive community space for studying.
Toronto Public Library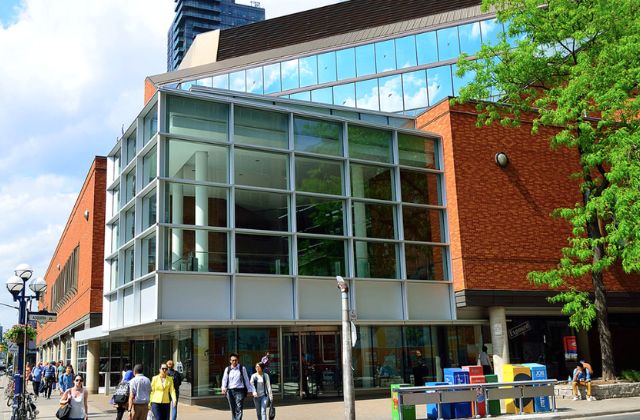 Looking for the perfect atmosphere to get lost in a good book? Look no further than the Toronto Public Library! It is one of the best libraries in the world, and it's also conveniently located in downtown Toronto at Yonge and Bloor.
As soon as you step inside, you'll be struck by the stunning design of the main reading room, with its bold red and white color scheme. But the beauty of the library goes far beyond its visual appeal. It's home to an almost unimaginable collection of books, research materials, and incredible artifacts sure to pique your curiosity.
It isn't just a place to marvel at its collections. It's also a place to get work done. With lots of quiet areas to study alone and cozy spaces for group work, you'll have no problem finding a spot to focus. And with friendly customer service and comfortable chairs throughout the library, you can relax and take a break whenever you need it.
And if you're feeling peckish while there, check out the cozy coffee shop, which has a great selection of snacks and drinks to keep you going. The Toronto Public Library is a highly impressive and welcoming place you'll want to visit again and again.
Mississauga Central Library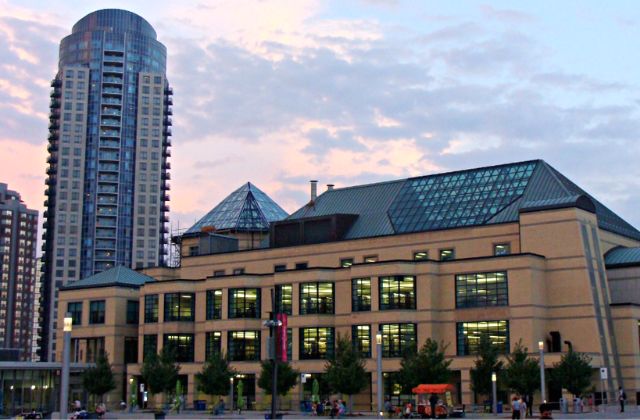 Mississauga Central Library is an oasis of knowledge in the vibrant city of Mississauga. Located in the heart of the city, it is a perfect place for people of all ages to escape the hustle and bustle of the city and indulge in a love of reading.
The atmosphere is positively charged, making it perfect for quiet study and contemplation. With a wide range of books on diverse subjects, you're sure to find something that piques your curiosity. Plus, with free computer access and Wi-Fi, it's easy to stay connected and do your research.
But that's not all – the Mississauga Central Library also has plenty of cozy corners to tuck away in, making it a great place to get lost in a good book. And if you need help finding something specific, the friendly staff is always there to assist.
However, the the library is currently closed and undergoing a major renovation with an expected completion later this fall, 2023. The new library will offer more self-serve options and access to upgraded technology throughout the building. Additional Makerspace and Maker elements will include sound and video studios, maker studio, digitization, digital creation and virtual reality. Approximately 28,000 sq. ft. of public space will be added within the existing building, along with plans for an additional 6,000 sq. ft. of secondary space on the fourth floor overlooking Celebration Square.
Westmount Public Library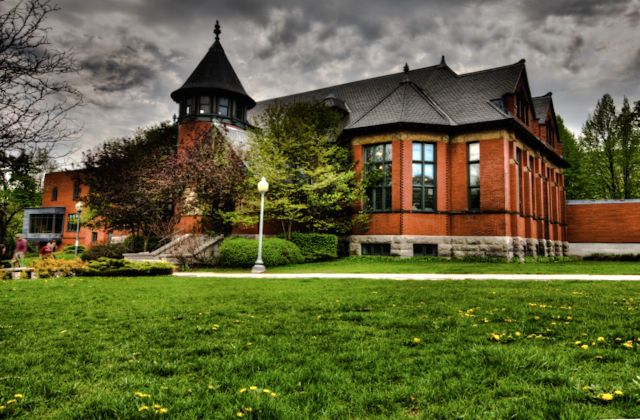 Nestled in the lush greenery of Westmount Park, it is a true haven for both locals and visitors. With its parking lot and welcoming atmosphere, the Westmount Public Library is the perfect locale to curl up with a good book.
But this is more than just a setting to study. Its stunning architectural design and beautiful historical splendor make it a true work of art. Despite its old-world charm, the Westmount Public Library is also a modernized resource, offering free Wi-Fi and excellent online services.
Inside, you'll find a fantastic selection of books, magazines, and newspapers and quiet and comfortable reading rooms. There is ample space with comfortable seating, making it easy to spend hours lost in the pages of your favorite book.
And if you have children, they'll love the impressive children's section, filled with all sorts of educational and entertaining books.
But what sets the Westmount Public Library apart is its friendly and knowledgeable staff. They are always happy to help and are an invaluable resource for all your reading needs.
If you're in the mood for some quiet contemplation or want to learn something new, visit the Westmount Public Library. You won't be disappointed!
Final Thoughts
Overall, libraries offer a great way to study, research, and get inspired. Whether you're looking for a quiet spot to focus or to meet other students, Canada has some of the best libraries to suit every need. With their expansive collections, comfortable spaces, and numerous amenities, these libraries are some of the best places to study in the country. Whether you are a student or a researcher, you are sure to find the perfect place to meet your needs.