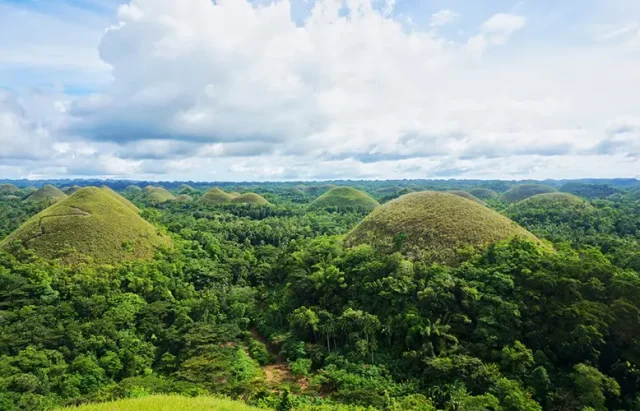 The Philippines Islands are a great vacation destination for visitors from Europe, the U.S., and other parts of Asia. Because Filipinos count English as its official "second Language," it's a particularly good vacation destination for Canadians, Americans, and English-speaking Europeans.
The other reason people love visiting The Philippines is to enjoy many fun and exciting tourist attractions and destinations. The following information is directed at what is generally considered seven (7) of the country's most popular tourist attractions.
1. The White Beaches of Boracay
The Philippines is comprised of over 7,000 islands. It makes perfect sense that the country's top tourist attraction would be one of the most beautiful beach resorts in the world.
Boracay is a picturesque beach community. The white sand beaches extend out more than 4 kilometers. They are surrounded by tropical plants, coconut trees, and some of the best 5-star hotels in Southeast Asia. Visitors can enjoy fine dining, water sports, sunbathing on the beach, and top nightclubs for adults at night.
2. The Chocolate Hills of Bohol
Sightseers have long been captivated by the Chocolate Hills of Bohol. A total of 1,268 coned-shaped hills were named based on the rich brown color they turn into during the area's dry season. It's notable that the hills range in height from 30 to 120 meters.
By all accounts, the best way to visit this attraction is by booking a tour through one of Bohol's tourist agencies. Visitors can also take advantage of Bohol's fine selection of hotels and restaurants, which are located in close proximity to the Chocolate Hills region.
3. Pasay City's Little Vegas Casinos
While one would not generally think of the Philippines as an exciting retail casino destination, Pasay City is home to four (4) of the best casinos on the islands.
For close to a decade, New World Resorts (formerly Resorts World) and The Solaire Hotel and Casino ruled Manila's retail casino gambling industry. With the edition of Okada and City of Dreams in the last few years, Pasay City has become a bit of a little Vegas unto itself. Each of these casinos features live gaming, shopping, fine dining, and first-class live entertainment.
Of course, if you're on a time crunch there are plenty of online casinos with no deposit bonuses that you can try your luck on. Many of which are mobile-friendly for playing at your convenience.
4. Surfing in Siargao
In recent years, surfers from all over the world have been rushing to the once-sleepy island of Surigao del Norte. The island's main attraction is the "Cloud 9" surfing spot. Not only is Cloud 9 rated as the best surfing spot in The Philippines, but it also holds the distinction of being considered the surfing mecca of Asia. The best surfing takes place from November to April, which is late winter and springtime in the islands.
Non-surfers can still enjoy great waterfall areas, lagoons, and rock pools where swimming and snorkeling are favorite pastimes. Area hotels and dining are available.
5. Cebu Islands
While Cebu City is one of the largest cities in the Philippines, it's also home to some of the best diving and snorkeling spots in the world. For decades, professional and recreational divers have flooded into Cebu to enjoy premium diving spots that include shipwrecks, underwater caverns and caves, and marine wildlife sanctuaries. Visitors are also encouraged to book island hopping tours.
Since many of the island resorts are located close to the city, visitors can enjoy plenty of quality hotels and restaurants. They might also take advantage of the city's exciting nightlife, which includes casino gambling at the popular Waterfront Casino.
6. Rizal Park's Historial Monuments
It's important to remember that the Philippines has a very rich military history with Manila playing a key role in major wars like World War II.
Clearly, Filipinos are very proud of their military heritage as evidenced by the numerous statues, monuments, and museums that are located throughout The Philippines capital of Manila. A number of the most important historical sites are located at Rizal Park. The Rizal Monument stands at the execution location of Dr. Jose Rizal, a man who is considered to be one of the country's greatest heroes.
Many of the area's historical sites can be seen as part of a scheduled Manila historical tour.
7. Mall of Asia
It's a little-known fact that The Philippines has more malls per capita than any other country in the world. None of these malls are more popular than the Mall of Asia or MOA as named by the locals. It's no small feat that MOA stands as one of the largest malls in all of Asia.
The mall is filled with hundreds of the best retailers in the world. The mall also offers lots of fine dining and recreational activities like Laser Tag, bowling, a vast arcade, and movie theaters.
At night, Moa's boardwalk, which borders Manila Bay, comes to life. The boardwalk is lined with amusement park rides, food stands, bars/nightclubs, and excellent fine dining destinations.
Conclusion: These are just a few reasons why The Philippines is such a wonderful vacation destination. It's also worth noting that prices are incredibly reasonable, which helps to stretch vacation dollars.