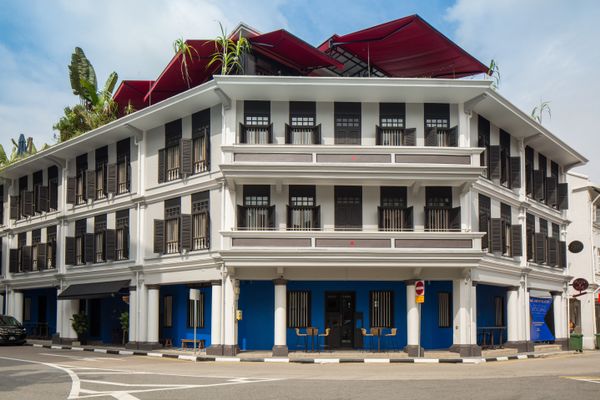 8M Real Estate, the name behind Singapore's most admired shophouse restoration projects, unveils the first phase of its latest conservation property – Ann Siang House. Leading a dynamic, lifestyle-led approach to hospitality, the tastefully restored heritage building re-opens in March with 20 well-appointed guest rooms, defining a new modern style for short and extended-term city accommodation.
Located in the historic, culturally rich Chinatown enclave within a short walk from the Business District, the iconic 1920s shophouse reimagined as Ann Siang House offers guests the benefits of personalised service along with home comforts for extended stays. The stylish interior design of the spaces formerly known as The Club Hotel, was originally envisioned by Paul Semple and Matthew Shang at Distillery. The new extended stay accommodation format of Ann Siang House unveils adjustments to the in-room amenities, additional new common areas, a distinctive re-curation of the furniture and artwork, and a bold new vision for the exterior façade – a reconfiguration process led by Flo Sander of iThink.
Taking inspiration from the local streets and scenes to provide elegant yet comfortable 'city style living', the property expertly fuses elements of the past with the present. The spacious rooms offer abundant natural light and neighbourhood views. The interiors are designed with bespoke handmade furniture, eclectic artwork and bold bathtubs, with several rooms featuring fully-equipped kitchenettes and private balconies.
8M Real Estate is responsible for the restoration of the Amoy Street precinct along 'Amoy Alley', and Gemmill Lane, bringing us independent restaurant institutions, Luke's Oyster Bar & Chop House, Employees Only Singapore, Birds of a Feather and Ding Dong, to name a few. Expanding this portfolio, Ann Siang House will follow the 8M Real Estate ethos to reignite charm and energy into its local area.
Founder and Managing Director of 8M Real Estate, Ashish Manchharam, says: 'We're excited about unveiling the first phase of Ann Siang House – the 20 well-appointed rooms provide flexible-stay accommodation that is a thoughtful departure from the mainstream offering. We envision the property will appeal to tech-savvy, professional, spirited globetrotters who are driven by discovering new destinations and enriching their business travel experience. In addition to offering expansive, plush rooms, Ann Siang House provides ample lounge space on each floor for guests to utilise as an extension of their room to work, socialise and relax.'
Following the philosophy, 'Stay, Dine, Discover', the second phase of Ann Siang House is set to be unveiled in the first half of 2018. Focused on uniting independent food and beverage heroes, Ann Siang House will continue to evolve as an exciting destination where everyone is welcome. The basement of Ann Siang House is already alive with activity following the December 2017 opening of a contemporary, cosmopolitan pizza and wine bar, Blue Label Pizza & Wine by Travis Masiero Restaurant Group. Over the next several months, the ground floor of Ann Siang House will host a series of creative pop-ups. From March, Perbacco restaurant will bring a heavenly Italian dining experience to Ann Siang House – inspired by Bacchus, the Roman God of Wine, Perbacco will offer comforting traditional Italian dishes with a spotlight on wholesome Northern Specialities and the finest imported wines from around the world.
Ann Siang House opened 1st March 2018. For more information vist www.annsianghouse.com