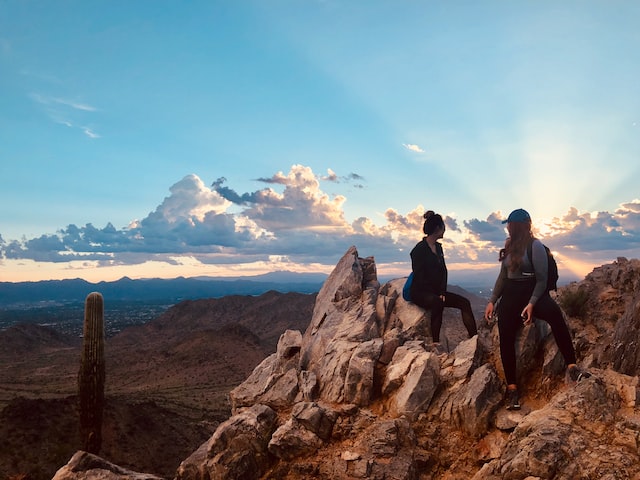 Scottsdale attracts golfers with its amazing courses, challenging any player. Besides the golf, this destination has other attractions, things to see, do, and taste. The myriad of attractions makes it suitable for all, from those who love some history to animal lovers and nature lovers.
You can be sure Scottsdale will meet your old-fashioned or modern adventure needs. When planning a vacation here, you must choose from the various vacation rental options available.
Whatever accommodation experience you are looking for, the city will offer. Wondering what scenic places to visit? Below are some of the best:
Desert Foothills Scenic Drive
The drive is, without a doubt, beautiful. If you love nature, you will find the drive most fulfilling. It is between Carefree Highways and Happy Valley Road, with beautiful photo spots. The most exciting is how the plants and other natural features have information signs.
You will not only be enjoying the peaceful environment but also learning about the ecosystem. The speed limit is 50, and the best way to enjoy the scenes is to pull over and explore a little on foot. If you are a city dweller, a drive through here will have you feeling one with nature.
Hole-in-the-Rock
It has a rich history of how the early inhabitants, the Hohokam Tribe, used the hole as a calendar to mark winter and summer solstice. You will see the markings on the inside where the sun would hit, making it possible for them to know the time, especially for agricultural activities.
The hole in the rock offers a fun-filled trail for kids, beginner hikers, and anyone interested in exploring Phoenix. This is because it is short and easy, with sandstone buttes interesting to the eyes. The buttes are steep and uniquely shaped with a porous reddish look.
Lookout Mountain Preserve
The Lookout Mountain Preserves cover a cool 4.500 acres, thus offering endless hiking and biking opportunities. It is managed by Whatcom County Parks and is a non-motorized recreation area. There are a total of six trails to choose from, each with its designated use, sights, and difficulty levels.
You can choose your most suitable trail according to what you feel you can comfortably handle. There is the Rufus Creek Trail, Waterfall, Leila June, Baneberry, Cougar Ridge, and the Bottoms up Trails. With the trails in abundance here, there is no reason why you should enjoy that hike or biking experience.
Cave Creek Regional Park
If you are looking for a true wilderness camping experience, this is the place you must visit. It is a very popular spot with campers who come to enjoy Maricopa Trail sites, hike the mountain, or bike around the peaks and paths. The park has education programs to enlighten you about rock formations.
Other activities possible at the Cave Creek Regional Park are baseball, kart racing, archery, paintball, and horseback riding. If you are interested in fishing, swimming, boating, and scuba diving, find your way to the Adobe Dam in Maricopa County. The amenities available here include showers, restrooms, and a dump station for RVs. 
Dobbins Lookout
The sunsets here are spectacular and the access very easy. It is a watchtower platform with underfoot plaque pointing out landmarks like Camelback Mountain, McDowell Mountains, Piestewa Peak, and downtown Phoenix, among others. When the weather is tolerable, consider biking and hiking; otherwise, there is very limited shade and no water.
The outdoors are rewarding even with high temperatures, so don't shy away from exploring; Holbert Trail is one of the best you can take. The parking here is also limited, and if you are bringing your dog along, then it should be on a leash. The park has benches, toilets, and trash cans at your disposal.
Sunrise Trailhead
Sunrise Peak is McDowell Mountains' lesser summit. The trail here is, however, excellent, with stunning views and desert flora. Pay attention to the spotty scrub grasses, cholla and saguaro cactus, palo verde, and ocotillo.
This peak is popular among the locals who love training here. The hike is one way and completed in under 2 miles. The trailhead's proximity to homes and rentals makes it best accessible during the day; by evening, you should be heading back.
Bartlett Lake
Damming of the Verde River saw the formation of this reservoir that has become part of beautiful sceneries in Scottsdale. This popular recreation area is most beautiful after winters as the wildflowers spring from the wetness. The floral display offers amazing photo opportunities, so bring your camera along.
Bartlett Lake is inhabited by crayfish, largemouth bass, sunfish, channel catfish, carp, bullfrogs, and flathead. With a fishing license, you can indulge in some intriguing fishing expeditions. You can also rent a boat here; you might need to go to Carefree for your groceries, fuel, and fishing equipment.
Pinnacle Peak
This popular rock climbing and hiking spot in Scottsdale is shaped like a cone. The peak offers stunning views of what's below it, including Four Peaks, Granity Mountain, Four Seasons Resort, and McDowell Mountains. You can catch your breath on the stone benches at the Grandview lookout before debarking the trail.
Like most parks here, flora and fauna await your exploration; you will find the information plaques most helpful in learning about the plants and the park's history, data, and background. However, the parking area is limited and fills up fast, and you are better off planning to get here in the early morning hours for convenience.
McDowell Sonoran Preserve
This permanently protected desert preserve hosts one of the most diverse animal habitats on the planet. Nature lovers will enjoy the beautiful views and trails varying in difficulty levels. If you love mountain biking, this is the place for you; it is popular with the sport.
The trails include Gateway Loop, which is rocky and requires hiking boots and poles to maneuver. There is also the Browns Ranch trail which is easier with stunning desert views. If you are here with your kids, let them try the Bajada Nature trail, which has children's events and games to make the trek the most exciting.