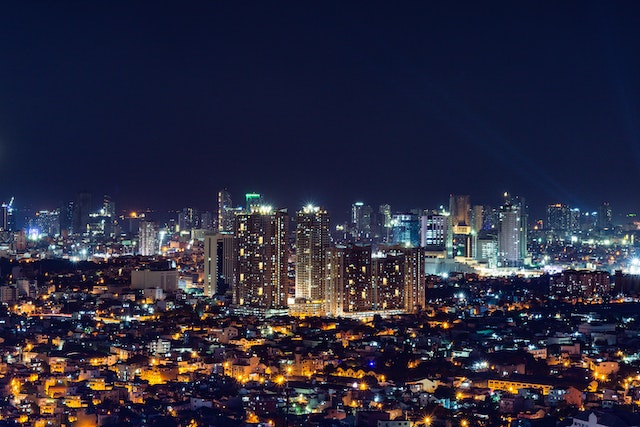 The mornings in Manila are often greeted by the sounds of city traffic and crowds of people who are constantly on the go. But when the sun goes down, Manila's nightlife comes alive and instantly takes over the city. Manila's main roads and alleyways are engulfed by late-night establishments that open their doors to patrons, coloring the streets with live entertainment, good eats, and flashing neon lights.
The fun and bright atmosphere of Manila's nightlife makes it an excellent playground for experienced partygoers and barhoppers. For the uninitiated, however, the city's late-night amusements can be tricky to navigate. With so many bars, pubs, and clubs to choose from, mapping out the perfect Manila barhopping experience can be quite a challenge. Nevertheless, if you know exactly what kind of night you want to have, there are late-night establishments that offer the vibe you're looking for.
Here are 7 late-night establishments you can easily get to whether you're traveling to Binondo or staying at a hotel in Ermita Manila.
Acustica Bistro
If you want to start your barhopping adventure slow, then getting a few drinks at Acustica Bistro can help you prepare for the long night ahead. Located on España Blvd in Sampaloc, Manila, Acustica Bistro is a great spot that serves up quintessential Filipino bar chow and cold beer. The establishment also has live performances on most nights, so you can enjoy a plate of pork sisig and a few bottles of beer while the local talents serenade you deep into the evening.
Oarhouse Pub of Manila
Another cozy spot where you can relax with your friends is Oarhouse Pub of Manila. Founded in 1977, this watering hole has become a local landmark where you can sit down and get a few pints of their draft and craft beers. The pub also offers scrumptious Filipino dishes like grilled liempo, beef caldereta, and grilled tilapia, so you can fuel up before you head down to your next bar. Oarhouse Pub of Manila is located on Jorge Bacobo Street, Malate.
Club ZZYZX Manila
Barhoppers who want to start their night off with a bang can begin their journey at Club ZZYZX Manila. This multi-level club is a happening spot on Jorge Bacobo Street, Malate, and it offers a lively atmosphere where partygoers can let loose on the dancefloor. The club is known for its live music performances given by local bands and DJs. They also provide patrons with a variety of beers, spirits, wines, and exotic drinks—all reasonably priced. Plus, there's no entrance fee, so you can experience Manila's rich nightlife here with no worries.
Dusk Till Dawn Bar
Dusk Till Dawn Bar lives up to its name and is the perfect spot if you want to party from dusk until dawn in Ermita, Manila. Although this establishment advertises itself as a sports bar, its cool vibe and friendly staff can make every type of barhopper feel welcome. Great drinks, good food, amazing live music, and fun billiards are the bar's specialties. You can definitely party the whole night long when you're at Dust Till Dawn.
G-Point Smörgåsbord & Bar
To make the most out of your Manila barhopping experience, it's always good to have a place where you can take a break from all that partying and enjoy a nice hot meal. G-Point Smörgåsbord & Bar can be that establishment for you if you're looking for good, late-night eats in Ermita, Manila. The bar's menu consists of international delights, including Swedish meatballs, US steaks, and Italian pizzas. They also have a great beer menu, so you can easily pair your meals with a nice bubbly pint of your choice.
Sky Deck View Bar
If you want to add a classy touch to your Manila City night crawl, then you should definitely include Sky Deck View Bar to your list. This bar is located on the top floor of The Bayleaf Hotel in Intramuros, Manila, and it offers a place where you can relax with a cold drink in hand while viewing the cityscape. Sky Deck View Bar has affordable international and local dishes in their all-night á la carte menu, but they also offer buffet-style dinners on Fridays and Saturdays. As for their drinks, they serve up classic cocktails, beers, and wine, all of which can be enjoyed with their food and live entertainment.
Cowboy Grill
Experiencing Manila's bar scene with your friends wouldn't be complete without stopping by Cowboy Grill. This late-night establishment on Remedios Street, Manila, offers crowds a spacious place where they can spend the night listening to live bands and drinking copious amounts of beer, cocktails, and spirits. The bar is also known for serving up generous portions of scrumptious bar chow like fried chicken, buffalo wings, and fried calamares. They even have big samplers and set meals that can fuel a large group of friends the entire night.
Barhopping in Manila can be daunting, especially when the city is crawling with bars, clubs, and pubs left and right. With the help of this guide, you can experience Manila City's nightlife on your own terms and enjoy every minute of it until morning comes.