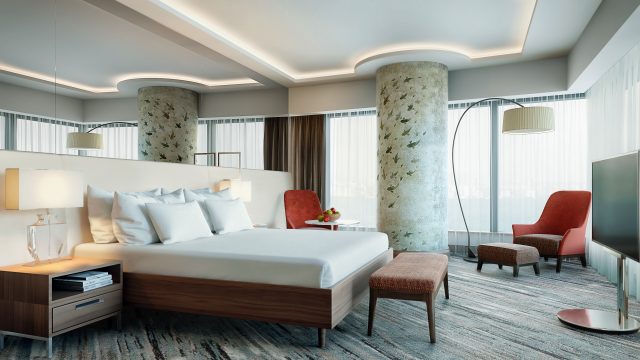 Radisson Blu, the upper upscale hotel brand that delivers a positive and personalized service in stylish spaces, is delighted to announce the partial opening of the newly built Radisson Blu Olympiyskiy Hotel, Moscow. Rising 125 meters above Moscow's skyline, the hotel is expected to become the center of attraction for guests and locals, offering unparalleled views of the Russian capital.
Michel Stalport, Area Senior Vice President Eastern Europe & Russia, Radisson Hotel Group, said: "One of the hotel's many fantastic features is the exceptional view of sights such as the Kremlin, Moscow City's skyscrapers, Stalin's famous Seven Sisters high rises, and the green zone in the city center. The panorama from the huge windows is unique for an upper upscale hotel with such a central location. We're truly excited about opening this landmark hotel and further strengthening our position as the leading international hotel group in Russia."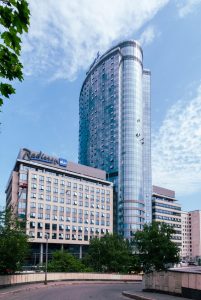 Following its second opening phase – due to be completed by the end of 2018 – the hotel will  offer 381 elegantly decorated rooms, including 75 suites and two state-of-the-art penthouse suites. The spacious light-filled rooms with wooden floors, delicate beige colors and light marble, invite guests to a relaxing space away from the hectic atmosphere of the metropolis. A modern gym will also be available for guests who like to recharge with a burst of exercise.
A multifunctional 420sqm conference room and six meeting rooms will be available for conferences, meetings or banquets of various formats. The main feature of the conference and meeting rooms are huge panoramic windows – any event held at the Radisson Blu Olympiyskiy Hotel, Moscow will leave a lasting impression on those attending. All meeting rooms offer modern multimedia equipment, high- speed Wi-Fi and individual air conditioning. Secure underground parking is also available for the hotel's guests.
The Radisson Blu Olympiyskiy Hotel, Moscow is also set to be home to the first ever FireLake restaurant in the Russian capital. This internationally successful concept – known for its mouthwatering grill specialties and high-quality local wines from traditional family cellars – adds yet
another world city to its list. With an open kitchen that creates an inviting and lively atmosphere,  guests will be able to enjoy organic local and international food while enjoying a clear view of the hotel's highly creative team of chefs (led by Rodion Nefedov) at work.
Lovers of classic and original drinks should definitely visit the ARILD bar. Here, guests can enjoy one- of-a-kind cocktails, which are individual to each bartender, in a friendly atmosphere. The bar aims to be the preferred spot for locals and visitors to relax, laugh with colleagues and enjoy lively evenings.
A key advantage of the Radisson Blu Olympiyskiy Hotel, Moscow is its location. The hotel is situated near the city's historic center, Prospect Mira and the Olympic Sports Complex – as well as being just 4km from Red Square. Ekaterininsky Park and Tsvetnoy Boulevard are only a three-minute walk from the hotel, which provides easy access to a wide range of popular visitor hotspots across Moscow. Guests enjoy nearby transport links, including a metro stop within walking distance, while Sheremetyevo Airport is only 30km away.
Pascal Gadet, General Manager of the Radisson Blu Olympiyskiy Hotel, Moscow, said: "I'm delighted to welcome the first guests to our amazing new hotel in historic Moscow. The team and I can't wait to offer both business and leisure travelers a truly unique experience that features some memorable and breathtaking moments alongside the very best of our Yes I Can! service. Welcome to Moscow!"
The Radisson Blu, Olympiyskiy Hotel, Moscow is operated by Radisson Hospitality AB under an international management agreement.
For more information, please visit: https://www.radissonblu.com/en/olympiyskiyhotel-moscow