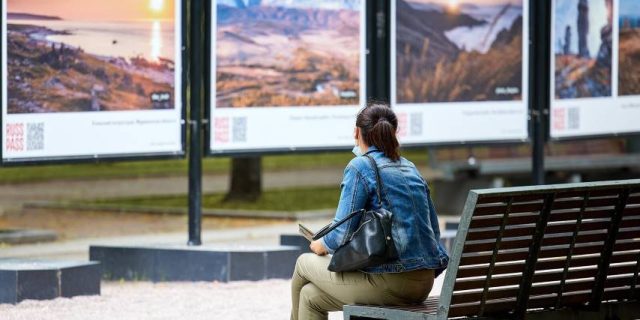 A photo exhibition of Russpass tourist service to open on Tsvetnoy Boulevard."This is also Russia" project is now devoted to winter travelling across the country. It includes 40 photos of natural attractions made by travel bloggers or professional photographers.
One of rare images was made in the Kabardino-Balkar Republic. The photographer managed to take a picture of swans on Tserik-Kel Lake surrounded by snow-capped mountains. Tserik-Kel Lake (Lower Blue Lake) is one of the deepest freshwater bodies of Russia.
Another photo captured a frozen Saltinsky waterfall. This natural monument is located within the Saltinka river canyon in the Republic of Dagestan. The waterfall is called underground as it is situated within a gorge. In winter the water cascade freezes and forms intricate silhouettes.
Besides, the exhibition displays present photos of snow-capped residual stone outcrops at Pomyanenny Kamen mountain in the Perm Region, the Bolshoi Tkhach mountains in the Republic of Adygeya, the Ardon river in Northern Osetia, Tokarevskiy lighthouse in the Primorsky Region, Elton lake in the Volgograd Region.
Inspired by the exhibition you can plan your winter journey right away or book a tour using the Russpass service. Each photo has a QR code. It can be scanned to download the free Russpass mobile app for iOS and Android devices. The service aggregates travel options from all regions of Russia and helps arrange a trip and visit the attractions.
Russpass is a digital travel service that helps you plan trips across Russia. Here one can buy aircraft and rail tickets, book accommodation, excursions and tours, as well as learn about interesting places to visit, and helpful services. More than 3.3 thousand travel options are available here including tours and exclusive travel itineraries.
The service website was recently upgraded and mobile application for iOS and Android devices was launched. The site updated sections, added new useful options and filters to search for current travel offers. The portal is adapted for mobile devices.
The service was developed on the Moscow Government initiative. The project implementation is supervised by the Moscow City Tourism Committee jointly with the Moscow Department of Information Technologies.