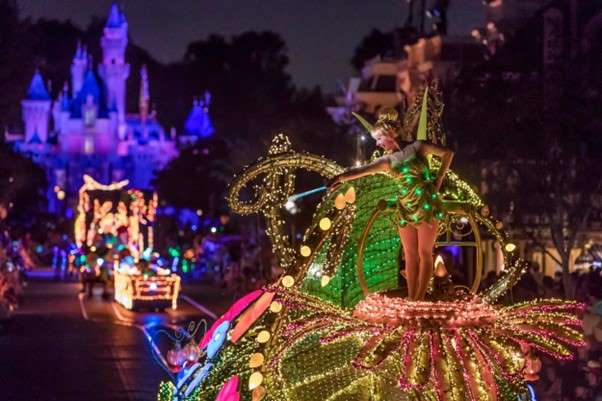 Disneyland makes magic come to life—and with the return of the Nighttime Spectaculars, nights at Disneyland just got bigger and brighter than ever before. From days filled with rides, goodies, and exploring the different Disney parks, to nights filled with bright lights, brilliant shows, and beautiful fireworks, the Disney experience is unforgettable.
With the 50th Anniversary Celebration of the 'Main Street Electrical Parade' and the return of 'World of Color', there's never been a better time to take in Disneyland's nighttime entertainment.
Thanks to the team at Disney, we traveled to Disneyland Resort to experience all the new and returning excitement in the parks—and bring you our Day to Night Guide to Disneyland.
Daytime Adventures:
Star Wars: Galaxy Edge
Disneyland Park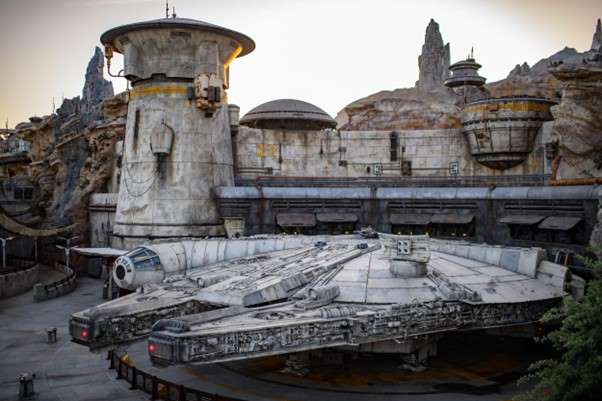 From flying the Millennium Falcon, to joining the Resistance in a climactic battle against the First Order, Star Wars: Galaxy Edge transports you to a galaxy far, far away. Designed and developed by the Disney Imagineers, this park is next level with its attention to detail and Easter Eggs. You won't want to miss your opportunity to browse Dock-Ondar's Den of Antiquities or try the blue milk that Luke Skywalker drank in the Star Wars movies.
Avengers Campus
Disney California Adventure Park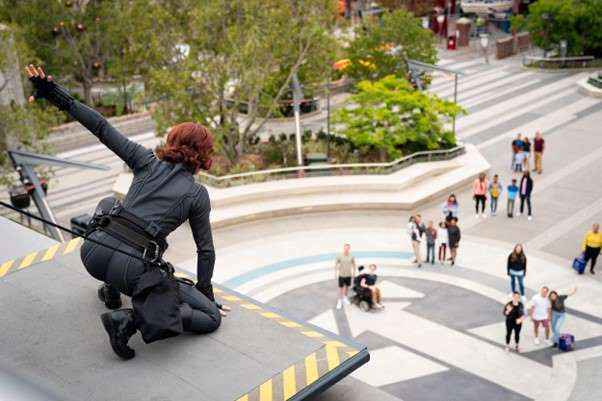 Immerse yourself in Avengers Campus, Disney California Adventure Park's all-new land. Here, you'll explore the world of the Avengers as you team up with your favourite Super Heroes. You'll get to tap into your heroic side as you experience life like Spidey at Web Slingers: A Spider-Man Adventure, or when you join Rocket on a fast-paced, thrilling mission on Guardians of the Galaxy's Mission: BREAKOUT!
After you're done helping to save the world, try some of the Avengers' favorite snacks from Shawarma Palace.
Take in the classics
Disneyland Park & Disneyland California Adventure Park
From The Haunted Mansion to Indiana Jones, Space Mountain to Splash Mountain, Jungle Cruise to Radiator Springs Racers, the classics are classic for a reason! It's these rides that have withstood the test of time that will truly make your Disneyland trip all the more magical.
Nighttime Musts
"Main Street Electrical Parade" followed by "Disneyland Forever" Fireworks Spectacular
Disneyland Park
With a milestone like the 50th anniversary of "Main Street Electrical Parade," it's no wonder that this parade is now bigger and better than ever before.
As the parade marches through Disneyland's Main Street, you'll take in the different scenes from classic and contemporary Disney and Pixar favorites.
To commemorate the anniversary, Disney Live Entertainment has introduced a magnificent grand finale, celebrating the theme of togetherness in an all-new float. Thousands of sparkling lights and electro-synthe-magnetic musical sounds showcase the beloved characters and stories in a unique representation. The finale also pays tribute to the parade's heritage with the return of the Blue Fairy character from "Pinocchio" and a unique, 19-foot-tall representation of Sleeping Beauty Castle.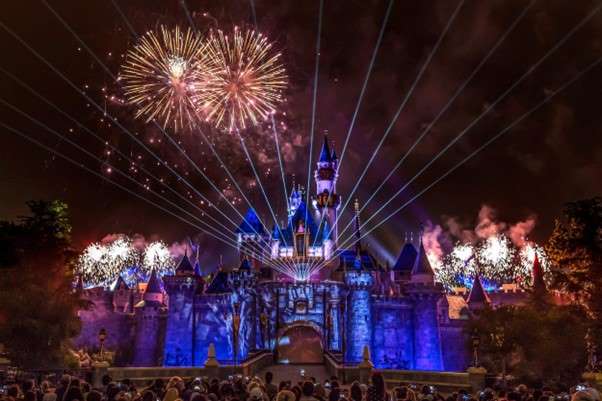 After the parade, "Disneyland Forever" Fireworks Spectacular lights up the night sky in the most brilliant display of sparkling pyrotechnics, immersive projections, and surprising special effects. A scene you won't want to miss.
"World of Color"
Disneyland California Adventure Park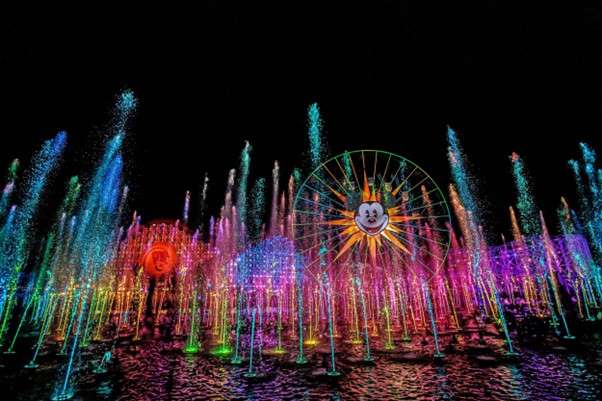 With powerful fountains that create an immense screen of water, you'll see your favorite scenes come to life in front of your eyes as you take in the awe-inspiring nighttime spectacle that is "World of Color."
Inspired by the Emmy Award winning "Wonderful World of Color" (1961-1969), the show combines music, water, fire, fog and laser effects with the most memorable moments in Disney and Pixar's history. Your senses will spring to life as you watch from Pixar Pier—and if you're close enough, get misted by the magic yourself.
"Fantasmic!"
Disneyland Park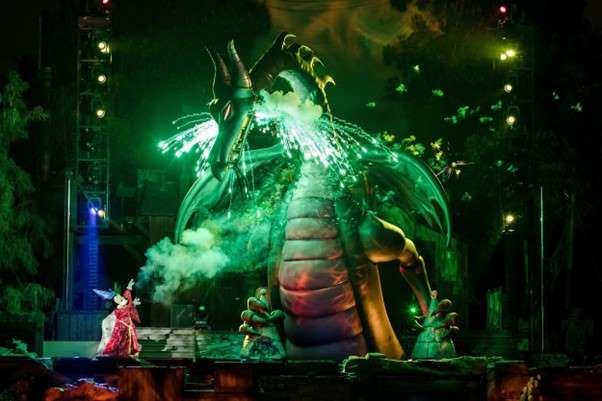 "Fantasmic!" is one of Disney's most popular and longest-running nighttime spectaculars. Using the Rivers of America in Disneyland Park as the stage, this production is truly one of a kind.
The story follows Mickey Mouse as he dreams he is the Sorcerer's Apprentice. Facing off against villains, he uses the power of his imagination to save the day. With exciting story scenes from "Fantasia," "The Jungle Book," and "Pirates of the Caribbean," the production leverages live performers, character appearances, enhanced special effects and pyrotechnics to make this show larger than life. Choreographed to an exciting musical score, you'll feel as though you're facing off against the 45-foot-tall, fire-breathing Maleficent dragon right alongside Mickey!
Disneyland Resort Hotel
To get the whole Disney experience, staying at the Disneyland Resort Hotel is a must! From Disney dining with characters to relaxing by the pool in between park hopping, you'll find yourself truly immersed in the Disney details. From the moment you wake up, until the time you close your eyes, the Disneyland Resort Hotel takes your Disney trip and elevates it into a fully immersive and magical experience.