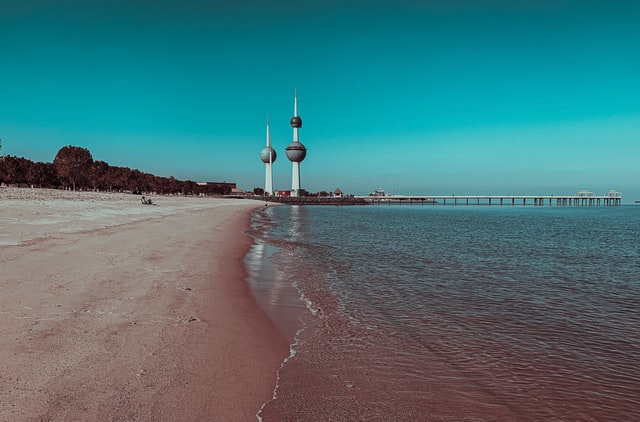 Kuwait is a small country in the northeastern part of the Arabian Peninsula and is fraught with many interesting and unforgettable places.
Although most people don't think of Kuwait as a holiday destination, it's quite the hidden gem — and, thanks to the simple Kuwait eVisa application process, it's easier than ever to enjoy a trip to this interesting country!
Kuwait has everything a traveler could ever need, from modern buildings to shopping centers, museums, and fun activities. Likewise, the country's expansive coastline means that there are plenty of activities like water sports, scuba diving, riding jet skis, and much more. This article will go into detail about Kuwait's coastline, as well as what to do near the coast.
Kuwait's Coastline: Facts and Figures
The coastline of Kuwait is exactly 499 kilometers (310 miles) long and is located along the Persian Gulf. Naturally, there are many incredible places found along the coast, such as beautiful and secluded beaches, sand dunes, coral reefs, and much more.
To the north, Kuwait shares a maritime boundary with Iraq, as well as a border with Saudi Arabia to the south.
Likewise, an interesting yet little-known fact is that Kuwait has nine islands off its coast. These include Bubiyan, Miskan, Warba, Auhha, Umm Al-Maradim, Umm Al-Naml, Failaka, Kubbar, and Qaruh.
Although Bubiyan is the largest island, it is not overrun by tourists. Thanks to conservation efforts, the island is a popular destination for migrating birds and tourists who wish to go birdwatching. Other tourist-friendly islands include Kubbar, Qaruh, and Umm Al-Naml, which will be covered in the next section.
What to see Along Kuwait's Coastline
Thanks to its length and diversity, there are so many things to see and do along Kuwait's coastline.
Visitors can relax on the golden sand, admire the azure waters, or visit nearby tourist attractions. For adventurous travelers, there are even snorkeling tours and scuba diving excursions to go down to the very bottom and enjoy the local underwater world!
Here are some of the best things to do along the coast, starting with the capital:
The Kuwait Towers are located right on the cape of the Persian Gulf and are one of the main symbols of Kuwait. These three soaring towers dazzle tourists with their unique beauty, especially since the buildings expertly combine traditional Arabic and modern architectural designs.
Besides functioning as a landmark, the main tower also has an observation deck at the top where visitors can see a panorama of the entire city (and coast!), as well as a revolving restaurant and a snack bar.
Another exciting attraction can be found right on the waterfront: the Al Hashemi II ship. In fact, the ship is actually a traditional sailing vessel called a dhow and is built entirely out of wood!
Weighing 2,500 tons and coming in at a height of 105 meters, the Al Hashemi II certainly earned its place in the Guinness Book of Records as the largest wooden ship in the world. That's not all: the ship is home to Kuwait's Maritime Museum, with exhibits about the life and work of local sailors.
Prefer a beach holiday? Messilah Beach has exactly what you need. There are a number of things to do here, such as sunbathing and swimming in crystal-clear water, riding a jet ski, or diving. Messilah Beach is well-equipped and has plenty of cafes, snack bars, restaurants, and even barbeque grills.
Be sure to plan your visit in advance, as the beach is women-only on Mondays, Wednesdays, and Saturdays from 9 am to 7 pm.
Diving enthusiasts will be happy to know that Kuwait is an excellent place to explore the underwater world.
Nearly the entire coastline of the Persian Gulf has perfect visibility and a variety of marine life, and the best place to start is Kubbar Island. Even though the island itself is very small and there is practically nothing on the surface, that all changes once you dive underwater. This area is chock-full of various marine life such as stingrays, colorful fish, and vibrant coral reefs.
Last but certainly not least, the Grand Mosque is the largest temple in Kuwait and one of the most beautiful buildings in the country. The mosque impresses with its grandiose size and incredible design. In addition to the mosque, there is a park with beautiful alleys and flowering gardens nearby, and many of Kuwait City's attractions (such as the Al Hashemi II ship and the National Museum) are within walking distance.
When is the best time to visit Kuwait?
It is quite hot in Kuwait almost all year round, and, as such, a vacation on the coast of the country is always a good idea!
Of all the seasons, the best time to visit Kuwait is during autumn or winter, which fall between October to February. During this time, the weather is not as hot, and travelers can safely enjoy their vacation without hiding from the heat all the time. When booking accommodations, it is advisable to reserve places that have air conditioning.