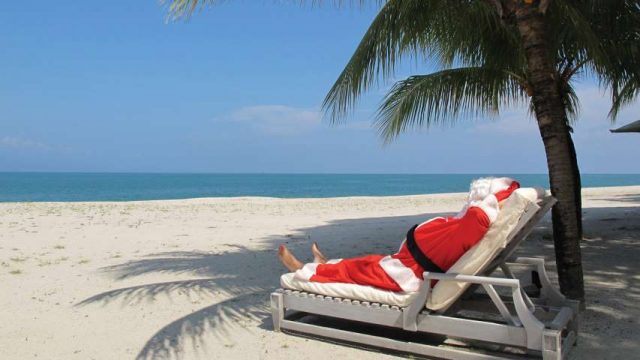 What happens when spectacular nature meets superb craftsmanship? Magic, of course. Welcome to Four Seasons Resort Langkawi, where a mile-long stretch of pristine coastline meets ancient rainforest and mystical mangroves. This is a land brimming with delicious surprises and memorable moments, curated by a team of passionate chefs, mixologists and service staff.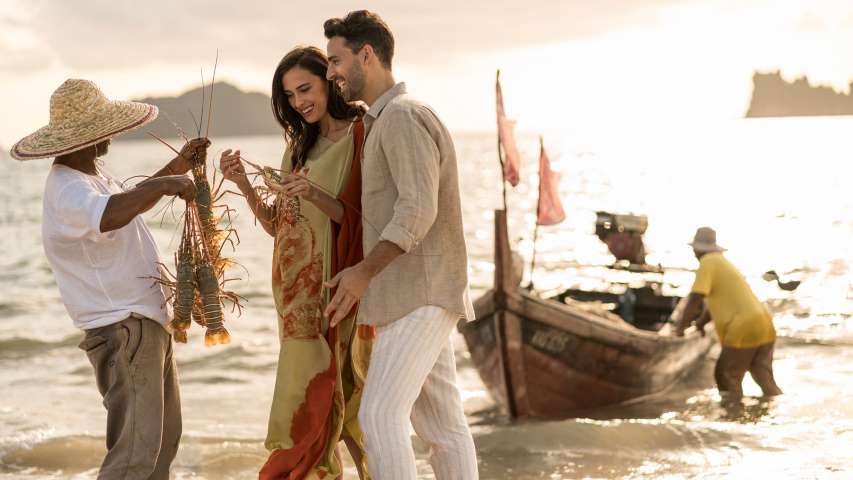 Come holiday season, guests can savour delectable festive menus and inspired beachside flavours at the Resort. Whisk loved ones away to this island paradise for an unforgettable conclusion to 2019 and the perfect beginning to a brand-new year.
Tree Lighting and Cocktails at Rhu Bar, December 20, 2019. Kick off holiday season with a tree lighting ceremony at Rhu Bar, featuring sweeping sunset vistas, Champagne and Christmas-inspired cocktails and mocktails.
Around Christmas Markets at Serai, December 24, 2019. 'Tis the season for indulgence, with an extravagant Christmas Eve dinner created by Executive Chef Sandeep Bhagwat and his crew of merry culinarians. Enjoy traditional specialties from Christmas markets around the world, including roasted beef ribs, salmon couilbac and oysters with Bloody Mary. Gastronomes will love the abundant seafood, decadent desserts and selection of cheeses and cold cuts. The oceanfront setting of Serai makes for an incredibly special Christmas Eve feast.
Lobster Night at Serai Beach, December 25, 2019 and January 1, 2020. Extra-special days deserve extra-special meals. Savour the perfectly grilled succulence of local lobster, caught fresh from the Andaman Sea by Pak Din, the Resort's resident fisherman. With toes in the sand and the song of the sea in the background, this is an experience that's definitely best shared with loved ones.
New Year's Eve Celebration at the beach, December 31, 2019. Ring in the New Year with entertainment for the entire family – from movies and cocktails at the beach, to sensational fire dances and dazzling fireworks. Or simply dance the night away under the stars, with irresistible beats from the guest DJ.
The New Year's Eve buffet features sumptuous delicacies from around the world. Watch Four Seasons culinary stars in action as they sizzle, toss and carve – a treat for the eyes as well as the palate. Cap off the evening with a trip to the dessert bar, where a smorgasbord of sweet delights awaits.
Mio Napoli at Serai, December 22, 2019 and January 5, 2020. Take a trip to the Mediterranean coast with an Italian-inspired festive dinner at breezy Serai. Dishes are elevated with fresh local produce, such as mozzarella and garden herbs. Try crowd favourites like the salt-crusted salmon, fresh Langkawi buffalo mozzarella caprese, and paccheri and ziti pasta with assorted sauces done on a half parmesan wheel.
Ikan Lautan Andaman at Ikan-Ikan, December 22 and 30, 2019 and January 6, 2020. Share the bounty of the Andaman Sea, serenaded by its gentle waves. The culinary team at Ikan-Ikan presents fresh, flavourful fish prepared in myriad ways – grilled, stewed, curried, fried and steamed. Sample traditional Malaysian specialties such as ikan bakar (charcoal-grilled fish), cencaru sumbat sambal (fish stuffed with coconut and sambal) and bawal asam pedas (tangy fish stew).
Private Dining, available every day. The Resort's secluded settings are perfect for intimate celebrations – be it a romance-filled dinner for two under the stars, or a family barbecue amid lush greens. Choose from three beachfront restaurants, or dine in the luxurious privacy of a villa's expansive patio.