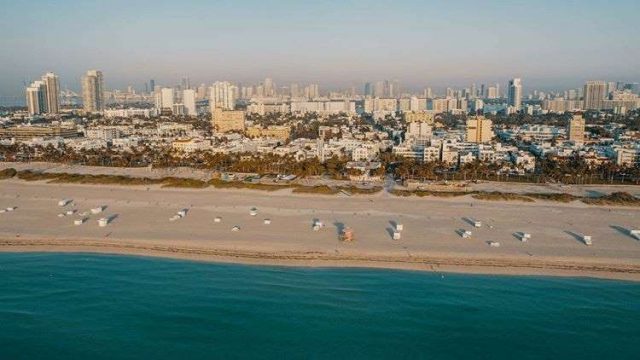 Miami, also nicknamed the 'Capital of Latin America', boasts a vibrant culture with mixed influences from around the globe. Greater Miami's Hispanic connection dates back nearly 100 years.
Today, Miami is one of the most culturally diverse cities and the Hispanic culture permeates throughout the streets–specifically, Cuban culture. Cuban Americans make up 60 percent of the total Miami Hispanic population, and the Cuban flair is felt deeply within Miami's culinary scene.
A prime example of this is Cuban coffee, which has become synonymous with breakfast in Miami. Cuban coffee can be enjoyed in a variety of ways, Cafecito, Colada, Cortadito and Café Con Leche – the latter being a Miami staple! Another popular Cuban-inspired staple is the Cuban sandwich, which has become Miami's famed sandwich.
CAFÉ CON LECHE
Miami-native, Stephanie Pernas, shares her recipe to take this classic Miami morning staple in-house: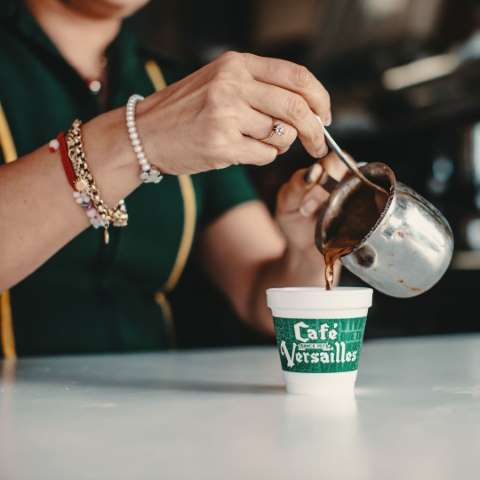 Ingredients:
Espresso
Evaporated milk
2 Tablespoons of sugar
Instructions:
Brew your espresso (preferably in a stovetop espresso pot).
Steam your milk. You can either heat up the evaporated milk on the stovetop or microwave it.
Measure out your sugar and then add a splash of coffee to the sugar and stir until melted. This whole process is really important and helps get the sugar to the consistency it needs to be to melt into the coffee.
Pour the sugar back into the coffee and stir.
Pour the coffee into your milk (typically 50/50 mixture) – et voila! Enjoy an authentic Cuban Café Con Leche!
CUBAN SANDWICH
The Cuban sandwich is arguably the most popular sandwich offering in Miami. Its popularity gained it a spot in Tasty's "4 Famous Sandwiches from 4 Cities" list.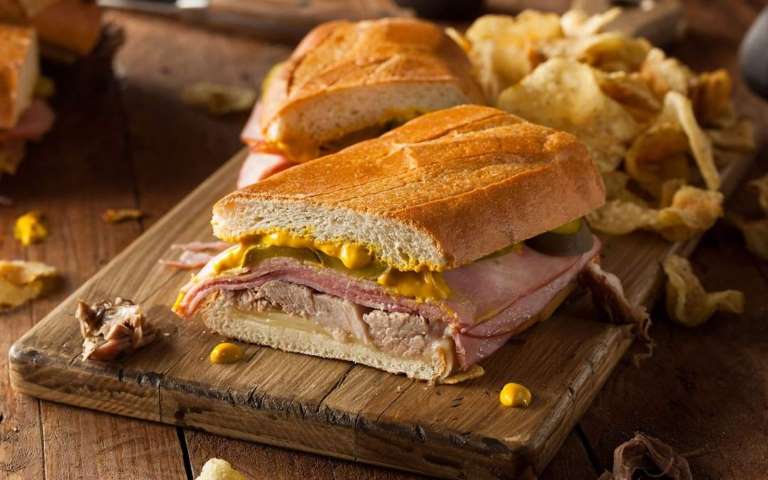 Ingredients:
1 roll cuban bread
4 slices sweet ham
3 slices slow roasted pork
5 slices swiss cheese
yellow mustard
sandwich pickle
Butter

Instructions:
Cut off the ends of the Cuban bread, then slice in half.
Add mustard, then ham, then pork, then cheese, then pickles, then place the bun on top.
Place the sandwich on a pan or griddle over low heat. Brush top with melted butter.
Press the sandwich with a panini press, or if you don't have a press use a heavy pot or pie dish and push down.
Cook 5-10 minutes on each side or until golden brown and cheese is melted.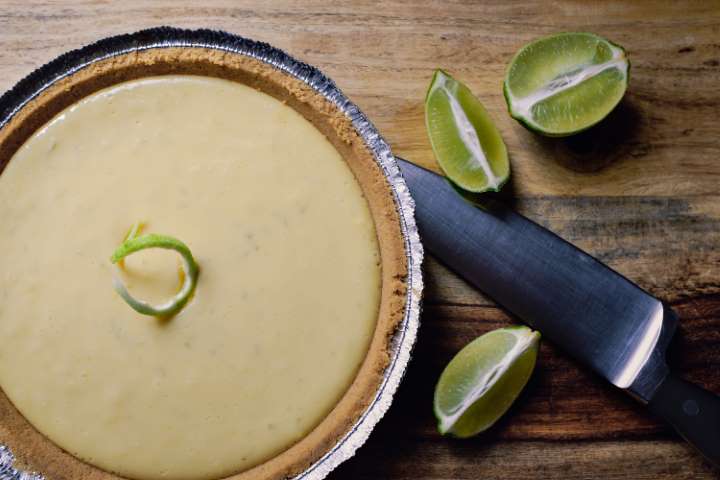 Ingredients:
Crust:
⅓ of a 1-pound box of graham crackers
5 tablespoons of melted unsalted butter
⅓ cup of sugar
Filling:
3 egg yolks
2 teaspoons of lime zest
1 can (14-ounce) of sweetened condensed milk
⅔ cup of key lime juice
Topping:
1 cup of heavy or whipping cream chilled
2 tablespoons of confectioners' sugar
Instructions:
For the graham cracker crust: Preheat the oven to 350 degrees F.
Break up the graham crackers; place in a food processor and process to crumbs. If you don't have a food processor, place the crackers in a large plastic bag; seal and then crush the crackers with a rolling pin. Add the melted butter and sugar and pulse or stir until combined. Press the mixture into the bottom and side of a pie pan, forming a neat border around the edge. Bake the crust until set and golden, 8 minutes. Set aside on a wire rack; leave the oven on.
For the filling: Meanwhile, in an electric mixer with the wire whisk attachment, beat the egg yolks and lime zest at high speed until very fluffy, about 5 minutes. Gradually add the condensed milk and continue to beat until thick, 3 or 4 minutes longer. Lower the mixer speed and slowly add the lime juice, mixing just until combined, no longer. Pour the mixture into the crust. Bake for 10 minutes, or until the filling has just set. Cool on a wire rack, then refrigerate. Freeze for 15 to 20 minutes before serving.
For the topping: Whip the cream and the confectioners' sugar until nearly stiff. Cut the pie into wedges and serve very cold, topping each wedge with a large dollop of whipped cream.
For more information on Miami, visit miamiandbeaches.com.