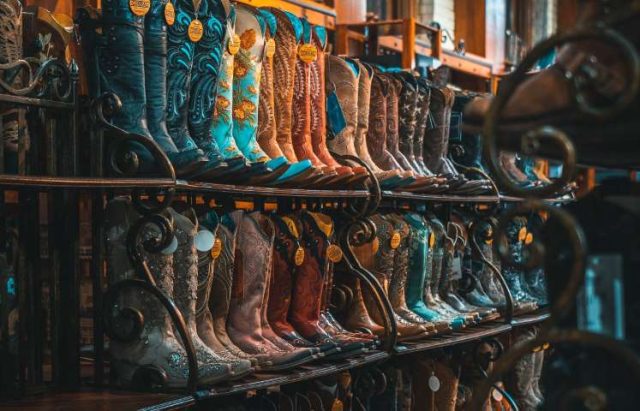 Like most pre-Y2K trends, the cowboy boot seems to be making a comeback. Designers have been incorporating them in their runway collections, giving sleeker and more updated takes on a fashion staple from the aughts. Though their original intention was to protect the feet of horse-riding cowboys, these boots are great for keeping your feet warm and comfy while staying stylish—a must when it comes to dressing for fall.
Cowboy boots work with pretty much everything: dresses, skirts, pants, cutoff shorts, you name it. The preferred footwear of ranchers and rodeo stars may not be your first choice for fall fashion, but you could be surprised by how a simple pair can elevate your entire look. With that in mind, check out some of the ways you can incorporate this unique footwear into your fall wardrobe without looking like you walked out of a Western.
Wear with Pants
Cowboy boots are traditionally worn with pants, but you can freshen up the pants-and-boots combo by giving it a modern twist. You can wear them with a classic straight-leg or go for slightly baggy alternatives such as wide-leg jeans or flares that evoke a more laid-back vibe. Or, you can fully embrace the '90s look and wear your boots with cargo pants. If you go for these pants, it's best to keep your top simple: a white button-up, a slouchy knit sweater, or a basic tank top with a blazer.
Alternatively, you can skip the pants and use leggings to go with your cowboy boots. Thick leggings are comfortable to wear in cold weather, plus they make your silhouette more flattering by hugging your body. For a simple yet chic fall look, pair your leggings and cowboy boots with a cardigan and a basic tank. Then top it off with a dainty necklace or other simple accessories.
Wear with Tailored and Coordinated Pieces
Because cowboy boots lie somewhere between casual and statement pieces, you can add a bit of formality to your look by wearing matching garments such as skirt suits. To keep your look coordinated, you can opt for cowboy boots in the same shade as your top and bottom.
These boots can look particularly stunning and edgy when tucked into trousers. Wear them with tailored separates to bring more polish and sophistication to your rough-and-tumble footwear. You can also try pairing your boots with a structured blazer and bootcut denim jeans for an effortlessly chic look.
Wear with a Dress
Cowboy boots are not usually associated with dressy nights out, but these pieces can serve as a welcome shift from your typical heels and ballet flats. Wearing your cowboy boots with an LBD or a slip dress and a layering piece can give you the warmth that you need while adding a bit of fun to your evening attire.
If you prefer to wear your boots for a casual daytime ensemble, you can wear them with maxi and midi dresses for a more "country" aesthetic. Shorter dresses like sundresses look cute when paired with tall cowboy boots. Alternatively, you can wear a shirtdress as a polished alternative to day dresses if you prefer something more smart-casual.
Wearing cowboy boots with longer and fuller dresses can be quite tricky. Too much fabric can give you a bulky lower half, and on top of that, floor-length prairie dresses can give off a costumey Western vibe. Still, it's possible to rock billowy maxi dresses with floral or feminine patterns as a contrast to your "masculine" footwear.
Wear with a Skirt
Retro fashion tells us that denim skirts and cowboy boots go together like burgers and fries. However, there are other types of skirts that can bring your outfit into the current era. Midi skirts look awesome with mid-calf or ankle boots, while shorter, "dressy" skirts are best worn with taller boots for that extra oomph. To make your ensemble fall-appropriate, throw on a blazer or cardigan. If you plan to wear a miniskirt, you can shop tights to keep your legs covered and comfortable.
Similar to flowy dresses, it's best to go for long skirts with your cowboy boots to create a contrast between what are considered traditionally feminine and masculine elements. An A-line or maxi skirt, paired with knee-high or calf-length boots, can be accentuated by a fitted top and a layering piece, such as a denim jacket.
Wear with Shorts
Shorts are typically not categorized as fall attire, but you can still wear your favorite pair of cutoffs in the cooler weather by wearing them over tights or leggings. To make your outfit well-suited for fall, opt for solid colors and wear cozier tops such as sweaters, long tops, cardigans, and jackets.
Bringing the Cowboy Look to the Modern Age
Cowboy boots have always added edge and style since the days of the Wild West. With their connection to carefree days and wide open spaces, a pair can evoke nostalgia and romanticism today. Clearly, cowboy boots won't be going away soon, not with their timeless appeal and original purpose as protective footwear. So if you have a vintage pair that you love, take them out of storage and flaunt them this season with a trendy take on your fall outfits.