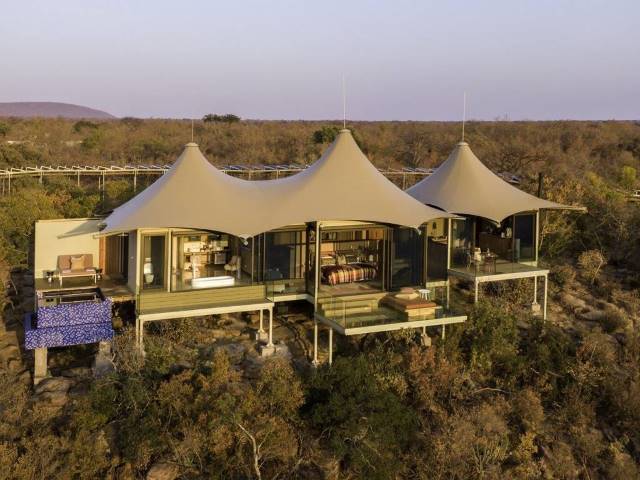 Lepogo Lodges, situated in South Africa's Limpopo Province and one of Africa's few entirely non-for-profit safari lodges, is delighted to welcome UK visitors back to their luxurious safari camp following the recent relaxation of travel restrictions to South Africa.
Voted as one of the top lodges in the Condé Nast Traveller Readers' Choice Awards 2021, Lepogo Lodges' Noka Camp has launched a timely 'Stay four nights, and only pay for three' offer in line with the relaxation of UK travel restrictions. The offer must be booked by 31 December 2021 and will be available on all stays booked before the 30th of June 2022, allowing guests the chance to experience a bucket list safari destination they've been unable to enjoy for almost the last two years.
Set 100ft up on top of a clifftop overlooking the Palala River, Noka Camp offers guests a magnificent bucket list adventure, gifting visitors with complete tranquility alongside an unforgettable safari experience. Located in the heart of the South African, malaria-free, Lapalala Wilderness Reserve, and home to the 'big five', Noka Camp provides an array of family-friendly, wildlife experiences that won't be forgotten in a hurry.
Visitors can bask in the unspoilt beauty of the lodge and its private setting whilst engaging in one of the many exclusive experiences offered at Noka camp. From bush camping under the night's sky, exploring the untouched Iron Age site at Melora or admiring the bushman paintings in the cliffs below the lodge, Lepogo Lodges has an experience to suit all.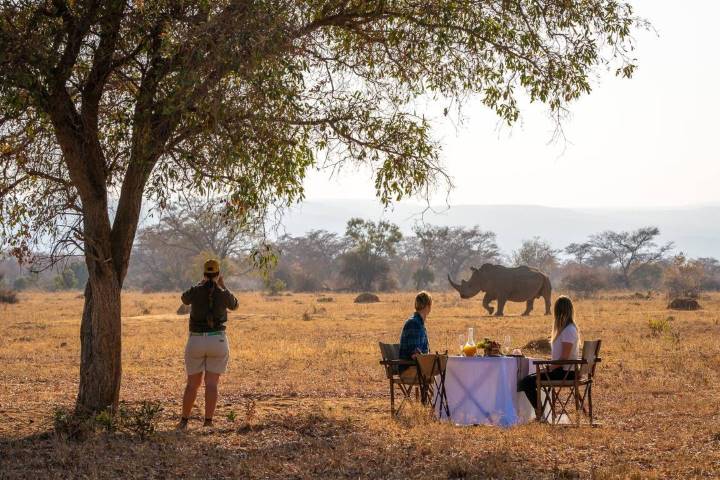 Experiences Available – Exclusive to Lepogo Lodges
Those looking to ensure their trip is an experience of a lifetime can book one of the many experiences exclusive to Lepogo Lodges. Guests can enjoy an afternoon on the terrace admiring the unspoilt wilderness views whilst trying their hand at creating an artistic masterpiece, transforming a holiday into a long-lasting memory. Inquisitive minds can book an educational experience with the local ecologist to gain a more profound sense of the surroundings and habitat. From day to dusk, the in-house expert astrologer can provide guests with a guided tour of the stars and constellations.
To refuel after an enthralling day, guests can also choose between open-air or in-room dining experiences for exclusive dining, perfect for celebrating those missed occasions and special moments over the last two years. Family and friends looking to reunite in an unforgettable surrounding or celebrate a milestone moment are guaranteed to fall in love with the South African wilderness.
Home to more than 60 mammal species, Lepogo Lodges' private game drives, bush walks and water safaris enable guests to observe an abundance of spectacular wildlife throughout their stay. Led by an expert ranger, guests can expect to spot rhino, lion, cheetah, leopard buffalo, elephant and more, as well as some of the 300 different bird species inhabiting the reserve.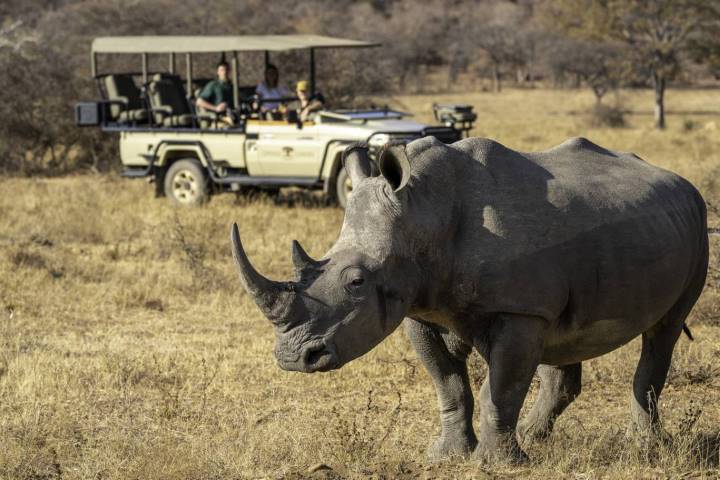 Children, aged 10 and above, may be entertained from the minute they wake up with fun-filled treasure hunts around the lodge, hands-on bush baking classes and pottery or jewellery making classes, using local methods and techniques.
As well as game drives and bush walks, curious guests can enjoy a magical night under the stars, traditional bush camping. Visitors wishing to soak up the local culture can go back to school with a wilderness school visit or get up close and personal with the vet conservation experience; with the money from each experience going straight back to the reserve to aid the conservation funds.
Guests looking for rest and respite or to simply unwind after an exhilarating day can choose one of the reinvigorating spa experiences offered in the comfort of their own villa. Families and groups that wish to relax and reconnect together can also book a treetop yoga session and meditate whilst looking out across the breath-taking views of the bush and beyond.
Sustainability Initiatives for Guests
At Lepogo Lodges, sustainability is firmly on the agenda as it continues to add to its already stellar eco-credentials. Noka Camp is also one of the few non-profit lodges globally giving 100% of any financial gains back into the reserve for the benefit of wildlife, local community, and future generations.
Noka Camp's extensive carbon offset programme also allows guests to offset their entire journey from the minute they leave their homes until they return. Based on careful research of emission figures, the lodge then calculates the carbon emissions resulting from each visiting guest and converts the calculation into a monetary value.
Lepogo Lodges then donates to one of three conservation projects personally chosen by the guest; Community Stove Project, A Community Outreach Programme, South Africa Forest Trust – A Biodiversity Enhancement Programme, and Stand for Trees – A Global Forest landscape protection programme. The Community Stove Project has by far been the most popular to date and was introduced by Lepogo in collaboration with the neighbouring Lapalala Wilderness School's Outreach Programme to donate high-efficiency stoves to the local community, both to help the environment and improve health.