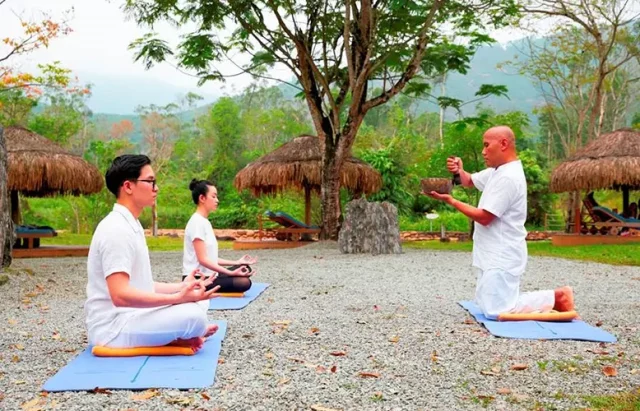 Alba Wellness Valley by Fusion has introduced an exclusive new stay package along with special health-focused dining offers and multi-day retreats, as the renowned wellness resort in central Vietnam raises the bar on healthy holidays.
The luxury resort launched a new "Wellspring" promotion in October, featuring a two-night stay with a 50% discount on the room rate for the second night. The package includes complimentary breakfast, spa, onsen and movement therapies.
The wellness resort recently unveiled a new "Hue Comfort Food" set and "Afternoon Tea" set, both including a signature Hue drink (salt coffee) or juice and tea. A new "Grilled Set for Meat or Seafood Lovers" is also on offer.
Two new "Healing Yourself Retreat" packages, with 4-day and 6-day options, are also on offer in which guests can relax with special spa treatments, a soak in the hot spring, Japanese onsen baths and adventure activities, along with a zipline, high-wire course, hiking, biking, and a cooking class at Alba's organic farm.
The packages also include mindful yoga sessions, meditation (including water meditation, walking meditation, chakra healing meditation and rainbow shower meditation) and qigong, along with forest hiking and forest bathing.
The resort has also launched exclusive new 3-day, 5-day and 7-day "Detox Yourself" packages that seek to help guests free themselves of the harmful effects of urban life, promoting inner balance and healthy living, including physical fitness.
The retreats feature juicing or kombucha class, daily signature Alba Detox Juices, unlimited access to the resort's hotspring, a daily 50-minute spa treatment, a daily 30-minute onsen session, and daily wellness activities, including yoga, meditation, biking, hiking and much more.
Nestled in the foothills of the Truong Son mountain range in central Vietnam, Alba Wellness Valley by Fusion is a short drive from the ancient Citadel of Hue. The resort offers a serene and peaceful destination for physical, mental and spiritual well-being. It is home to mineral-rich hot springs, Japanese onsen baths, landscaped gardens and fragrant eucalyptus plantations.
The wellness resort offers a sanctuary with luxury accommodations and the perfect environment to relax and recharge in a setting that harmonizes with nature.