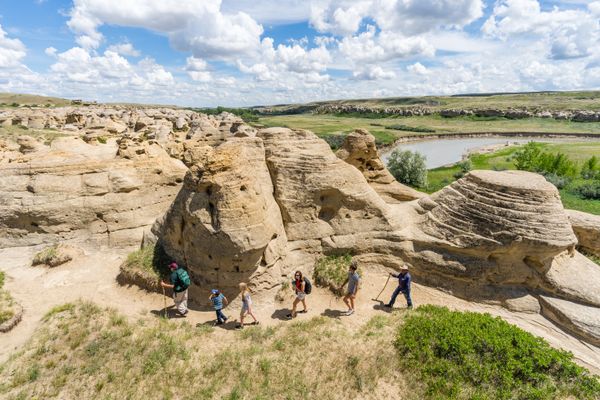 The United Nations Educational, Scientific and Cultural Organization (UNESCO) has just announced that Writing-on-Stone Provincial Park in the Canadian province of Alberta is Canada's newest World Heritage site.
The only UNESCO site to be named in Canada this year, it is Alberta's sixth World Heritage Site, and its first in 24 years. The decision comes after the United Nations organisations, which is tasked with preserving the world's most important cultural sites, added it to its global list in July 2019. Alberta's other UNESCO sites are Dinosaur Provincial Park (1979), Head-Smashed-In Buffalo Jump (1981), Wood Buffalo National Park (1983), Canadian Rocky Mountain Parks (1984) and Waterton-Glacier International Peace Park (1995). The designation recognises the "outstanding universal value" of the park.
A refuge of spectacular badlands and hoodoos set amid the prairies of south-western Alberta, Writing-on-Stone, located near the town of Milk River, has been a hidden gem of holidaying Albertans for years. More than 60,000 people visit the provincial park each year to experience its breath-taking landscape and discover its rich history.
A sacred place for Indigenous Blackfoot people for around 4,000 years, the world has now been made aware of the unique place that is Writing-on-Stone. Known as "Áísínai'pi" to the Blackfoot community, meaning, "where the writings are", the site gets its name from the ancient rock art among its sandstone cliffs.
For generations, the park has been a sacred place for the Blackfoot people and other Indigenous groups of North America, and they believe the area's unique geological formations are the home of Sacred Beings, and their traditional knowledge describes the origins and use of the area which continues to be a spiritual place for Indigenous people today.
The petroglyphs carved into the rocks and the pictographs painted at Writing-on-Stone are testament to the site's cultural and historical importance. Some date back 2,000 years. There are 138 rock-art carvings in the park, depicting sacred people, spirits, battles, journeys and moments, giving it a tangible spirituality. Visitors can also see a fascinating array of new motifs, carved after European contact in the 1800s, including the addition of guns, horses and the presence of a North West Mounted Police barracks and a depiction of a Ford Model-T that has been traced back to a visit by a Blackfoot elder in the early 1900s.
For more information on Writing-on-Stone, visit the Travel Alberta