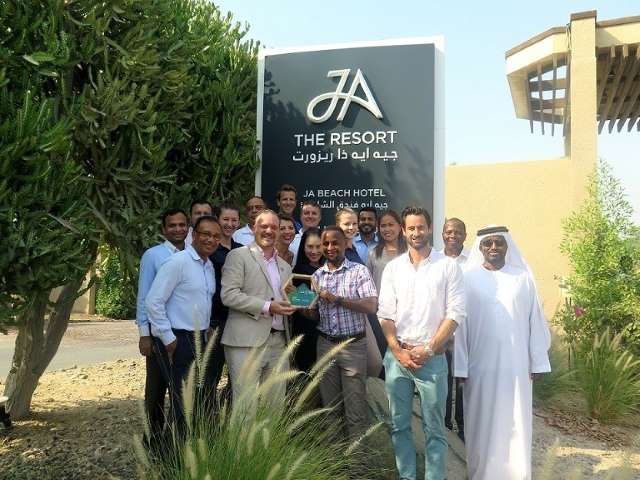 The 1 million square metre, experience-packed JA The Resort has just been awarded a prestigious sustainability accolade from the Dubai government and has been officially named 'Dubai's Most Sustainable 5 Star Resort'.
The DTCM Sustainability awards were measured on 5 key performance indicators – Waste and Environmental Protection, Water, Energy and Carbon, Responsible Practices, Training and Awareness and Continuous Improvement. JA The Resort was announced as the winner, with the Cluster General Manager William Harley-Fleming, crediting the dedicated Green Team for ensuring the smooth running of all Sustainability and CSR efforts in the 3-hotel experience resort.
Highlights of the active sustainability programme at JA The Resort include; a vast majority of the products and goods being sourced locally and 95% of chemicals used certified as biodegradable and eco-friendly. In addition, a large element of the resort water heating on the vast 1 million square metre grounds is powered through solar panels, running the hot water system for the rooms, public areas and swimming pools. JA The Resort even has a Reverse Osmosis Plant that carries out the desalination of sea water for the resort, supported by a sewage treatment plant used for the irrigation of the lush green grounds and Golf Course. When guest furniture at JA The Resort was due for upgrade, all the older furniture was donated to a local company Gver, who recycle and repurpose the goods.
In the pursuit of continuous improvement, JA Resorts & Hotels recently announced the implementation of WINNOW food waste technology in 7 of its hotels across the portfolio, after it was successfully trialled in JA The Resort. This initiative has proven to reduce food waste to landfill by over 80%. Any remaining food waste will be repurposed for compost and used in the JA The Resort Bio-Garden, where the team grow fruit, vegetables and herbs for farm-to-table use in the extensive portfolio of 25 restaurants and bars. JA Resorts & Hotels food wastage initiative also comes hot on the heels of another pledge, this time to drastically reduce plastic waste through the installation of a bottling plant which cleans and refills bottles with clean and treated water. This effort provides potable and complimentary drinking water to all guests, eliminating the need for single use plastic bottles.
Dubai Sustainable Tourism Awards are held to recognise companies within the tourism sector that have demonstrated good practices when it comes to reducing the company's carbon footprint, in efforts to promote sustainability of the tourism industry. The main objectives of the awards are threefold: to develop guidelines that enable the tourism industry to become more sustainable; create a network on sustainability and enable sharing of best practices; and to recognise sustainability efforts and achievements within the industry. In line with His Highness Sheikh Mohammed bin Rashid Al Maktoum UAE Vice President, Prime Minister and Ruler of Dubai vision for Dubai as a sustainable city, the Dubai Sustainable Tourism Awards sets the foundation for Dubai's tourism industry to work cooperatively to achieve better sustainability practices. The awards are also an endeavor to recognize the hard work by stakeholders who have invested in sustainable practices and to encourage and guide other tourism businesses to follow suit and shape a more sustainable tourism sector. JA The Resort Cluster General Manager, William Harley-Fleming commented;
'We are delighted to receive this honour from DTCM, a testament to the commitment and passion of our associates. I am personally very proud to work for JA Resorts & Hotels, a homegrown hospitality company who truly value sustainability and make it a part of everything we do. We are excited to continue our efforts with the opening of JA Lake View Hotel in September, which we are confident will be a sustainability leader amongst hotels in the region.'
Set along 800-metres of private beach, JA The Resort is Dubai's Largest Experience Resort and has an extensive array of leisure facilities promising to thrill all generations. In total the resort has 3 unique hotels with different styles, 7 landscaped swimming pools with 4 swim up bars, a choice of 25 restaurants and bars, a 9-hole, par 35 championship standard golf course with floodlit driving range, putting and pitching greens and Leadbetter Golf Academy Dubai, 4 floodlit tennis courts and a tennis academy, squash courts, badminton courts, beach volleyball facilities, horse riding stables, 9-hole mini-golf course, a Watercooled Watersports Centre with water-skiing, windsurfing, jet-skiing, banana boats, catamarans, laser sailboats and a private 85-berth full service marina offering fishing trips, boat trips and sea plane flights. It also boasts 6 shooting ranges, Calm Spa, a bio-garden, a crèche, CoolZone Kids' Club, and Babysitting service.