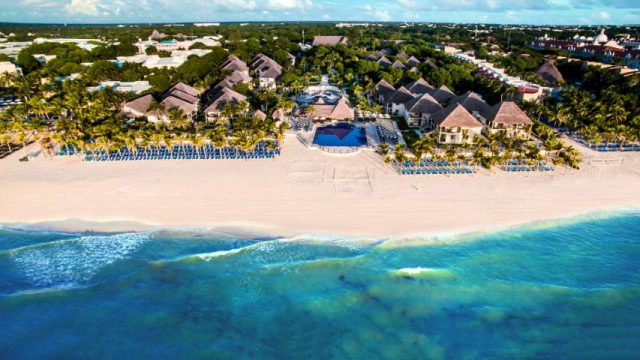 Located on one of Rivera Maya's most beautiful beaches, Allegro Playacar in Playa del Carmen, MX; is an all-inclusive resort that offers travelers comfort and relaxation just steps away from the Caribbean Sea. In 2020, the resort has enhanced its guest offerings with the recent unveiling of its ZENSERENS Spa. The all-new spa provides a unique wellness experience for the mind, body, and soul in a serene atmosphere.
An All-In-One Wellness Destination
The brand-new ZENSERENS Spa is a relaxing space that boasts four private massage rooms equipped for a wide array of solo or couples' treatments. To complement the overall experience, the spa will also offer beauty services, including haircuts and hair styling, makeup, and manicures and pedicures with certified professionals.
Ancient Inspiration, Modern Techniques
ZENSERENS signature treatment, WAYAK, is a unique 80-minute experience that fuses four different massage techniques, each one paying tribute to the relaxation rituals of the ancient Mayans. During the treatment, massage therapists use thermotherapy, applied by herbal compresses and stones, purifying the soul with the nurturing copal and myhrr incense.
"We've established the new ZENSERENS Spa to treat our guests with a truly rejuvenating journey," said Francisco Camejo, Allegro Playacar's general manager. "With a new decade beginning, we're excited to share this incredible new space with travelers looking for a fresh wellness experience in a spectacular setting."
Allegro Playacar is an all-inclusive oasis offering fully equipped guest rooms with unobstructed views of the resort or the Caribbean ocean. Travelers will enjoy unlimited meals, snacks and beverages available at any of the three restaurants and three bars (including the refreshing swim-up bar). The range of sports and water activities, such as kayaking, beach volleyball and catamaran, is wide and varied. This resort boasts a magical, natural setting, state-of-the-art equipment and an unbeatable all-inclusive experience, all of which create a unique opportunity to enjoy a getaway in the Riviera Maya.
For more information visit barcelo.com.