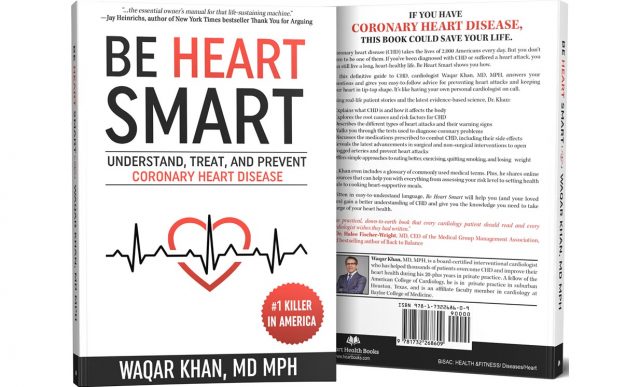 Not all signs of an impending heart attack are obvious and the subtle signs that go unnoticed can still result in a deadly outcome, adding to the tragic statistic that makes Coronary Heart Disease (CHD) the leading cause of death for men and women in America. Cardiologist Waqar Khan's new book is a practical guide that covers everything from de-bunking common myths about the causes of heart attacks to advice on heart-healthy meals to live a healthier life.

Be Heart Smart: Understand, Treat, and Prevent Coronary Heart Disease from cardiologist Waqar Khan, MD, MPH, is a comprehensive guide to CHD that answers your questions and offers easy-to-follow advice for preventing heart attacks and keeping your heart in tip-top shape. It's a valuable resource to turn to whenever you have questions — like having your own personal cardiologist on call.

Using stories from real patients combined with the latest evidence-based science, Dr. Khan provides potentially life-saving insights, including:

• What CHD is and how it affects the body
• What the real risk factors are
• How to recognize different types of heart attacks and their warning signs
• What to expect from a cardiologist visit and understanding the diagnosis process
• Commonly prescribed medications and their side effects
• The latest advancements in surgical and non-surgical interventions to open clogged arteries and prevent heart attacks
• Simple approaches to eating better, exercising, smoking cessation and weight loss

Dr. Khan also debunks 10 common myths about what causes heart attacks, includes a glossary of commonly used medical terms and shares online resources that can help you with everything from assessing your risk level and setting health goals to cooking heart-supportive meals.

Written in easy-to-understand language, Be Heart Smart will help you (and your loved ones) gain a better understanding of CHD and give you the knowledge you need to take charge of your heart health, lower your risk of future coronary events and keep your heart happy for years to come.

Author Waqar Khan, MD, MPH, is a board-certified general and interventional cardiologist in the greater Houston area and is a fellow of the American College of Cardiology. Dr. Khan received his medical degree from King Edward Medical University in Pakistan and a Master's degree in public health from the University of Texas Health Sciences Center in Houston. He completed his internal medicine training at the University of Texas Health Sciences Center in Houston. His cardiology training was at University of Texas Medical Branch in Galveston and St. Elizabeth's Medical Center-Tufts University School of Medicine in Boston. He has been in practice for over 20 years and has dedicated his career to treating and advising patients to improve their heart health. He is an affiliate faculty member in the department of cardiology at Baylor College of Medicine.

To learn more, visit www.hearthealthbooks.com or connect with Dr. Khan on Twitter at @HeartHealthBook or on Facebook at Be Heart Smart by Dr. Waqar Khan.