Antigua and Barbuda is located in the middle of the Leeward Islands in the Caribbean Sea. The country consists of two large islands, Antigua and Barbuda, and several smaller island groups. 
English Harbour on Antigua is one of the world's premier yachting destinations as well as home to some of the most luxurious charter yachts available.
The sheltered bays, consistent trade winds, and endless sunshine make Antigua and Barbuda the romance capital of the Caribbean and sailor's paradise.
In our exclusive interview with Ambassador Dario Item, Antigua and Barbuda's ambassador to Spain, Monacom Liechtenstein, he shares that: "The country has something to offer everyone, from deserted beaches and excellent surfing to historic sites and duty-free shopping." 
There is also a lively nightlife scene with bars and clubs dotted around St John's, the capital city.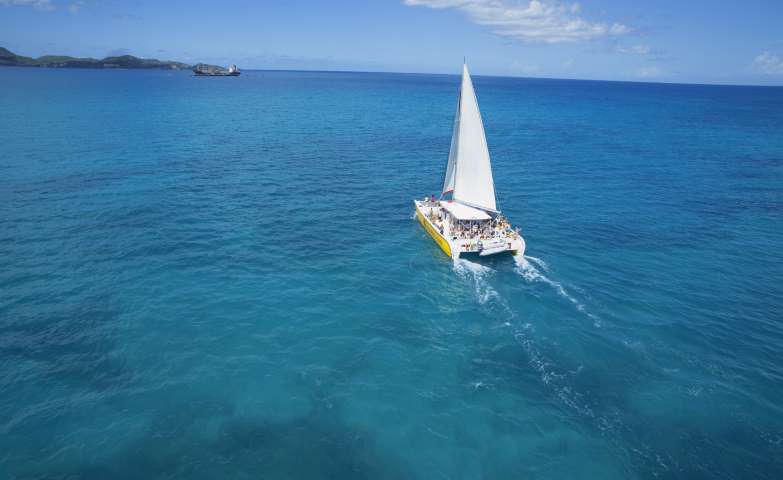 Sailing in Antigua and Barbuda
Antigua has a rich history dating back to the early colonial days when it was a key trading port for sugarcane from the neighboring islands.
Today, its picturesque harbors are still busy with yachts from all over the world coming to enjoy the superb sailing conditions. The island also plays host to some of the biggest sailing events in the Caribbean, including Antigua Sailing Week and Antigua Race Week.
Barbuda is a small island located just north of Antigua. It is known for its unspoilt beaches, coral reefs, and bird watching opportunities. The island is home to less than 2,000 people and has a laid-back atmosphere.
Visitors can find a selection of luxury hotels and guesthouses on Barbuda, as well as many excellent restaurants serving fresh seafood caught locally.
A trip to the dual-island nation of Antigua and Barbuda would not be complete without taking a boat ride out to one of the many uninhabited islands dotting the coastlines.
These idyllic spots are perfect for picnics, swimming, or simply relaxing in the hammock with a good book.
Sailing is one of the most popular activities in Antigua and Barbuda due to the excellent conditions. The trade winds blowing across the island make for ideal sailing conditions and there are plenty of sheltered bays to explore.
There are also plenty of yacht charter companies that offer a wide range of vessels, from small catamarans to luxury superyachts, so everyone can enjoy a sailing holiday in Antigua and Barbuda.
If you are looking for a sailing destination that has something for everyone, then look no further than Antigua and Barbuda.
With its excellent weather conditions, plentiful anchorages, interesting history, and lively nightlife, Antigua and Barbuda is the perfect place to enjoy a sailing holiday in the Caribbean Sea.