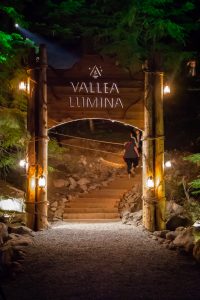 Imagine going on a late evening stroll through the magnificent mountainous forests that surround Whistler BC.  Then magically you are whisked off to a time long ago, retracing the steps of Leonard and Gloria, two hiker that were on a quest to find a hidden valley.  A place where stardust falls from the sky and the forest comes to life.  Imagine no more… this place is real and it is called Vallea Lumina.
A creation of light, sound and mystery, Vallea Lumina is the brainchild of Joey Houssian, Founder and CEO of The Adventure Group, and Jonathan St-Onge, General Manager, Lumina Series, Moment Factory.  Their idea was to combine the multimedia talents of Moment Factory with the unequaled beauty of British Columbia.  And Vallea Lumina does just that!
Without giving the whole experience away, here is how the journey begins.  The entryway, a tall wooden gateway with the words "Vallea Limina" cut out and lit from behind made me think I was heading off to tribal council on "Survivor".  Then the adventure begins as you trek along the forest path discovering ghostly campsites and trees that come to life along the way – and then the wonder of the hidden valley that hikers Leonard and Gloria set out to find so many years ago.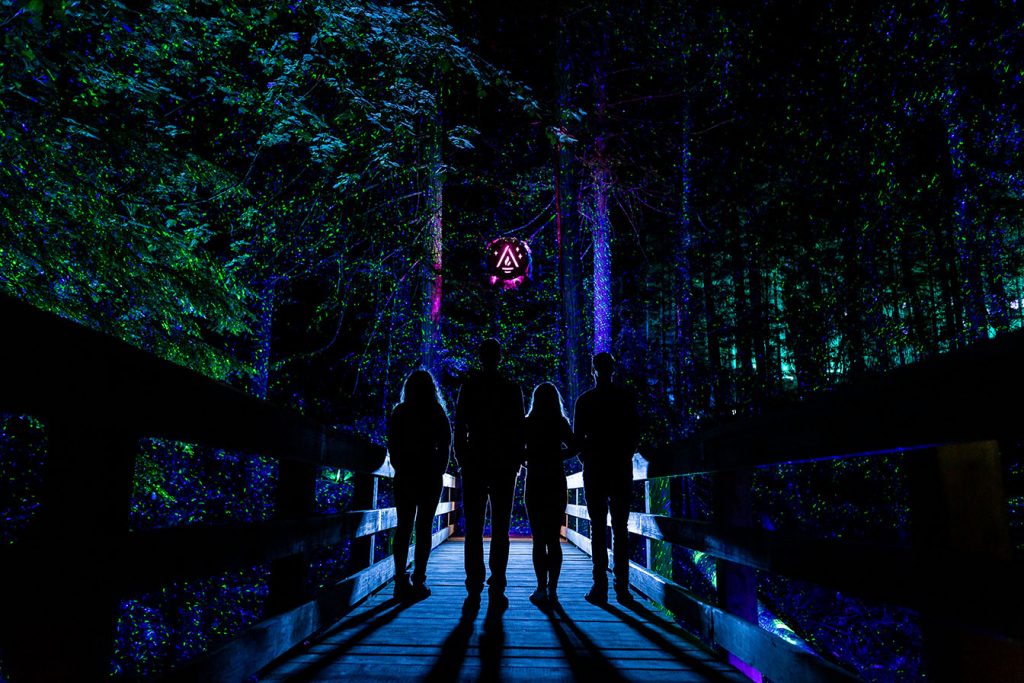 It is a limited engagement until October 2018, so if you are heading to Whistler BC, set aside a night to experience Vallea Lumina, and discover for yourself the magical wonders hidden in the coastal mountain forests. More information at www.TAGwhistler.com
Getting to Whistler:
From Vancouver, Whistler is a scenic one hour and forty minute drive up the Sea to Sky Highway. Harbour Air (www.harbourair.com) also offers regular floatplane service from Vancouver harbour and there is an economical Whistler bus (www.whistlerrides.ca) with regular service to and from Vancouver city centre.
Staying in Whistler:
Whistler is one of those special places where if you are going, stay somewhere memorable like Fairmont Chateau Whistler (www.fairmont.com/whistler). This lovely chateau style hotel is at the base of Blackcomb Mountain, so ski-in, ski-out doesn't get any closer and with a championship golf course on site, it is truly an all-season luxury resort. The rooms at Chateau Whistler are spacious and well thought out with great amenities, Vida spa, and the dining – try Portobello Restaurant for its amazing smoked brisket and craft beer on tap.