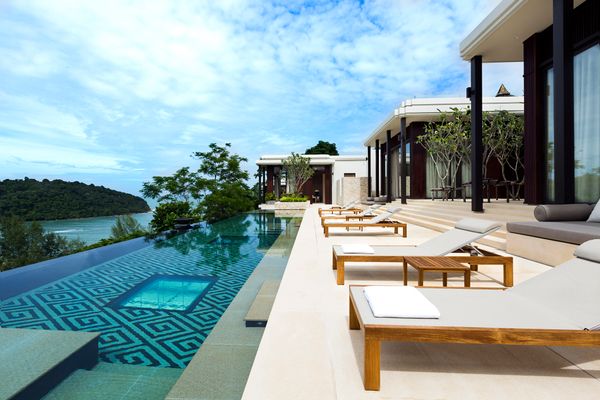 Let the Christmas Festivities Begin
Anantara Layan Phuket and Layan Residences by Anantara
The celebrations start a little early with a Christmas tree lighting ceremony on 23 December. A charming choir creates a joyful mood while guests sip holiday drinks and watch the lights sparkle. The yuletide season kicks into full gear on Christmas Eve with a holiday-themed gourmet dinner along Layan Beach. Guests can dine on international culinary delights under the stars with live jazz in the background, while Father Christmas makes a surprise visit to the little ones.
Anantara Mai Khao Phuket Villas
Guests can start Christmas Eve jollity with a magnificent breakfast at La Sala, dining around a lovely gingerbread house. A signature Cham Yam Bai afternoon tea of traditional Thai delicacies with a modern twist brings a tropical touch to a classic repast, with an option to splurge on Moët Rosé Piccolo Champagne. And all day, the Turtle Club will drum up anticipation for Father Christmas among the kids with carol sing-alongs and ornament making.
Christmas Eve dinner is a unique experience as guests can choose a dinner buffet on the beach. Dishes of succulent seafood, tender meats, and the freshest ingredients will satisfy, while a fire show mesmerises and entertains. For those who prefer a sit-down affair on Christmas eve, award-winning chefs created dishes exclusively for a gourmet four-course dinner at Sea.Fire.Salt., which can be served with premium wine pairings. The Anantara Mai Khao Choir will sing classic Christmas carols to all, bringing the holiday spirit to the seaside.
Celebrate Christmas Day with Father Christmas
Anantara Layan Phuket and Layan Residences by Anantara
Father Christmas comes to Anantara Layan's Lower Lobby on Christmas morning, spreading cheer with gifts, games, and a lucky draw. Meanwhile, all morning, every guest can start Christmas off with a lavish breakfast banquet at Sala Layan. The holiday fun continues with a magic show and treats to entertain children, young and old.
The Christmas feasting continues at Layan into Boxing Day with a beach barbeque on 26 December. Succulent seafood and fine meats are prepared to order at live cooking stations or can be had fresh off the grill. An incredible spread of starters as well as international dishes and local delicacies will also be available all evening.
Anantara Mai Khao Phuket Villas
The centre of Christmas celebrations for the little ones will be at the Turtle Club. An island treasure hunt leads to meeting Father Christmas for treats and presents. Then the festive fun continues with Christmas games all day, ending with classic holiday movie for sweet sugar plum dreams.
Christmas Day can commence for everyone with a hearty breakfast at La Sala to prepare for presents and holiday cheer. Guests can take a break for lunch by the Infiniti pool or with a Cham Yam Bai afternoon tea at the Tree House. Christmas Dinner is a sumptuous four-course culinary journey, with perhaps a half bottle of Champagne, at Sea.Fire.Salt. on the beachfront.
Ring in the New Year as Only Can be Done with Anantara
Anantara Layan Phuket and Layan Residences by Anantara
Anantara Layan Phuket and Layan Residences by Anantara offers a pre-New Year's indulgence with a mouth-watering Italian buffet on 29 December. Our chefs show off their culinary skills at live cooking stations on Mediterranean specialties for diners.
New Year's Eve is a glamourous black-tie event with a stylish Asian elegance. Guests arrive dressed in their finest ensembles for an exceptional gala dinner along the Andaman. An extensive menu features exquisite Japanese fare from Zuma while live entertainment and a dramatic fire show delights and amazes. The new year is welcomed by releasing ecologically-friendly wish lanterns followed by dancing into 2018 with an after-party DJ.
Anantara Mai Khao Phuket Villas
Anantara Mai Khao will host two different gala dinners for New Year's Eve, all set against a backdrop from Phuket's Chino-Portuguese heritage. The extravagant dinner buffet on the Beach Lawn will feature sumptuous dishes and live cooking stations, as well as a live band, DJ, and fire show will get everyone ready for the New Year countdown party after dinner. Sea.Fire.Salt. offers a more contemplative experience with an elegant à la carte dinner complemented by a selection of premium seafood on ice, a wine and bubbly bar, as well as premium cheeses. After dinner, everyone can converge on the Beach Lawn to dance and party before the countdown to welcome in 2018 with cheers and fireworks.
Experience Zuma Throughout the Festive Season and Beyond
A visit to Anantara Layan Phuket and Layan Residences by Anantara would not be complete without a Zuma pop-up restaurant experience. This is a unique opportunity to taste the world-renowned and award-winning contemporary Japanese cuisine, with such signature dishes as spicy beef tenderloin with sesame, red chili, and sweet soy; miso marinated black cod wrapped in hoba leaf; and sliced yellowtail with chili relish, ponzu, and pickled garlic. A myriad of grilled dishes from the Japanese robata will also feature at the pop-up, as well as traditional sushi and sashimi.
Sensational Spas Feature Seasonal Specials
The spas at Anantara Layan and Anantara Mai Khao can help guests prepare or recover from festive season celebrations. Spa specialists have concocted exotic, holiday-inspired treatments to pamper, relax, and revitalise. There are sparkling massage oils that can make skin glow like jewels, with fragrances for uplifting or reminiscing. For a New Year detox, there is a "New You" collection of beauty treatments, cleansing programmes, and healthy food pairings for a fresh start to 2018.