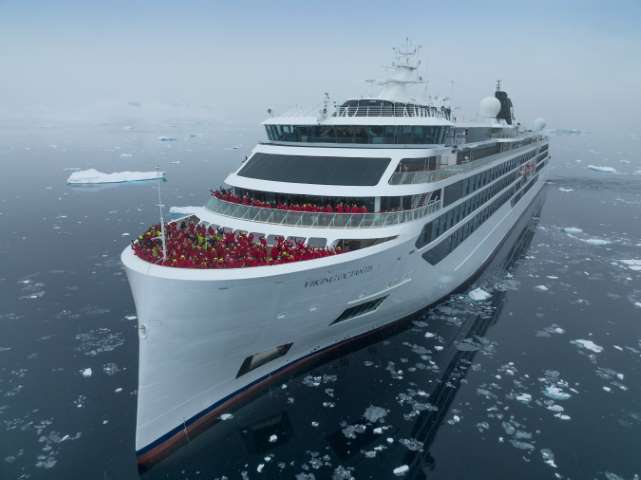 Viking® is celebrating new milestones in the launch of its expedition voyages, as the new purpose-built Viking Octantis® continues its first Antarctic season. Recently, Viking guests explored at both ends of the earth, when the Viking Octantis crossed the Antarctic Circle at 66°33′ S, marking the southernmost journey in the company's 25-year history; just a few hours later, the Viking Venus® crossed the Arctic Circle at 66°33′ N under the spectacular northern lights. Today, Viking has released new architectural photos that detail the award-winning interior design of Viking Octantis—as well as a new 360-degree Ship Tour that provides a deck-by-deck virtual onboard experience. Additionally, Viking has also published a new video showcasing testimonials from guests who have recently experienced Viking's Antarctic Explorer expedition and praised it as one of their best-ever travel experiences.
"The Viking Octantis and her sister ship, the Viking Polaris®, have been designed for discovery—to enable our guests to explore the world's most pristine destinations in comfort and in the most responsible way possible," said Torstein Hagen, Chairman of Viking. "With our first Antarctic season underway, we are very pleased with the enthusiastic initial response from our guests, as well as from esteemed design experts."
Viking's new expedition ships were designed by the same team behind the award-winning Viking Longships® and ocean ships, including Richard Riviere, Founding Principal of internationally acclaimed interior design firm Rottet Studio of Los Angeles. SMC Design of London contributed with their expertise in the maritime sector. Together, the two firms were awarded "Design Studio Team of the Year" in the 2021 Cruise Ship Interior Awards for their work on Viking's expedition ships.
"We hope our guests will feel at home on board these elegant vessels, with spaces that are familiar from our ocean ships—such as the Explorers' Lounge and Mamsen's—as well as innovative new spaces like The Aula and The Hangar that are first of their kind in the travel industry," said Karine Hagen, Executive Vice President of Viking. "As always, our Norwegian heritage and thoughtful attention to detail are infused throughout. With sheltered outdoor observation areas from bow to stern, and a state-of-the-art stabilizing system that makes for very smooth sailing, our new expedition ships optimize exploring the remotest parts of the world in comfort, the Viking way."