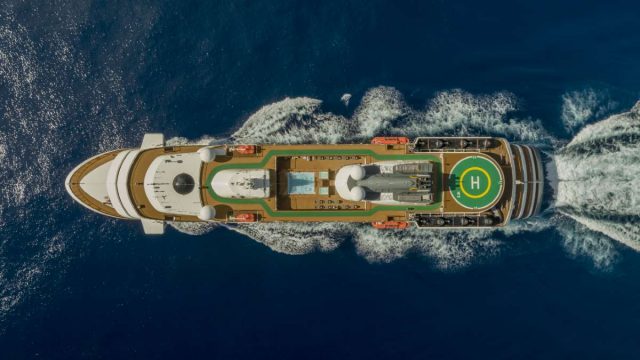 Atlas Ocean Voyages today announced that the Luxe-Adventure SM Expedition Cruise brand is augmenting its inaugural-year offerings with four new, exciting Transatlantic, Caribbean and South America itineraries in October and November 2021. World Navigator, Atlas Ocean Voyages' first ship, will cruise the Atlantic Ocean from Portugal to the Southern Caribbean islands before bringing guests along South America's east coast to Tierra del Fuego. Launching in July 2021, World Navigator, will bring fun-seeking adventurers, explorers and like-spirited travelers on authentic, thrilling, and once-in-a-lifetime Luxe-Adventure experiences to the world's most sought-after and remote destinations, including the Holy Land; Black, Mediterranean and Caribbean Seas; South America and Antarctica. World Navigator's 29 inaugural-year journeys are now open for booking.
"Beginning July 2021, Atlas Ocean Voyages' distinct, excitement-driven Luxe-Adventure journeys will offer new world explorers an unmatched travel experience aboard our new, safe, small, clean and green ship, World Navigator," said Alberto Aliberti, President of Atlas Ocean Voyages. "We've adjusted our inaugural-year deployment to bring World Navigator to the Caribbean so U.S. and Canadian travelers can embark on an adventure closer to home. And, the new Transatlantic, Caribbean and South America itineraries provide our valued travel advisor partners more options when discussing future 2021 travel with their clients and to take advantage of our GET PAID NOW offer."
Bridging the Old and New Worlds, World Navigator will depart October 4, 2021, on a 13-night voyage, from Lisbon, Portugal. Guests will follow the winds of colonial explorers and call at some of the Atlantic's most beautiful islands, including Madeira, Tenerife, St. Lucia and Barbados.
From Barbados, a 10-night itinerary, departing October 19, will bring guests on an epic equatorial crossing, via the north coast of South America, to Recife, Brazil. On this journey, World Navigator contrasts the charm of small and elegant Tobago Island against French Guiana's rugged Devil's Island, en route to the historic and colorful cultures of Brazil's Fortaleza and Natal metropolises and the mouth of the mighty Amazon at Belem.
For more information about Atlas Ocean Voyages, please visit AtlasOceanVoyages.com