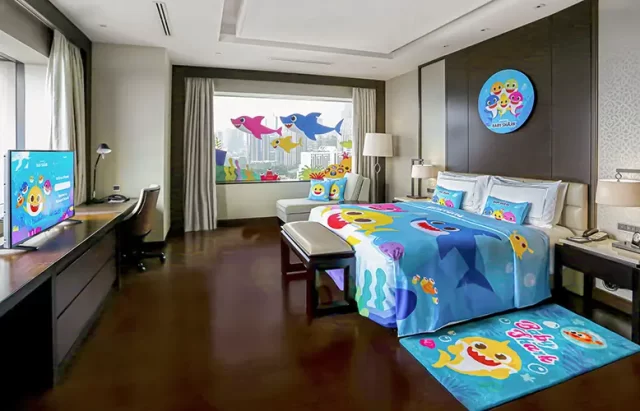 The Pinkfong Company, the global entertainment company behind the cultural phenomenon  Baby Shark, announced today that the company teams up with Fairmont Jakarta to welcome families to enjoy Pinkfong and Baby Shark stay-and-dine experience for the first time in Indonesia, until 14 January 2024.
Gemma Joo, Chief Business Officer at The Pinkfong Company, mentioned, "We're delighted to partner with Fairmont Jakarta and offer unique opportunities to kids and families to make unforgettable memories with Pinkfong and Baby Shark during summer time. This special collaboration invites families to enjoy their favorite Pinkfong and Baby Shark through activities and experiences designed for guests of all ages."
General Manager at Fairmont Jakarta, Carlos Monterde, said, "Fairmont Jakarta is committed to always presenting initiatives and innovation to create memorable experiences for our guests. We are excited to work with The Pinkfong Company, the creator of the global phenomenon Pinkfong and Baby Shark, to bring this one-of-a-kind family fun experience that we believe will create an unforgettable memory for families. We look forward to bringing joy to everyone, whether young or young at heart."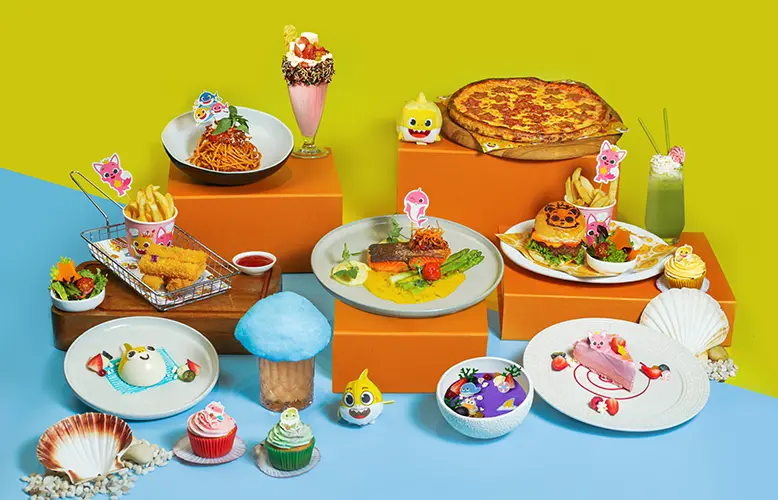 DINE, PLAY AND EXPLORE IN THE PINKFONG AND BABY SHARK CAFÉ
Fans of the much-loved Pinkfong and Baby Shark can visit Fairmont Jakarta and spend this school holiday season with fun experiences at the Pinkfong Café. Designed as the exclusive F&B venue suiting to the overall experience, Pinkfong and Baby Shark Café will resemble a colorful submarine-themed underwater world of Baby Shark. Families will get to enjoy a wide range of delicious Pinkfong and Baby Shark-inspired menu while learning through various interactive activities.
Hamish Lindsay, Executive Chef at Fairmont Jakarta, and his team have made every effort to curate a menu that is not only delicious but also picture-perfect. Children will be thrilled to enjoy treats such as Fin-tastic Breakfast, Pinkfong Pasta, Baby Shark Fried Rice, as well as a selection of favorite Korean comfort food such as Tteokbokki, Fried Chicken, Corn Dog, and much more. A selection of desserts such as the Pinkfong Smores Pie, Blueberry Sea Creatures and Signature Shakes, will satisfy any sweet tooth. The grown-ups can also enjoy dishes such as the Mommy Sharks Favourite or share the Bulgogi Pizza with their children.
After meal time, children can have fun while learning and playing in the Pinkfong Play Area. Set on a placemat, the play area features a ball pit with slides, arts & crafts activities, and a range of toys. They can also participate in several activities such as Pizza Making and cupcake decorating with the guidance of a professional chef. Exclusive Pinkfong Baby Shark toys and merchandise are also available at the café. The Pinkfong Baby Shark Café opens daily from 12:00pm to 10:00pm on weekdays, and 9:00am to 10:00pm on weekend.
PINKFONG AND BABY SHARK STAYCATION
Embark on a journey of exploration to experience Jakarta's first Pinkfong and Baby Shark-themed staycation at Fairmont Jakarta. Comprising Baby Shark Rooms and Suites, families can spend their holiday in the whimsical world of Baby Shark, where every corner of the room is bathed in adorable underwater characters. Guests staying in the Pinkfong and Baby Shark Room or Suites will enjoy exclusive in-room amenities, Baby Shark toys for the little ones, dining credit at the Pinkfong and Baby Shark Café, and free entrance to the play area. Pinkfong and Baby Shark will also take turn to visit the room and wake up kids in the morning*.
Fans can find more information at www.pinkfong baby shark-fairmont.com.