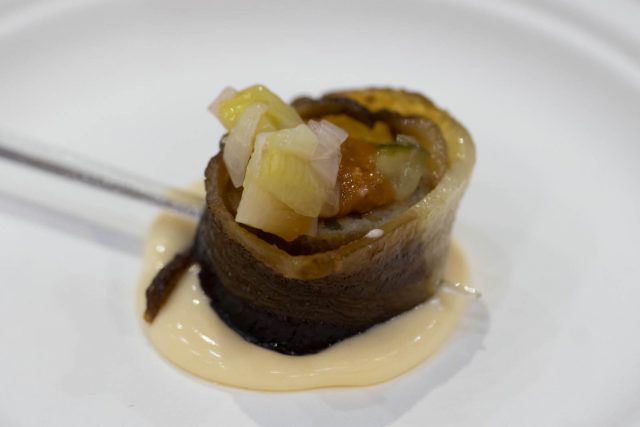 Bacon fans wait with baited bacon breath as Baconfest Chicago announces their 2018 Chef lineup by session. Chicago's biggest and best bacon bacchanalia will feature over 140 restaurants, highlighting 40 – 50 of the best chefs in the city at each of the three sessions.
"We know it's a harrowing decision trying to decide what session to attend at Baconfest," said Baconfest co-founder Seth Zurer. "We are looking forward to seeing what bacony goodness our Golden Rasher winners Christine Cikowski and Josh Kulp from Honey Butter Fried Chicken come up with to delight us, alongside new entries to the fest like Chef Anthony Baier from Kimski."
2018 BACONFEST CHICAGO CHEF LINEUP BY SESSION
Friday Dinner April 6
VIP Hour 6 to 7 PM
General Admission 7 to 10 PM
Bangers & Lace – Jason Heiman
Bar Roma – Fred Ramos
BBQ Supply Co – Dylan Lipe
Bliss Culinary Heaven – Tyler Nelson
Candyality
Cantina Laredo – Damon Workman
Chicago's Community Kitchens – Emily Cook and Abby Bicksler
Chicken + Farm Shop – Max Robbins
City Barbeque – Brian Carney
Cooking Skills Academy – Paul Guerrero
CP West Loop – Ariel Cole
Earl's Drive-Thru BBQ
Edzo's Burger Shop – Eddie Lakin
El Tapeo
Farmhouse Chicago – Eric Mansavage
Flo & Santos – Mark Rimkus
Half Day Brewing Co – Bob Zrenner
Heritage Restaurant & Caviar Bar – Guy Meikle
Howells & Hood – Brett Faldstein
Hubbard Inn – Esteban Garcia
Imperial Lamian – Alan Tran
Italian Village Restaurants – Jose Torres
Jam Restaurant – Ian Voakes
Jordan's Food of Distinction
Kanela Breakfast Club – Ivan Gonzalez and Alexandria Swieton
Kinzie Chophouse – Susan Frasca
Latinicity – Marcos Flores
Links Taproom – Dimitris Mallios
Miss Ricky's – Moosah Reaume
Monti's – James Gottwald
NIX Restaurant At The Knickerbocker hotel – Cliff Ostrowski
Nonna Santi's Biscotti – Jo-Marie Frigo
Park Grill – Alfredo Sandoval
Peckish Pig – Debbie Evans
Porkchop – Eric Feltman
PR Italian Bistro – Stefano Roman
Radisson Blu Aqua Hotel – Leah Turowski
Stan's Donuts & Coffee – Rich Labriola
Stanley's Kitchen & Tap – Esteban Garcia
State and Lake Chicago Tavern – Nathan Sears
Tap House Grill – Bob Zrenner
The Delta – Adam Wendt
The Grill on the Alley – Geordan Stenson
The Roaming Hog – Eddie Aguilar
Velvet Taco – Grant Morgan
Victory Tap Chicago – Joe Farina
Vie – Dan Compton
WHISK – David Rodriguez
Saturday Lunch April 7
VIP Hour 11 AM to Noon
General Admission Noon to 3 PM
Autre Monde Café & Spirits – Dan Pancake
BACARO – Drew Starkey
Bang Bang Pie & Biscuits – Emily Stewart
Birrieria Zaragoza – Jonathan Zaragoza
Bistro Campagne – Luke Creagan
Bistronomic – Martial Noguier and Amanda Downing
BITES – Derek Intapura
Burger Bar Chicago – John McLean
Carnivale – Rodolfo Cuadros
Chop Shop – Adam Grandt
Community Tavern – Joey Beato
Dmen Tap
Eataly – Jeremy Williams
Faregrounds – Gary Wiviott
Firecakes – Jonathan Fox
Hearth and Crust – Jose "Chepe" Garcia
Hearth Restaurant – Michael Elliott
Honey Butter Fried Chicken – Christine Cikowski and Josh Kulp
Hutch – Marc Wuenschel
Immm Thai Street Food
Inspiration Kitchens – Rick Paniagua
Jerk Modern Jamaican Grill – Dion Solano
Kaiser Tiger – Roberto Jacobo
Kitty O'Sheas – Mario Garcia
Lawry's The Prime Rib & SideDoor Chicago
Le Bouchon / La Sardine – Oliver Poilevey
LOKaL
Margeaux Brasserie – Brent Balika
Market House on the Square – Dan Marquis
N'awlins Edibles – Cheryl Bowman
Old Town Social – Cordero Miller
Orso's – Victor Flores
Paddy Long's – Pat Berger
Paulie Gee's Logan Square
Piece Pizzeria and Brewery – Jay Dawson
Porter Kitchen & Deck – James Keane
Rack House Tavern – Bryant Anderson
Roanoke – Brad Froelich
Sheekar Delights – Diane Joseph
ShowPlace ICON Theatre – Joe Ritter
Smylie Brothers Brewing Co. – Grant Carey
Sociale Chicago / Cafe Press – John McLean
Spacca Napoli – Jonathan Goldsmith
Table, Donkey and Stick – Ryan Brosseau
The Duck Inn – Kris Delee
The Heritage – Sieger Bayer
The Signature Room at the 95th
Ugo's Kitchen and Bar – Stephen Hasson
WhirlyBall – Nina Madsen
Wow Bao
Wrigley BBQ – Mitch Liebovich
Saturday Dinner April 7
VIP Hour 6 to 7 PM
General Admission 7 to 10 PM
312Chicago – Luca Corazzina
676 Restaurant & Bar – Joshua Hasho
ada st – Ryan Bair
Angry Pig Tavern – Mark Hemmer
Bakin' & Eggs – Bob Hartwig
Baptiste & Bottle – James Lintelmann
Bar Takito – Yani Sanchez
Barbakoa Tacos & Tequila – Abel Amador
BBQ'd Productions, INC
Broken Shaker – Sarah Docherty
Carnivore Inc – Erik Williams
ConEcepts – Turon Cummings
CURRENT
Edge of Sweetness – Paige Tyler
El Mariachi Tequila Bar & Grill – Rafael Alvarado
Flo Cafe & Bar – Leonard Sanchez
fourteensixteen – Bret Bohning
Frank-lee Delish – Ellice Weith
Green St. Grille – Kevin Killrakis
Half Sour – Greg Hageli
Hash House A Go Go
Inovasi – John Des Rosiers
Kimski – Anthony Baier
Kinfork BBQ and Tap – Juan Torres
Kody's Mini Donuts
Libertad – Marino Gil
McQ's Bar & Grill – Alton Morris
McWethy's Tavern – Dan Casey
Mercat a la Planxa – Diego Amat
Michael Jordan's Restaurant – Craig Couper
Michael Jordan's Steak House – Craig Couper
More – Patty Rothman
Pinstripes – Nicole Isabelli
Prime & Provisions – Joseph Rizza
Public House – Jeremy Tannehill
Smack Dab/Rogers Park Social – Same
Son of A Butcher – Rick Rodriguez
Steadfast – Ender Oktayuren
Sunda New Asian – Jess De Guzman
The Dearborn – Aaron Cuschieri
The Finery & Blacksmith Bar – Juliette Reyes
The Ruin Daily – Mario Manzini
Three Floyds Brewpub – Pat Niebling and Scout Hughes
Uncle Bubs BBQ – Kyle VerVynck
XO Marshmallow – Melissa Humphrey
Yolk
NEW TO BACONFEST CHICAGO – OLD FORESTER SPEAKEASY
Organizers also announced the creation of a new addition to the VIP ticket holder experience at Baconfest. Throughout each session of Baconfest, VIP ticket holders will have access to comfortable seating and premium bourbon tastings in the exclusive Old Forester Speakeasy. The Old Forester Speakeasy is a private lounge just steps away from the main hall where whiskey lovers can relive the prohibition era with cocktails featuring Old Forester bourbon as well as tasting flights of the Old Forester Whiskey Row Series. These tasting flights will offer a drinkable tour of bourbon history in the form of rare expressions of this classic American spirit. Included in the Whiskey Row Series: Old Forester's 1870 Original Batch, a 90-proof minimally filtered homage to Old Forester's original recipe, 1897 Bottled in Bond, a 100-proof distillation crafted to honor a watershed moment in bourbon history, the U.S. Bottled-In-Bond act of 1897, as well as the 1920 Prohibition Style expression, a 115-proof expression of Old Forester that reflects the style of bourbon in vogue during Prohibition.
BACONFEST CHICAGO TICKET INFORMATION
The tenth edition of Baconfest Chicago will be held on April 6 & 7, 2018 at the UIC Forum at 725 West Roosevelt in Chicago. For their ten year anniversary, Baconfest Chicago is offering new tickets levels for bacon lovers on any budget. Tickets start at $60, plus fees, and are on sale now at https://baconfestchicago.com/ticket/.