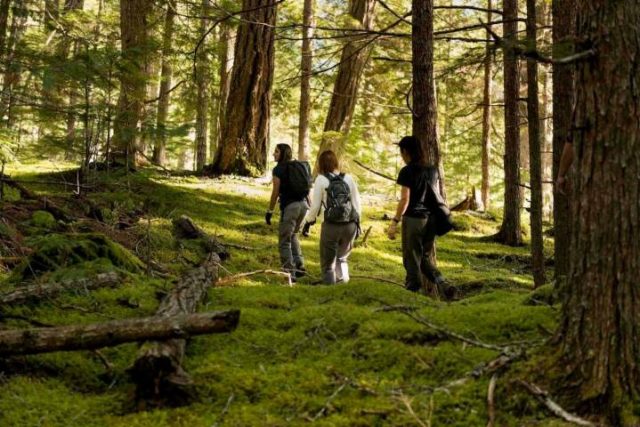 Tweedsmuir Park Lodge celebrates World Environment Day, taking place June 5th, through its commitment to environmental stewardship and support of a local project, the Great Bear Forest Carbon Project. The theme of this year's World Environment Day is 'Ecosystem Restoration,' a global rallying cry for businesses and citizens to take urgent action and protect ecosystems, an initiative the Climate Positive designated lodge has integrated into its operations.  
 A 70-minute flight north of Vancouver, Tweedsmuir Park Lodge rests in one of the world's largest and most ecologically significant temperate rainforests, The Great Bear Rainforest, harbouring vast resources valuable to Coastal First Nations and some of the most abundant wildlife. With over 85 thousand square kilometres (21 million acres) of pristine wilderness, this region occupies many of British Columbia's (BC) biogeoclimatic zones, fostering great ecosystem and biodiversity and making it the planet's largest expanse of coastal temperate rainforest.  "We are lucky to live, and work, in a stunning and pristine environment, and have a wonderful community supporting us. We recognize the importance of preserving wildlife and the environment, so that future generations can experience the same wonders that we experience here every day," said Beat Steiner, co-owner of Tweedsmuir Park Lodge. "This World Environment Day, we are committing to not just following environmental trends, but to be pioneers in creating a more sustainable and balanced business model, where we can minimize our footprint as well as give back to the environment and community."
Tweedsmuir Park Lodge purchases carbon offsets that support The Great Bear Forest Carbon Project, an improved forest management project. In purchasing carbon offsets, the lodge actively helps restore and protect its surrounding environment by converting forests previously approved for commercial logging into protected ecosystems. This initiative helps preserve vulnerable pockets of BC's old-growth forests. These forests play anessential role in capturing and storing vast amounts of carbon dioxide within the trees, sprouting a thriving ecosystem. Funds from the project also support local First Nations and educational platforms, encouraging others to join the fight against climate change.
"Rather than contributing just enough to mitigate the company's greenhouse gas emissions, we opted to become climate positive," Steiner said. "We are offsetting more than we emit and hope to inspire other companies to join the fight against climate change just as others inspired us."
In addition to purchasing carbon offsets to protect the sacred rainforest, Bella Coola Heli Sports, Tweedsmuir Park's award-winning heli-skiing company, is working on policies to reduce carbon emissions company-wide. After working with a 3rd party company, Offsetters, to measure their carbon output, and making reductions where possible, the company vowed to become climate positive – an achievement the team wears as a badge of honour. In reducing emissions, they have become the world's first, and only, climate-positive heliskiing operation.  To learn more about Tweedsmuir Park Lodge's ecological preservation journey, or to book your stay, visit tweedsmuirparklodge.com.