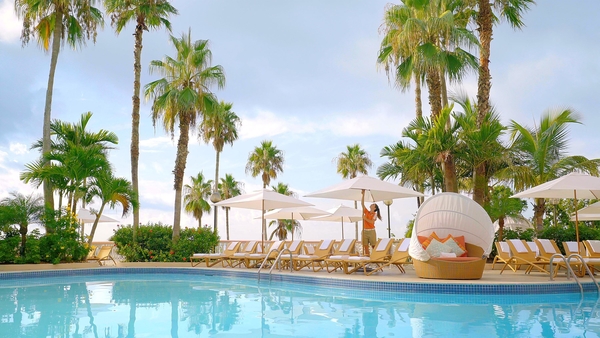 Towering coconut palms, soft coral-pink sand, glistening sun on crystal-clear turquoise waters… vacation is the best time of the year. Especially when spent just two hours from the U.S. East Coast, in island paradise Bermuda. A traveler's delight, the picturesque island offers a moderate sub-tropical climate all-year-long. And her largest resort is now even offering a money-back guarantee* for the temperate weather conditions!
Bermuda is a year-round outdoor destination that experiences neither the chills of the northeast U.S. nor the intense heat of the Caribbean. Blue skies with bright sunshine and mild temperatures are the default setting, thanks to the Gulf Stream and Bermuda Azores-High. The mid-Atlantic wind makes for world-class sailing, and while there is no particular rain season, occasional rainfall throughout the year keeps the parks and golf courses lush. Whatever time of year, visitors can take advantage of these moderate temperatures to relax and play their favorite sports – all while wearing Bermuda shorts.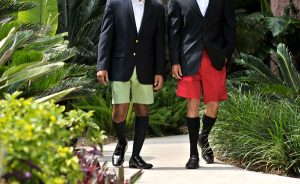 Whether a short weekend trip or annual leave, well-deserved time-off should be spent in a place where the temperature corresponds with guest expectations. For vacation from November 2017 through March 2018, luxury resort Fairmont Southampton is offering a 'Bermuda Shorts' Temperature Guarantee, ensuring that the daytime temperature will reach at least 71̊F from November until December 2017, or 63̊F from January until March 2018 – if not, the hotel room for that night will be complimentary.* A clear win-win situation for hotel guests: They either get to enjoy temperate weather, or a night for free. The special offer further includes popular holidays such as Thanksgiving, Christmas, New Year's Eve and Easter.
"Fairmont Southampton's innovative temperature guarantee might well be a world's first. In a nutshell, we are so confident about the appealing climate of our destination that we are willing to guarantee this in writing to our guests", comments Kiaran MacDonald, Regional Vice President Caribbean & General Manager. "In the odd case that the temperature should drop below certain degrees, our all-encompassing resort offers plenty of options, with its award-winning golf course, a full-service spa with indoor pool, newly renovated Toddler and Games Rooms, and much more."
For over four centuries, Bermuda has welcomed adventure seekers, explorers and romantics alike, and has long been known as a hidden gem with a mystique of its own. And while many believe this exotic island to be part of the Caribbean, it actually rests hundreds of miles north of the Bahamas in an astoundingly beautiful stretch of the Atlantic. Bermuda recently became even more popular following a world-renown sailing competition and super yacht visits from around the globe. The sophisticated destination is equally suitable for expecting parents, couples, families, friends and single travelers alike, due to its high levels of safety and hygiene, and convenient location close to the U.S. East Coast. Blending local Bermudian culture with American influences and British old-world charm, the polished island offers some of the most beautiful beaches in the world and diverse activities for every season. From hitting the golf courses to relaxing in a spa and horseback riding on the beach, to watersports such as sailing, scuba diving and kite surfing, to hiking and cycling the railway trail, to whale watching or visiting a UNESCO World Heritage site, there is a lot to discover for the young and the young at heart. In addition, Fairmont Southampton provides an 'Experience Southampton' guest program with daily activities at the resort to its guests – come rain or shine.
For more information about the 'Bermuda Shorts' Temperature Guarantee, please visit www.fairmont.com/bermuda-shorts (from September 1, 2017 until March 10, 2018).
* Terms & Conditions Apply. Offer is for registered hotel guests of Fairmont Southampton only, and does not automatically apply to all guests residing at the hotel during this time frame. Instead, the 'Bermuda Shorts' Temperature Guarantee will exclusively apply to those guests who have pre-booked the 'Bermuda Shorts' Temperature Guarantee offer at least two weeks in advance before their individual booking start date. Booking window: September 1, 2017 until March 10, 2018. Travel Window: November 1, 2017 until March 31, 2018. Daytime temperature will be based on daily high temperature in F̊ (Fahrenheit) listed publicly on www.weather.bm only. If it does not reach a daily high of at least 71̊F (21̊C) from November 1, 2017 until December 31, 2017, or a daily high of 63̊F (17̊C) from January 1, 2018 until March 31, 2018, each registered hotel guest who booked this offer for that specific day will receive a refund of the room rate for one night. Resort levy and gratuity are additional and still remain to be paid by guest. Offer is not available for groups and is for new bookings only. Two nights minimum length of stay required. Black-out dates and other restrictions may apply. Offers are subject to availability and can change without further notice. 'Experience Southampton' guest program is for registered hotel guests only and subject to change.