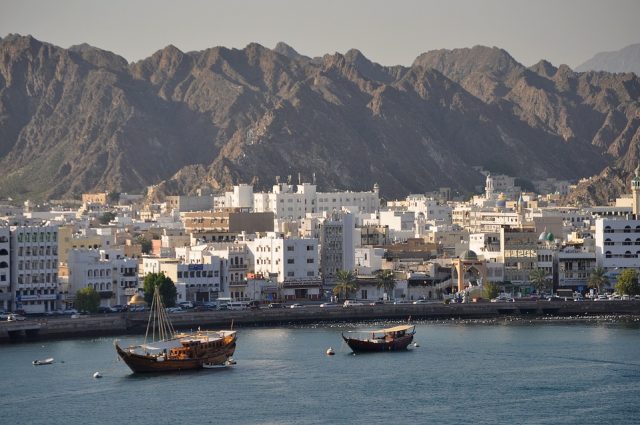 Oman road trip has so much to offer: the rugged mountains of the Hajar Mountains, the roads crossing the surreal and savage landscapes of WadiBani AWF, the fiery desert of Wahiba Sands surrounded by oasis by the beautiful WadiShab and WadiBani Khalid Beaches washed by a turquoise sea where turtle turtles lay their eggs, the impressive Forts of Nizwa and Jabrin, the great mosque of Sultan Qaboos… all this and so much more is what to expect from the Sultanate of Oman, a journey into the smells and colors of Arabia, to the discovery of a people from deep and radical respect for ancient traditions and history.
An Oman road trip is the best option to discover Islam in its most intriguing, authentic form and in respect and tolerance to Western civilization and all other peoples. Plus, Oman still cherishes that feeling of authenticity and tradition that, in other Islamic places now invaded by mass tourism, has completely gone lost.
Hire a car
Exploring Oman can be tricky without a car by your side! The country has several things to explore outside the city borders that you just can't miss! So, your road trip by car will be the best option for you to make the most of your travel here. Check Holiday Autos to find the best deal and option for you hiring the perfect car for an independent, cheap and secure experience in this incredible land.
Create an itinerary
Due to the huge distances between all the areas nearby the city center, try to create an itinerary to optimize both your time and experience in Oman. Choose some hotel nearby the areas you would like to explore and be sure to start your road trips from strategic points to make the most of it.
Dubai as your starting point
Dubai is well connected basically with every city of the world so it would be your best choice to land in this incredible futuristic city, have at least one full day there to explore it and then depart from here to go to Oman by car. Your Oman road trip from Dubai will be the best option to see different sides of the same culture and, plus, it would be the smarter way to start this adventure!
Going wild
Oman has incredible natural parks, mountains and beaches to explore so don't forget to save some time to get lost into the local nature and its beauties. Bring some trekking gear with you with some comfy shoes and a well-studied complete outfit (perfect for hot crazy weather during the day and frozen temperature by night) to be prepared basically to everything and, of course, don't forget your camera!
Your Oman road trip by car is the perfect option you have to full immerse into Arabian culture and history and, most of all, to admire different several places and enjoy the deep contrasts that lie beneath the cultural identity of this intriguing travel destination.