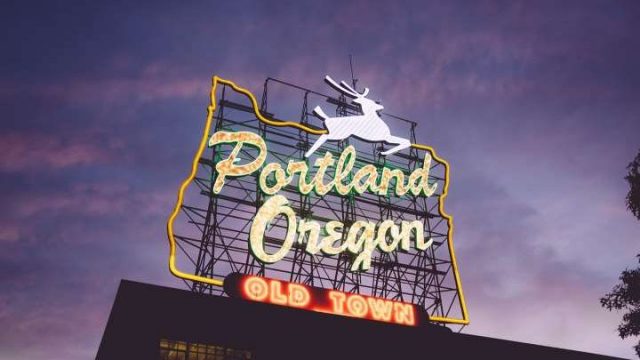 The thought of visiting the United States might evoke images of New York's Statue of Liberty, the bright lights of Las Vegas or the famous Hollywood sign in Los Angeles, but there is so much more to the country beyond its most iconic attractions. Each year, a series of new buildings, events, restaurants, bars and festivals pop up all over the place, often transforming a city and making it more attractive to potential visitors. This isn't to say that the traditional cities aren't worth staying in or that the iconic sights aren't worth seeing – there's a reason they're the most popular, after all. However, this list will direct you towards a few of 2019's fashionable alternatives.
Portland, Oregon
A favorite place for the congregation of beer-lovers thanks to its 70 or so breweries, the twenty-fifth most populous city in the US has gained itself a reputation as a hipsters' paradise. Portland boasts an impressive collection of stylish bars, funky cafes, quirky book shops, and retro clothes stores. While it might rain relentlessly during the winter months, its residents are thankful for this during the spring and summer, when luscious greenery surrounds the city and creates the perfect place for walking, cycling, jogging and skateboarding. A nice change from the at times overwhelming urban landscapes found in other US cities, Portland's cliché car sticker, reading "Keep Portland Weird," sums the region up well.
Baltimore, Maryland
If Portland is a paradise for hipsters, then Baltimore is one for foodies. Not only does it have some of the country's best crab cakes but it is also where you will find the 'chicken box,' a highly popular takeaway meal of fried chicken wings and fries with the seasoning and sauce of your choice. The city is also home to the Baltimore Ravens, an NFL team established in 1996 that has grown to become one of the most valuable sports franchises in the world. Tickets to their matches can be hard to come by due to popular demand, but if you use a website like www.ticketsales.com you can purchase seats ahead of time to guarantee yourself a place in the crowd, an experience you will never forget.
Palm Springs, California
Traditionally the favorite hangout for Hollywood's most fashionable stars, Palm Springs is now recognized as the ideal spot for unwinding within its blend of nature, art, good weather and fine dining that creates an idyllic getaway from the usual hustle and bustle of city life. As well as the luxuries of fancy hotels and relaxing spas, Palm Springs also offers a fantastic location for hiking, where average temperatures in the winter still exceed 60 degrees Fahrenheit, making it accessible all year round. Its past as a playground for the movie industry's most famous players is seen in everything in the region, from glitzy houses owned by generations of actors to establishments like such as Melyvn's, a restaurant frequented by Frank Sinatra's Rat Pack.