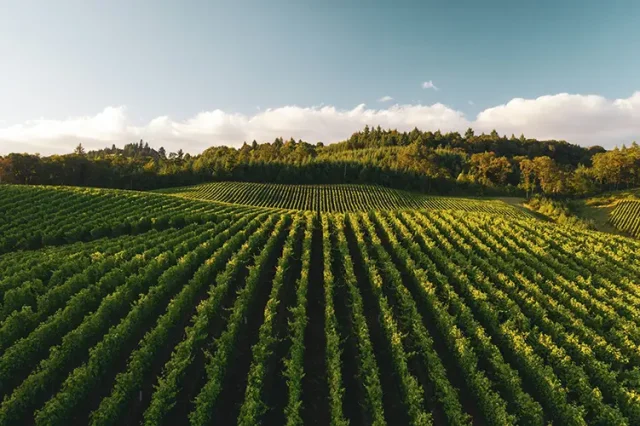 Welcome, wine lovers, to yet another article on our daily blog! Today, we set off on an exciting journey into the world of Pinot Noir, one of the most seductive grape varieties. With outstanding aromas, balanced structure, and unmatched capacity to represent the distinct terroir of its growing regions, this magnificent red wine has won the hearts of many.
One curious fact about Pinot Noir is that it should be served at a lower temperature than other red wines (ideally around 55-60°F). This allows it to showcase its best qualities and aromas.
In this article, we'll explore the distinctive qualities that make each of the world's top Pinot Noir areas a must-try for every oenophile as we take you on a charming tour through them. So, grab your favorite wine glass, relax, and allow us to transport you to some of the most fascinating regions of the wine industry!
Burgundy, France: Where It All Began
Our adventure starts in the prestigious vineyards of Burgundy, France, the famous birthplace of Pinot Noir.
Burgundy is known for producing some of the world's most outstanding Pinot Noir wines thanks to its distinctive climate, terroir, and winemaking traditions.
The numerous appellations of the region, from Chambolle-Musigny to Gevrey-Chambertin, display a symphony of flavors ranging from delicate red fruit to earthy depth. What's more, their age-worthiness is unmatched.
The Côte d'Or: Heart and Soul of Burgundy
Burgundy's most prominent and esteemed subregion is called the Côte d'Or, which translates to "Golden Slope."
There are two separate regions within it: the Côte de Nuits in the north and the Côte de Beaune in the south.
The special soil, aspect, and microclimate of the Côte d'Or make it the perfect location for producing the well-known Pinot Noir grapes.
Terroir: A Patchwork of Diversity
The terroir of Burgundy is a patchwork of many vineyard sites, or "climats," each with its own distinctive characteristics. The region's varied soils, which range from limestone and marl in the north to clay and limestone in the south, give each wine personality and depth.
The slight nuances that distinguish one Burgundian wine from another are a result of minor alterations in soil composition as well as the different types of mesoclimates that affect the area.
Willamette Valley, Oregon: An American Gem
We continue our journey, going over the Atlantic and landing in the lovely Willamette Valley of Oregon, USA.
This gorgeous area is well-known across the world for its superb Pinot Noir. The mild atmosphere and volcanic soil create a harmonious environment for the grape to fully express itself.
Willamette Valley Pinot Noir captivates aficionados with its alluring delicacy and purity as well as its bursting aromas.
Flavor Profile
Pinot Noir wines from the Willamette Valley are renowned for having a sophisticated and complex flavor character.
These wines, which are influenced by their Old-World equivalents, frequently display a beautiful balance of red fruit flavors like cherry, raspberry, and cranberry, complemented by undertones of earth, spice, and floral notes.
The smooth texture of Willamette Valley Pinot Noir caresses the palate and leaves a lingering impression that is both refined and unforgettable. This is the wine's distinguishing characteristic.
Single Vineyard Expressions
In addition to producing great Pinot Noir, the Willamette Valley is known for its single vineyard characteristics. Many winemakers believe that each vineyard has its distinct traits that, when represented in the wine, provide a more meaningful sense of location.
Wineries all around the valley take pride in producing wines that showcase the unique terroir of their vineyards, enabling aficionados to discover the variety of types and expressions present in the area.
Central Otago, New Zealand: A Southern Paradise
Let's now focus on Central Otago, New Zealand, and its stunning landscapes. Despite being one of the most southern wine regions in the world, Central Otago has become a great powerhouse for the production of Pinot Noir.
Wines produced in the area have a distinctive smooth texture, strong fruit aromas, and outstanding concentration because of the region's special climate, characterized by warm days and cool nights.
Subregions of Distinction
There are multiple subregions in Central Otago, and each one of them has unique microclimates, soils, and vineyard characteristics that add to the diversity of Pinot Noir expressions.
Gibbston Valley, Bannockburn, Bendigo, Cromwell Basin, and Alexandra are some of the subregions we'll look at.
Gibbston Valley: Also referred to as the "Valley of Vines," Gibbston Valley is the coldest and one of Central Otago's most beautiful subregions. The wines produced in the Gibbston Valley are often light and fragrant, with tastes of vivid red fruit and alluring floral notes.
Bannockburn: Due to the slightly warmer temperatures in this region, which is located on the southern banks of Lake Dunstan, the wines from Bannockburn have a deeper, richer flavor. You may anticipate flavors of ripe cherry, dark berries, and light earthiness, all balanced greatly together.
Bendigo: As one of the warmest subregions, Bendigo is home to robust and intense in flavor Pinot Noir wines. The abundant sunshine in this region allows the grapes to grow, producing wines with strong black fruit aromas, a velvety texture, and a hint of spice.
Cromwell Basin: With a wide variety of microclimates, Cromwell Basin offers a wide selection of Pinot Noir styles. You may come across wines that combine notes of red and black fruit with fascinating herbal and mineral undertones.
Alexandra: Located at the eastern end of Central Otago, Alexandra has a climate that is partly continental with a sizable diurnal temperature range. The wines produced there are often delicate and fragrant, featuring rich red fruit flavors and vivacious acidity.
Sonoma Coast, California: Where Land Meets Sea
Our trip comes to an end, as we discover the untamed splendor of California's Sonoma Coast.
This area, which is an extension of the Russian River Valley, is subject to even stronger coastal effects, producing wines that reflect the earth's untamed elegance and the saline character of the Pacific. Expect intensely aromatic Pinot Noirs with a delightful harmony of fruit, earth, and enticing maritime allure.
Winemaking Excellence
The climatic characteristics of the Sonoma Coast region present both difficulties and opportunities for winemakers. Their commitment to sustainable viticulture and hands-on winemaking procedures guarantees that each bottle captures the authentic essence of the land.
Minimal interference is needed in order for the grapes to thrive, and many wineries concentrate on small-lot productions, emphasizing the uniqueness of each vineyard site.
A Taste of Sonoma Coast
In a glass of Sonoma Coast Pinot Noir, one can find a riveting story about the land and the hands that nurtured the vines. The wines include a blend of earthy, mellow floral, and red and black fruit tastes.
Wild strawberry, juicy cherry, and a hint of forest floor aromas tempt the senses, while the wine's well-tuned tannins and vibrant acidity produce a smooth and lingering aftertaste.
Conclusion
And there you have it, dear wine enthusiasts! We've traveled across famous landscapes on our quick tour of the top Pinot Noir vineyards, learning about the unique charm and personality that each region imparts to this alluring grape variety.
With their adaptability and capacity to grow in a variety of terroirs, Pinot Noirs continue to astound and enchant us from the imposing vineyards of Burgundy to the wild coastlines of the Sonoma Coast.
So, the next time you're in the wine aisle or organizing a wine-tasting adventure, don't miss the chance to taste these exceptional Pinot Noirs from the world's top locations. Each bottle contains a narrative of passion, dedication, and a deep connection to the land, waiting to be uncorked and cherished with every taste.
Cheers to the amazing world of Pinot Noir, where each glass is a call to experience a sensory adventure unlike any other!