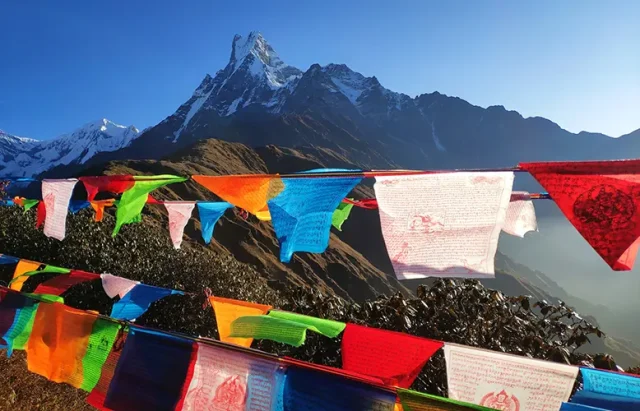 Nepal has some of the best trekking routes in the world. But it can be confusing to know when is the best time to go trekking in Nepal as some of the trekking regions have their own kind of micro climates!
Four or Six Seasons in Nepal?
Nepal has four seasons: spring, monsoon, autumn, and winter. But if you were to ask a Nepali, you would get a different answer as the pre-monsoon hot weather and the post monsoon, heading into early autumn, are both considered seasons in Nepal. So, actually Nepali has six seasons.
But let's keep it simple as trekking companies and trekking websites refer to the country as having four – the standard Western seasons of spring, monsoon (which replaces summer experienced in many northern hemisphere countries), autumn and winter.
The Seasons
Spring: March to May
Monsoon: June to August Autumn: September to November Winter: December to February
If we were to look at each season in the lowland area of the country, the Terai as it's called; the hills, we can take the capital city of Kathmandu as an example, and the high mountains such as around Mt Everest, we would get even more confused. Why? Because each of these seasons is reflected differently in different topographies. Since we are talking about the best time to trek in Nepal, lets concentrate on the mountains and treks which are over 3,000m / 9,842 ft in height.
Most Popular Seasons to Trek in Nepal
The most popular seasons are spring and autumn. Quite rightly so as the weather is perfect. The skies are clear, it is neither too hot nor too cold and rain is pretty rare.
A typical day on any trek sees it chilly in the morning, getting warmer as the day goes on, getting chilly again in the evenings and it can be quite cold in the night.
Of course, not all treks are equal! Let's look at a couple of treks which are at their best during the spring and autumn seasons.
Everest Base Camp: This is a high altitude trek which reaches 5,545 m/ 18,192 ft at the highest point. The daily altitudes range from around 3,500m / 11,482 ft to 4,938m / 16,200 ft. At these kinds of heights, you can expect it to be a little cold! Surprisingly, in the spring and autumn the
average temperatures can go up to 20o C in the day and drop to around 5oC at night. Of course, there are vast variations depending on the location you are at – which is why trekkers to this region pack layers of clothing.
Annapurna Base Camp: Here the highest altitude you reach on the trek is 4,130 m / 13,549 ft with average daily heights of a little under 3,000m / 9,842 ft. On the whole, day time temperatures can get up to around 19oC but drop way down to zero during the night. At lower altitudes it will be very warm and sunny during the day.
Langtang Valley: This trekking area lies close to Kathmandu and only has three trekking days at altitudes which are considered 'high'. The temperatures here range from around 10°C to 20°C. The day time can be quite warm in the late spring and early autumn, making the lower ranges of the trek a bit hot and sweaty!
The UpSide and DownSide of Spring and Autumn
Now you get the picture of spring and autumn. Both are fabulous seasons for trekking in Nepal. During the spring the lower altitudes will be lush with vegetation and the rhododendron trees will be in bloom. As for the mountains, the skies are clear and the views of the peaks are spectacular!
If there is a downside to spring and autumn it is that because they are such popular times for trekking in Nepal the trails are busy. Not just the trails, trekking lodges are full, and it can be hard to get a bed unless you are trekking with an agency or guide who has planned ahead.
Other Seasons
If you are unable to get time to go trekking during these popular months, or if you just prefer a little more solitude on the trek, you can consider the two remaining seasons.
Winter: Winter in the Himalayas does not particularly mean ploughing through waist high snow and freezing in your sleeping bag at night! Good planning, bring the right gear, and hiring an experienced winter trekking guide will go a long way to making your trek comfortable and safe. However, there may be days when you cannot trek due to heavy snowfall, and days when the trail has become covered in fresh snow. Flexibility and an experienced guide are definitely the key here. Crampons may be required and yes, it will be cold! Days will be around 5o C and nights can be down to around minus 20. We should also point out in many trekking routes, some lodges will be closed for the winter season. On the plus side, if you can handle the cold, preferably have experience trekking in snow conditions, and are pretty physically fit, this can be a magical season in terms of the views and fewer, if any, other trekkers.
Monsoon: A challenging time in terms of accessing areas where you need to fly in. Bad weather can mean flight delays, sometime for days. You may wish to consider a trek that does not involve travel by flight during the monsoon. For example, the Langtang Valley is accessible by road.
Trekking trails may be extremely slippery and walking in the rain can be disheartening. However, it does not rain every day (unless you are very unlucky) and the rain brings a freshness to everything. Again, the trails will be far from busy, so you feel like a pioneer!
And if you don't particularly like the rain but can only manage time during the months of June to August, there are treks in the rain shadow. That means, there are places where the monsoon rains do not reach.
Where to Trek During the Monsoon to Avoid the Rain
Dolpo: Lying in the north west between the Tibetan Plateau and the Dhaulagiri mountain range, Dolpo is a fascinating remote area which rarely sees trekkers. Being a remote and restricted access area, special permits are required to enter here. Camping is usual as lodges are few and far between. But this dry, Tibet-like landscape is perfect to visit in the monsoon.
Upper Mustang: is another area which falls under the rain shadow and is an interesting place to visit during the monsoon. Here there is basic accommodation, so tents are not required. Like Dolpo, the culture and peoples are Tibetan Buddhist and the landscape is dry and reminiscent of Tibet topography. Also like Dolpo, special permits are required and you will encounter fewer trekkers on the trails.
Our Recommendation as to the Best Time to Trek in Nepal
Each season has its own beauty, although winter and monsoon have their challenges which need to be seriously considered if you are planning a trek at those times.
But for our money, the best time to trek in Nepal has to be spring and autumn. The views, the weather, the flora and fauna – all are at their best during spring and autumn.