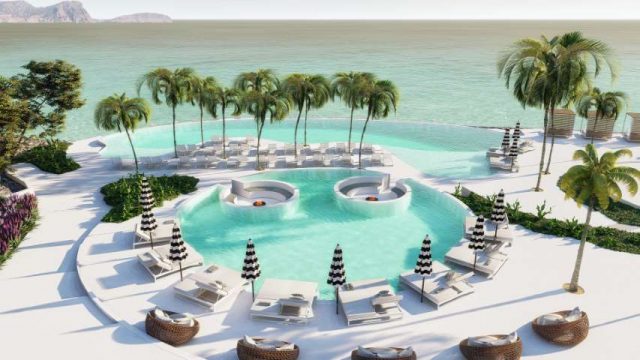 BLESS Collection Hotels announces the launch of BLESS Hotel Ibiza, the second property from the new luxury brand. The hotel will open its doors in June 2019. Situated in one of the most exclusive parts of Ibiza in the north of the island, Santa Eulalia del Rio, the property is positioned in a picturesque cove with stunning views across the water.
The hotel will feature 151 rooms, spa, a range of restaurants including a signature restaurant by Martin Berasategui, two infinity pools, Sky lounge bar, vermouth bar and meeting rooms.
The property is the second launch from the new luxury hotel brand from Palladium Hotel Group. BLESS Collection Hotels is setting a new benchmark in the contemporary hotel industry through its unique and innovative proposition, Hedonist Luxury. The brand is designed for the modern traveller in search of the best of living. The Hedonist Luxury proposition comes to life in every element of the BLESS experience, from exquisite interior design to the most sublime locations.
Inspired by Coco Chanel
"To be irreplaceable one must always seek to be different," said Coco Chanel. The unique style of this international icon has inspired BLESS Hotel Ibiza, which combines the signature simple monochrome style with local Ibizan character. The hotel's designers have re-imagined the essence of Coco Chanel alongside motifs from Mediterranean luxury with inspiration from the French blue coast and the Italian Riviera. The black and white colour scheme blends with tones and textures typical of the fashion world, punctuated with contemporary decorative elements.
The rooms, with impressive sea views, have been created as luxury spaces with delicate details. White, the island's flagship colour, is the protagonist of each room, with subtle touches of black, gold or grey reflecting the stone of Ibiza. Accents inspired by the pale pink of Coco Chanel and the tones of the Ibizan sunsets, plus oak-coloured wood, give warmth.
In addition to the sublime luxurious surroundings, the hotel will offer guests unique experiences to feed the spirit, exclusive gastronomic offerings and a wide range of art and entertainment based on the cultural agenda of Ibiza including DJ sets, fashion shows, performances and visual art and photography exhibitions.
The first property from BLESS Collection Hotels – BLESS Hotel Madrid – opened in January 2019 in of the world's most cosmopolitan cities. With the second opening in Ibiza, the luxury brand extends into one of the most exclusive holiday destinations in the world.
For more information on BLESS Collection Hotels, please visit BLESSCOLLECTIONHOTELS.COM