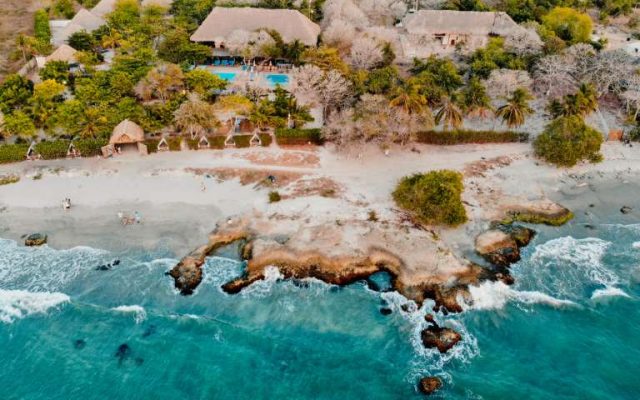 Blue Apple Beach, a boutique hotel and beach club on the island of Tierra Bomba, Cartagena, Colombia, is proud to announce its formal qualification as a B Corp. Blue Apple Beach continues to lead and elevate the bar of what it means to be a purpose-driven company, in a growing movement amongst popular travel destinations.
The ambitious certification is the culmination of founder and owner Portia Hart's vision for the company to be a force and platform for good in the world. Born to a Trinidadian mother and a British father and raised in rural UK, Hart was instilled from an early age with the importance of social equality, as well as being in balance with nature. The B-Corp recognition showcases the commitment of the owners and management of Blue Apple Beach to contribute to a more inclusive and sustainable society, and to spread the impact of meaningful change in their region.
Opened in 2016 on the southern shore of Tierra Bomba, Blue Apple Beach is a symbol of life lived fully. With a mixed international and Colombian clientele, the hotel and its lively beach club provide guests an environment that authentically celebrates the culture of Cartagena, with a nod to Hart's European background. The company has made a name for itself globally as an escape that feels effortless within its island oasis experience. Since its founding, the 3 hectare property has been led by a management team that is young and vibrant, BIPOC, LGBTQ, and female-led. That spirit has created a hotel and beach club that feels authentically inclusive and free, appealing to a new generation looking for a destination with adventure, culture and fun.
As a B-Corp, Blue Apple Beach has made changes and updates in the process of registering, including:
Implementing a company-wide minimum wage that is 15% higher than the Colombian minimum wage. Hart has always focused on livable wages that provide a sustainable quality of life for the team. This benchmark has been an excellent guide for her and management to uplift the community that surrounds the employees as well.
An in-depth supplier review, analyzing the businesses that are supported by Blue Apple Beach's spending. Discovering that the hotel's coconut supplier has one of the best incomes in the village was extremely gratifying. 60% of the club's spending is with micro-enterprises and 30% with minority-owned businesses; more than 85% of the annual expenditure remains in Colombia.
Completing the transition of 65% of the company's energy source to solar and embarking on a full energy reduction and carbon review program for 2022
Continuing on the path to zero waste and by the end of 2021, achieving 80% of waste diverted from landfill.
Publicly aligning Blue Apple Beach's operation with the UN's 17 Sustainable Development Goals.
Ensuring that all meat served is ethically sourced, where the supplier can guarantee that the meat was produced in accordance with the five animal freedoms.
Including the whole team in the application process. Whilst the concept of 'B-Corp' or 'Sistema B' is not widely known in Colombia, even less so on the island of Tierra Bomba, it was rewarding to see the team, at all levels embracing the change, referring to 'happy suppliers' and becoming a 'happy company'.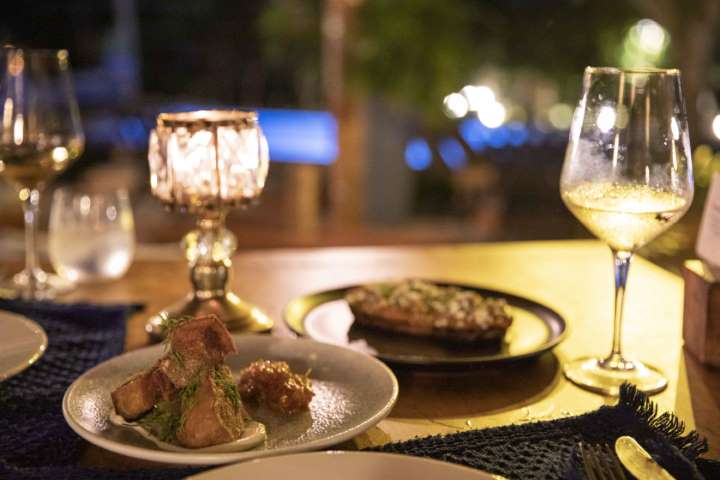 2022 heralds a new dawn of more thoughtful travel, reminding global travelers that this is a perfect time to think more deeply about the decisions they make; to travel better and to consciously choose destinations and companies that care for the planet and its people. The certainty with which ethically-minded travelers can spend their money responsibly is assured by this B-Corp certification, confirming Blue Apple Beach's commitment to constantly evaluating the impact it has not only on its shareholders, but on all stakeholders: its workers, customers, the environment, local community; and ensuring its corporate governance structure cements these commitments, legally.