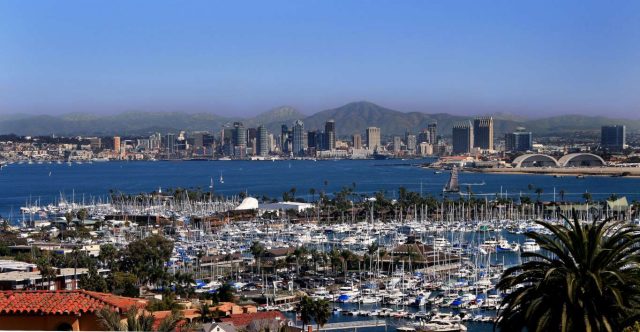 With vacations, it always seems to be about trade-offs and choices. The beach or the mountains? What about the desert instead? Small town feel or big city vibes? Family friendly or action-packed nightlife? Arts and culture offerings or outdoor activities?

When it comes to San Diego, travelers don't have to choose. It's all right here. As the most biodiverse region in the country, San Diego has the beaches, bays, mountains, lakes and deserts within a short drive. But it is not just about the landscape, San Diego can deliver a variety of experiences. Here is how to have it all in just one vacation.
1. Beaches and Bays
Even along its 70-miles of coastline, San Diego delivers diversity. For those looking for high-end accommodations and fashionable restaurants coupled with pristine sandy beaches and to-die-for views, La Jolla is the place to go. Just south of La Jolla is Pacific Beach, which offers expansive beaches and a boardwalk along with a nightlife that will appeal to those who want a plethora of party options along la playa. For a more laidback, classic beach town vibe, visitors can head a little farther south to Ocean Beach to enjoy funky bars while surveying souvenir, surf and antique shops.

2. Lakes
While San Diego's beaches and bays often get the attention, the region is also a land of lakes, with 20 freshwater lakes and reservoirs. One local favorite is Lake Murray in the centrally located Mission Trails Regional Park. Fishing is at its best December through September when black crappie, bass, bluegill and catfish abound. But for those uninterested in catching their own dinner, there are options to motorboat, rowboat, kayak or pedal boat. Located just 25 minutes northeast from downtown San Diego is the San Vicente Reservoir, the city's largest. There are places to picnic and barbecue, but the real draw is fishing as the clearwater reservoir is home to crappie, sunfish, channel catfish and Florida strain largemouth bass. It is also a great spot for boating, kayaking, waterskiing and wakeboarding.

3. Mountains
For those looking for the rustic feel of a mountain retreat, San Diego's East County provides majestic ranges to explore. Located less than an hour from downtown San Diego is the Cuyamaca Rancho State Park, which is home to more than 100 miles of hiking trails, many open to horseback riders, as well as campgrounds and picnic sites. On a clear day, the park's highest viewpoint, Cuyamaca Peak (6,512 feet), reveals views of Mexico, mountain ranges near Los Angeles and wide expanses of desert. A little farther east is the pine-studded Laguna Mountains, located within the Cleveland National Forest's 8,600-acre spread. It offers opportunities for hiking, biking, camping, fishing, and mountain climbing during the summer months and sledding and tobogganing in the winter.

4. Deserts
The San Diego region also offers up the stark and dramatic beauty of the desert for visitors to explore. To the east is the 600,000-acre Anza-Borrego Desert State Park, California's largest state park. Filled with sweeping landscapes of cacti and other unique desert vegetation, the park is also home to roadrunners, golden eagles, kit foxes, desert iguanas and lizards. During the spring, the dry rugged landscape is transformed by winter rains into a kaleidoscope of colorful flowers. For those looking for more pampering, the nearby desert community of Borrego Springs is home a number of hotels and resorts, including La Casa del Zoro, which offers high-end accommodations, swimming pools, a spa, tennis and pickleball courts, and yoga sessions.

5. Small town
San Diego might be the country's eighth largest city, but the region boasts a number of small towns for those looking to escape the hectic pace of city life. To the east there is the historic town of Julian, which dates back more than a century and was home to the only gold rush in Southern California. The town is known for its apple pies, quaint shops, art galleries, wine tasting rooms, and charming hotels and inns. For those looking for small town beach feel, Encinitas to the north is worth checking out as it harkens back to the historic Highway 101 beach culture of yesteryear. Its main street features high-end shops, chic restaurants and coffee shops while its nearby beaches are among some of the most coveted in the region.

6. Urban
For the more metropolitan-type traveler, downtown San Diego offers all the hustle, bustle and culture they could desire. The historic Gaslamp Quarter is home to a diverse lineup of restaurants, shops and entertainment venues as well as spas, art galleries and artisan shops. Nearby Little Italy is perfect for any urban enthusiast with its lively neighborhood feel fueled by outdoor cafés, international restaurants, craft breweries, wineries, art galleries, unique shops, boutique hotels, and the festive Piazza della Famiglia.

7. International
But the most distinctive destination that the region has to offer is that of Baja California, Mexico — allowing visitors the chance for a two-nation vacation. A short drive or trolley ride from downtown San Diego is the U.S.-Mexico border providing access to Tijuana, Rosarito, Ensenada and Guadalupe Valley, a cluster of cities known for their rich artistic and culinary offerings. Tijuana is an energetic hub of activity day and night with duty-free shopping, Mexican cuisine and a tremendous arts and culture scene — highlighted by the Tijuana Cultural Center. Rosarito is a resort community known for its beaches, oceanfront hotels, aquatic adventures, shopping, seafood dining and nightlife. Ensenada, which is a 90-minute drive from San Diego, offers breathtaking ocean vistas as well as taco shops, seafood carts, craft breweries and mescal and margarita bars. Just outside Ensenada is the Valle De Guadalupe, considered the Napa Valley of Mexico as it produces 90% of the country's wine and features over 100 wineries. It also home to outstanding restaurants, serving gourmet farm-fresh cuisine and local seafood.